Review and Recap of House Episode Instant Karma
House Rundown, "Instant Karma"
This week's House continued to stick to its tried-and-true show recipe and our favorite doctor was there pulling the strings—even if he isn't technically in charge. The episode answered one or two of my previous questions, and while the writers quickly tied up the dilemma involving last week's death of the dictator (breathe a collected sigh of relief), I highly doubt that Chase and Foreman's shared secret is just going to be swept under the rug for good.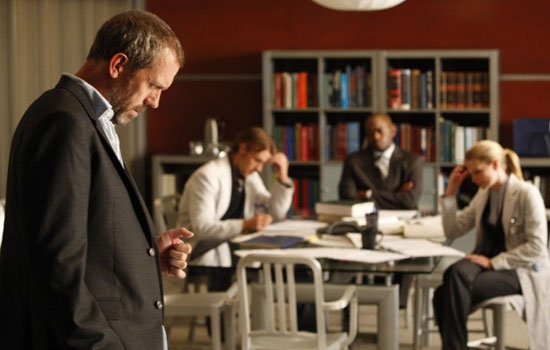 I'm curious to see how everything plays out, but for now, take a look at my questions (spoiler alert!) from this week's episode and share your thoughts.
Keep reading
Foreman brings up a good point: when will House get back his license? I'm interested to see how long they drag it out for, although I do kind of like to see him play the annoying backseat driver to poor Foreman.
Why isn't Chase a little more nervous about the M&M presentation at the beginning? He seems a bit too cocky about getting away scot-free.
Thirteen! Man, I love seeing her and House spar. Wilson is right—she's the only one who doesn't get sucked into the "House vortex." I know she's boarding a plane at the end, but I think she'll be back, don't you? Once Jennifer Morrison leaves, it would be strange to have just Chase and Foreman debate the odd medical scenarios.
Speaking of Cameron's departure, it definitely seems like the writers are going to use Chase's secret to cause a rift in their relationship. First, they keep showing her alone in bed night after night. When she asks him what is going on, he continues to dig himself even deeper into the lie. When she does learn the truth—I'm thinking soon—there's going to be a huge blow-up.
Why is it that House's pervy comments always make me laugh?! I love this one that he said to Thirteen: "I wasn't talking to you; I was spying on the MILF in the running shorts." Ha!
I think this episode really shows a softer side to House. It started when he tells Foreman, "You're going to be a good boss, Boss." Awww, is that an actual tender moment from the crotchety doctor?! And then he goes on to save Chase and Foreman from their M&M review and he tries to bring back Thirteen? House may say his heart is "three sizes to small," but he is spreading good will all over the hospital—well, good will for House at least.
Anyone else find the "Midas" dad kind of annoying? I don't dig his cocky attitude and I was actually more interested in how things were playing out between the doctors than the actual medical case in this episode.
Here's a real philosophical question for you: Do you think that in some karmic way, the father getting rid of his fortune really does help his son? House seems to be deep in thought over it at the end of the episode—or maybe he's questioning taking over the team again?
I love the moment where Chase tells House that he will always be the guy in charge, though perhaps House is doubting his leadership. He does tell Cuddy that the combination of puzzles and power proved to be a bad mix for him. Still, I'm ready to see him running the place again, even if he pretty much already does.
What'd you think of the episode? Do you think House may be turning into a softie? Will he take over the reins from Foreman? And how will Thirteen finally make her return (if she does)? I want to hear all your hypotheses!