Review and Recap of House Episode "Known Unknowns"
House Rundown, "Known Unknowns"
Now that the Oscar hoopla has started to die down, it's time to catch up on the latest going-ons with our favourite Sunday night medical drama. This week's House case involved a young teenybopper with an ego and compulsive lying streak to boot. Sounds intriguing, but personally, I was more wrapped up in all of the personal drama going on with House and a certain fellow female doctor.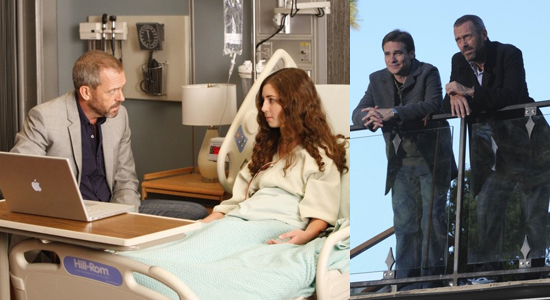 Ready to cover the highlights? There's a major twist with a big reveal, so prepare for some spoilers!
Keep reading
Right off the bat, the sexual tension between Cuddy and House is turned on full volume, what with Cuddy's low-cut shirt and House's leering looks. I found it to be a bit over the top, but I still have to give Cuddy props for this awesome comeback after House references her breasts as "Patty" and "Selma": "I feel bad I haven't named your testicles." Touche, Cuddy. Although, I sort of feel like she wears those revealing clothes for House, don't you?
I knew this episode had to be good when I heard it involved a Wilson and House road trip and an '80s party, but House in an 1880's costume walking among guys in Devo hats is brilliant. And then, when things can't get any better, he dances with a Flashdance Cuddy to "Time After Time" and finally admits to her that he's always had feelings for her. What a fantastic scene! That is, until she walks out.
Another high point of the evening for me: When House drugs a pants-less Wilson to keep him from giving a potentially career-ruining speech on euthanasia. Now, that's a solid friend. Were you shocked over Wilson's confession of delivering euthanasia himself? We always think that House is the one with all the secrets, but I guess Wilson isn't 100 percent on the up and up either.
I definitely laughed when Wilson uses the term "friend-zoned" while talking about Cuddy. House is surprisingly open about his feelings for her instead of his usual denial, which I think is nice to see—do you agree? Or is House becoming too soft?
Surprise! Were you taken aback by Lucas? (Lucas is the private investigator that Cuddy hired last season.) When House goes to Cuddy's room to prove to her that she can "count" on him (as she puts it), Lucas is there playing with her baby daughter. I think House and I both had the same look when that happened—huh?!
Didn't this episode's diagnosis seem even more roundabout than usual? The doctors came across completely clueless—not to mention they did extra damage by giving the patient supplements. Perhaps it's just because House wasn't on the premises to pull the strings.
Lucas's mention of House's sex hallucination with Cuddy = painfully awkward. But I don't think Cuddy is over House. Did you look at her face?!
We can all breathe a sigh of relief, because Chase finally breaks down and tells Cameron the truth about the murder of Dibala. She's obviously stunned, but we didn't get her response before the episode ends. We already know that she's leaving the show, but what do you think will happen between them next week?
Please, please weigh in on the Cuddy and House saga! Do you think those two are ever going to get together? Or is Lucas' arrival going to muck things up for good? Tell me your thoughts in the comments.