Review and Recap of House Episode The Tyrant
House Rundown: "The Tyrant"
This week's episode of House brought us right back to the usual formula. You know, unknown medical mystery that causes the team to pull together to figure it out. Only this time, the team goes through some internal turmoil, as the person with the ailment is a genocidal dictator—played by an always terrific James Earl Jones.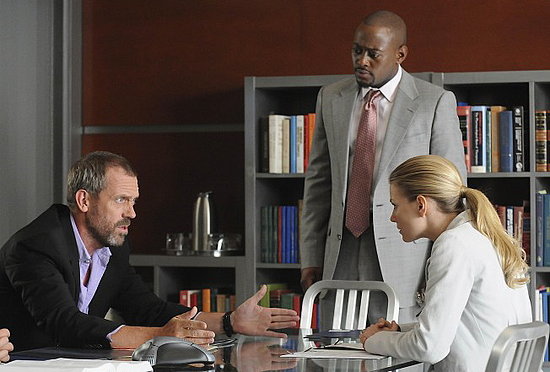 Personally, I think this episode is the start of a long arc for the season. What did you think? I've got a boatload of questions to ask you (spoilers ahead!) when you read more.
First of all, let's skip to the end. When Dibala's blood work comes up positive, I had a feeling Chase is cooking the results. Were you surprised to find out that Chase is OK with killing him? How do you think this is going to affect the show? I'm assuming that Chase and Cameron's relationship is going to go south because of it. Maybe this is how the writers are taking Jennifer Morrison out of the show?
Now that there's this huge secret between them, how do you think the dynamic between Foreman and Chase is going to change?
Do you think Thirteen is going to come back to Princeton Plainsboro and is Taub already gone?
Speaking of Thirteen, I am so over her relationship with Foreman. Do you think they'll stay broken up for good this time?
I know he was playing an awful homicidal tyrant, but does anyone else get excited when they hear James Earl Jones' voice?
Did you like seeing House work with the old gang again? I loved it, but as House said, "Oh my god, it's three years ago."
As always, I loved the House/Wilson dynamic. It was fun to see House try to be a better person, although I wished Wilson could've believed him more. And is that a True Blood reference that Wilson utters? I swear he says 'Sookie' after his vampire joke.
While the old team soaks up all the drama, House provides the comic relief. My favourite bit of the evening is when House breaks in and drugs Wilson's neighbour. Did anyone else immediately yell, "OMG! It's like Dexter!"? Although I have to admit, that stuff with the mirror seemed more like magic tricks and not medicine.
This episode definitely looks like it's setting us up for a larger story. Where do you think the writers will take us next?

What were your thoughts on this week's episode? Let me know in the comments below.