Review of Robert Downey Jr. in Iron Man 2
Iron Man 2: A Solid Sequel, With a Side of Snark
Riding the smash success of 2008's Iron Man is both a blessing and a curse. Iron Man 2 already has a wide fan base that should make it easy for the action flick to skyrocket to blockbuster status, but whether or not it will receive the same acclaim is another story. The good news is that the sequel delivers everything it needs to—even if it's not quite as stellar as its near-perfect predecessor.
The film picks up six months after we last left off. Weapons extraordinaire/billionaire/playboy Tony Stark's ego is even more inflated than it was before (if you can believe that). Thanks to the Iron Man suit he developed, Stark has managed to maintain the longest periods of uninterrupted peace between Eastern and Western civilisation. Unfortunately, the government doesn't see eye-to-eye with Stark's God complex and wants him to turn over his metal armour—his "sword with untold possibilities"—in fear that terrorists may be copycatting the technology around the world. Of course, across the pond a grimy Russian convict named Ivan Vanko (Mickey Rourke) is doing just that. To see where the film flies and where it flops, read on.
Keep reading...
The film checks off a lot of the typical sequel requirements. It introduces new characters (Sam Rockwell as Tony Stark's competitor John Hammer, Scarlett Johansson as his new assistant Natalie, Samuel L. Jackson as Nick Fury) while keeping the other ones we've come to love intact—Happy (Director Jon Favreau), Pepper (Gwyneth Paltrow) and Rhodey (Don Cheadle, replacing Terrence Howard). It packs in just as much fireworks and fanfare as the original without going over-the-top or trying too hard. In fact, one of the aspects of the film I appreciated most is that it doesn't take itself too seriously. The action sequences are fun to watch but not overly indulgent and the witty banter is woven into every scene. Basically, we're dealing with a cast of characters made up entirely of smartasses.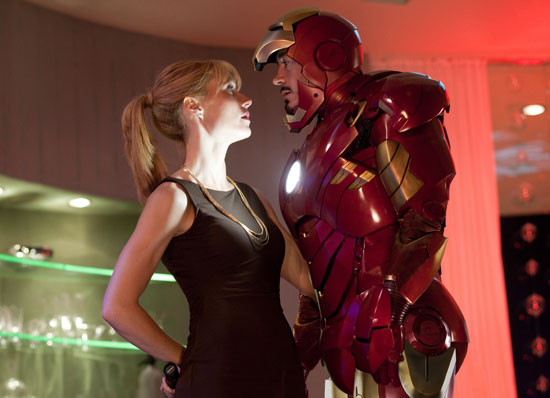 My biggest issue with the film is that there are a lot of storylines packed in here. At the core, Stark is struggling with the harsh reality that wearing the Iron Man suit is slowly poisoning his blood, forcing him to face his own mortality. But then, he's also dealing with competition from Hammer. And his feelings for assistant-turned CEO, Pepper Potts. And his seemingly out of nowhere daddy issues. And pressure from Nick Fury to join the Avengers. And the Senate that wants him to turn over his suit. The problem here is that we get a peek at what makes Tony tick under all that metal and egoism, but the rest of the characters remain as cartoonish and one-dimensional as their comic book counterparts. The good news is that Robert Downey Jr. is just so darn watchable that putting all the movie's eggs in his proverbial basket pays off. His chemistry with Gwyneth Paltrow is spot-on and he delivers Tony's rapid-fire one-liners with comedic timing that would put even Vince Vaughn to shame. For every scene that seems to meander off the film's course, our hero is lurking around the corner waiting to reel the audience back in. In retrospect, the film may be remembered simply as a building block between installments in the Iron Man franchise, but as far as the near future goes, it's a fine attempt at the always-difficult-to-nail sequel.