Review of Sex and the City 2
Sex and the City 2 Review: See It For the Sparkle
The core of the Sex and the City TV series is its depiction of four Manhattanites and their bond. Over the course of the six seasons, we grow to know Carrie (Sarah Jessica Parker), Miranda (Cynthia Nixon), Charlotte (Kristin Davis) and Samantha (Kim Cattrall), to empathise with their man troubles, cheer for their career successes and live vicariously through their regular weekend brunch dates.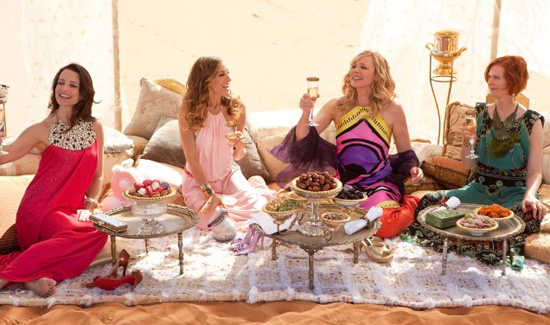 In Sex and the City 2 we're right back to their friendships, even more so than the first movie. Indeed, most of the sequel—all two and a half hours of it—is about the four of them together on a girls' weekend in Abu Dhabi, which means less of a focus on Big (Chris Noth) or Steve (David Eigenberg) and the return of Samantha in her full promiscuous glory. Hooray! The downside: while we focus more on the ladies, they sometimes prove to be a little frustrating. To see what I mean keep reading.
.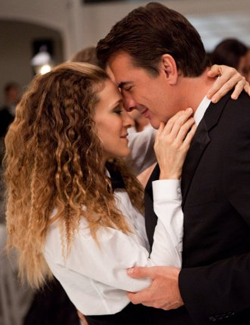 Each woman has her share of problems in the sequel: Carrie and Big have hit a slump, Charlotte feels threatened by her girls' nanny, Samantha is battling menopause and Miranda can't win over a sexist law firm partner. We're so invested in these characters that it's usually easy to empathise with their dilemmas, but it's harder this time. Their insecurities come under scrutiny after the topic of marriage causes tension between Charlotte and Carrie. Their interplay, dare I say, makes them somewhat unlikeable—although admittedly more realistic as women. What's not so realistic: their expense accounts and enough costume changes to make your head spin. That's the thing about Sex and the City 2: it has a difficult time striking a balance. On the one hand, you have a story about female relationships, but that often gets overshadowed by flash. Don't get me wrong—I love the flash—but my favourite parts of the film are when the women support one another. And while the film is always willing to make fun of itself (an amazing cameo from Liza Minnelli is perhaps the best example), the ladies' signature puns often feel like they're trying too hard this time around. The movie's portrayal of Muslims in Abu Dhabi may also raise a few eyebrows. It makes a valiant effort to try to comment on the gender roles in the culture, but sometimes it feels like it's mocking it instead. Now, this is all from a critical eye. If you go into the movie to really pick it apart, then you'll see my concerns. But if you're just a die-hard SATC fan, you're sure to coo over the clothes and cackle at the multiple boner jokes. I even got teary not once, but twice! If you choose to check it out, leave your microscope at home and see it the way it's intended: with a mind for light-hearted fun and of course, with your best girlfriends in tow.