Review of A Single Man Directed By Tom Ford and Starring Colin Firth and Julianne Moore
A Single Man: Beautiful and Haunting
Tom Ford's directorial debut, A Single Man, is reminiscent of one of the designer's Gucci suits: beautiful, expensive-looking and sumptuous. It's a solid effort from Ford, who has gathered all the right elements for the film, including a talented cast led by Colin Firth.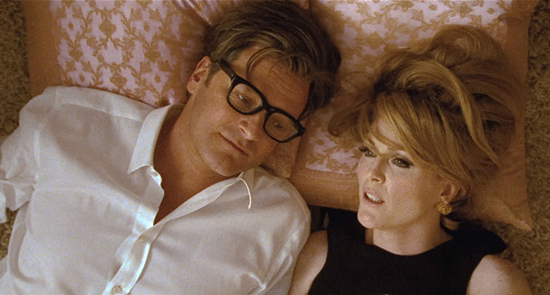 A Single Man is set in 1960s LA, where college professor George (Firth) is grieving after losing his longtime partner Jim in a car accident. Eight months after Jim's death, the movie depicts a day in George's life as he struggles to keep it together. Ford is ambitious as a filmmaker and I wouldn't expect anything less from him. It's clear that he wants A Single Man to succeed on all levels of cinema—performance, aesthetics, story—but sometimes it's a little over-the-top. That said, it's impressive for a first effort and there's a lot to appreciate.
So to hear my thoughts on the film, just keep reading...
The two cornerstones of the film are the acting and the visual landscape. First, I'm a firm believer that Firth can do anything. I adored him as Mr Darcy in the BBC version of Pride and Prejudice and as Mark Darcy in Bridget Jones's Diary, yet I still totally believed him playing a grieving gay man. I wish, though, that I could say the same for Julianne Moore. She plays Charley, the "Tanqueray-happy" best friend to George, who is a composite of Ford's female friends and his grandmother. She's beautiful, but the few times she was on screen, I kept thinking, "It's Julianne Moore doing a British accent." While, Firth shows grief in every scene, in every way imaginable, in every second of his day. He can handle it, but it's exhausting.

The aesthetic value of A Single Man is its other cache, but like the acting, it often goes too far. When George is depressed, the scenes are washed out and during the flashbacks with his departed love Jim (Matthew Goode), they take on a golden tone, which can be distracting. The slow motion camera technique showing a drowning, naked Firth, is shown repeatedly as a visual metaphor for George's grief and is a bit heavy-handed. Meanwhile, some actors are purely eye candy—not that that's a problem, but Ford gives you too many shots of the same sensual images, such as Nicholas Hoult's lips. Hoult is the boy who co-starred opposite Hugh Grant in About a Boy and he also played Tony in the British TV show Skins. He's all grown up now and is a student with nebulous intentions.
The film is obviously a very personal project for Ford, he wrote the screenplay, based on Christopher Isherwood's book, as well as produced and directed. Also, Ford's partner of over 20 years, Richard Buckley, makes a cameo in the film sitting next to Isherwood's partner, Don Barchardy, in a faculty lounge scene. The film is dedicated to Buckley and even their terriers, India and Angus, make an appearance. Overall, it's a stylish ride on the Tom Ford train and I'd be happy to buy a ticket for the next journey.