Rhiannon Doherty Bachelor 2018 Elimination Interview
The Moment Rhiannon Knew Things Weren't Right With Nick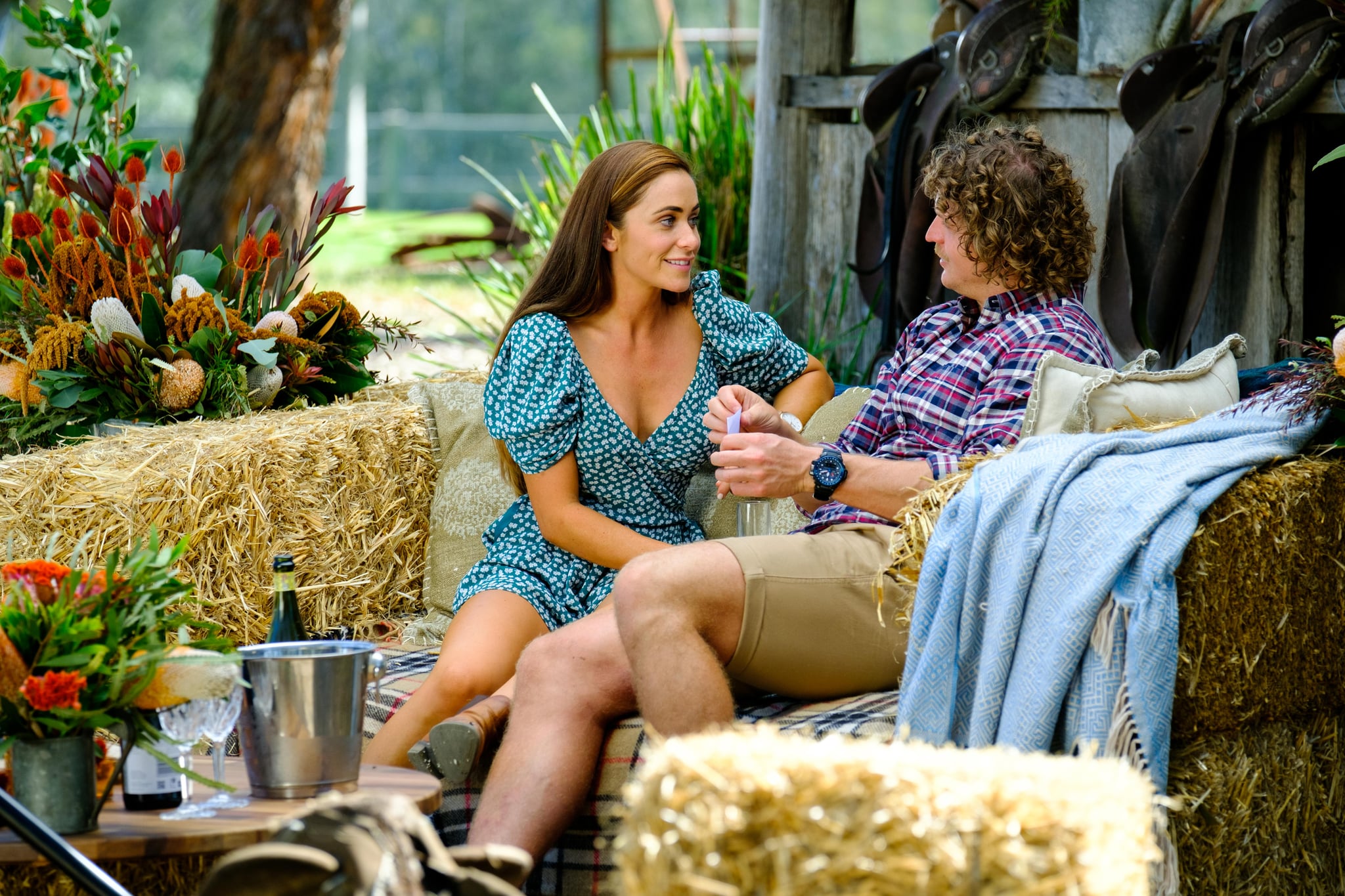 Wednesday night's dramatic cocktail party involved tears, tantrums and runaways, but it was 28-year-old Rhiannon and 30-year-old Ashlea who were left standing without a rose during what has to be the most shocking rose ceremony yet.
Forced to give up on their chance at love, the pair left the mansion while the the remaining bachelorettes, including three new intruders Deanna, Brittney (yes, there's now another Brittney) and Jamie-Lee, all stood and watched on speechless, left wondering how not one but two of the original girls have left and all three intruders remain.
We caught up with Rhiannon to find out about that awkward kiss with Nick, her new man and why the mean girls of the house aren't so bad.
POPSUGAR Australia: How did you feel when you didn't receive a rose?
Rhiannon: I definitely was expecting it. I didn't know it'd be the [night] with the intruders, but I definitely did know I wasn't going to last much longer. At the last cocktail party, we'd [her and Nick] had a chat and we did feel like we just weren't vibing each other, and normally if I'm really into someone, or they're really into me, it's reciprocated but it definitely wasn't.
PS: What kind of impact did the intruders have on you and the other girls in the house?
Rhiannon: The girls were pretty upset that two original girls left over two intruders. I think everyone was expecting for at least only one original to go and one intruder, so that was our frame of mind going into the cocktail party. So I think it was a huge shock that all three new people stayed and two originals left.
PS: Were you upset by that?
Rhiannon: Not really because I had the single date and I had time with him to know if it was going to blossom into anything or to know if there was a connection there. I would have been more disappointed if I didn't have the single date with him and I would be sent home without that opportunity, so I'm grateful because I didn't have that feeling of 'what if'.
PS: On your single date with Nick, you went in for that very awkward kiss. Do you now regret it considering Nick's reaction to it?
Rhiannon: There's a lot you guys don't get to see on all the single dates, but I did get a rose, so obviously he was feeling it to some extent otherwise I wouldn't have got that rose. But, I don't regret saying what I said and I can't anyway because I can't do anything about it, but I obviously didn't think he was going to say no [to the kiss], if I had known that I probably wouldn't have done it but now there's nothing I can do.
PS: Why was it so important for you to get a kiss from Nick?
Rhiannon: I think because you only get a small amount of time one on one, if you're lucky enough to get a single date, and I believe that [in order] to know if you have a connection with someone you do need to share a kiss or something to know if they feel it as well.
PS: Did you feel any chemistry with Nick?
Rhiannon: A little throughout. I felt there might be something there that could build over time but I think once we went on the date and afterwards in the last week, I just kind of knew that I was going to go anyway.
PS: Have you found love since leaving the show?
Rhiannon: I have met someone new. I don't know if its love yet, but its definitely something new and I don't want to jinx it but it is really great at the moment. I'm just excited to see where that goes.
PS: There was kind of a mean-girl culture within the house. Where do you stand in all of that?
Rhiannon: I really love those girls [Cat, Romi and Alisha] and they were always really good to me. They would always cheer me up when I was missing home or feeling down or not feeling my best and they were always actually making everybody in the house laugh, so it's disappointing that you don't really get to see the other side to them. I'm sure they said a lot of nice comments about the girls they got along with as well, but you just don't see it.
PS: How many of the girls didn't get along with the trio?
Rhiannon: From my understanding they probably didn't get along with a handful of girls and were obviously very vocal about it. If anyone else in the house didn't like anyone, they obviously kept it to themselves and within their little clique, and they wouldn't voice it to cameras, so I guess it's just backfiring on them because they were so open about who they didn't like and now that's all you're seeing [on TV].
PS: Who were you closest to in the house?
Rhiannon: Ash and Brooke and the three girls (Romi, Cat and Alisha). I guess that gives you an idea of them as people, like Brooke for example, if I can be close to her and then be close to those girls - I wouldn't be friends with them if they were that bad.
PS: Are you in contact with many of the girls now since the show has ended?
Rhiannon: I have seen all the ones who live around the Gold Coast and I stay in contact with some of those interstate, like we speak at least a couple times a week.
PS: At the cocktail party after Tenille's single date, her and Romy got into a heated argument which saw Tenille walk out of the mansion. Did you witness the argument?
Rhiannon: I was there but I don't think was shown. But when we were observing it you could see it was just two people there having a discussion. I don't feel like one over the other was being attacked in any way. I just feel like it got heated and that Tenille just needed to get away and I think that's why she took off.
PS: Did it escalate more than it should have?
Rhiannon: I think so. I always think these things could be handled a little bit calmer. I think it did escalate a little bit quickly and it didn't need to go to that level. I did try and go over there and try clarify a few things. I tried to add some calm but it didn't help the situation at all.
PS: Who do you think will win over Nick's heart?
Rhiannon: Brittany! I think within the first week of being in the house she was definitely a stand out for all of us. I just think with everything she has in common with Nick, and they just got along so well at every cocktail party. We just all saw her as the frontrunner from the beginning.
PS: Who is most deserving?
Rhiannon: I honestly think that every single one of those girls have a good story behind them and every single person who gets to the end, or could get to the end would deserve to find happiness and love with anyone. I don't think anyone person is more deserving than another. I think everyone is so amazing.
PS: Who would you place in the top three contenders alongside Brittany?
Rhiannon: Brook and I'll just go with Dasha. Yeah, I'll have to throw her in there. But Emily Is a bit of an underdog, I think she has a really kind soul, she is such a sweet girl and she is absolutely beautiful. I think any man would be crazy not to get to know her more.
PS: What have you learnt from this experience?
Rhiannon: I am learning now that it's all on air, just to not care what other people are saying about [me]. I just need to take things with a grain of salt and not take life so seriously. Other people's opinions that you don't know don't matter. So that's something I'm learning to be better at. I wouldn't change anything because maybe I wouldn't be where I am now if I didn't have that awkward kiss, you know. Who knows who I would have met or not met. I think everything happens for a reason.