Rhys Badcock Wins MasterChef: The Professionals 2013
Rhys Badcock Is the Winner of MasterChef: The Professionals!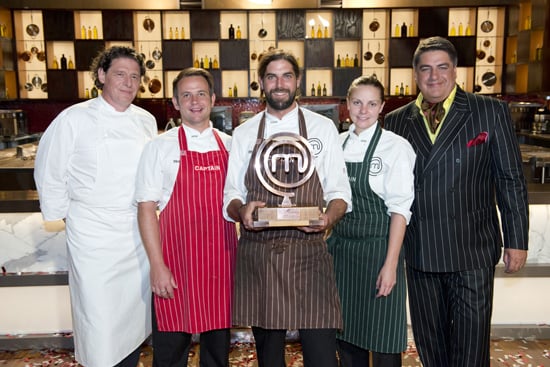 Rhys Badcock has been crowned the inaugural winner of Australia's MasterChef: The Professionals. The announcement was made at the end of last night's grand finale episode. The 29-year-old head chef, who splits his time between Byron Bay and Broome, beat his fellow grand finalists Sarah Knights and Rhett Willis to the title, $200,000 cash and a trip around the world that will give him the opportunity to cook in some of the best kitchens.
The winner was decided after three intense rounds. In round one, Momofuku chef/founder David Chang shaped the Reinvention Test when the contestants had to choose three of his favourite ingredients to create a dish with — a random knife draw meant their ingredients were miso, eggs and chicken. Hosts and judges Matt Preston and Marco Pierre White weren't overly impressed with the dishes they were presented with, but they loved Rhett's presentation and gave him the early lead.
More from the grand finale when you keep reading.
Rhys: 17/30
Sarah: 17/30
Rhett: 19/30
In round two, the contestants were faced with the Pressure Test, and it was the first time in the series that the dish they had to recreate was set by Marco. The challenge was to cook his deceivingly simple-looking leek and lobster terrine, which he quickly demonstrated for them. Rhett struggled with his terrine because he undercooked his leeks, Sarah's was a better effort than Rhett's, but Rhys plated up an almost perfect terrine on his first attempt, which pushed him ahead of the others at the end of round two.
Rhys: 34/50
Sarah: 32/50
Rhett: 31/50
In round three, the finalists had to cook a three-course service for 120 chefs who joined them in the MasterChef kitchen. They were allowed to pick two of the eliminated contestants to be their assistants as they assumed head chef roles — Rhys picked Kiah and Cassie, Sarah picked Nathan and Coop, and Rhett chose Michael and Nick. A very stressed Marco was on the pass.
Rhett's experience as a head chef meant his time in the kitchen ran relatively smoothly, which was rewarded when Marco scored him 9 out of 10 for his kitchen performance. His Eton mess dessert was a bit of a letdown as the passionfruit was overwhelming sour, which led to a 8 out of 10 score from Matt.
Sarah plated up beautiful and delicious dishes but struggled a bit in the kitchen, particularly when it came to plating up her Crème Chiboust dessert — the Chibousts wouldn't come out of the mould properly and almost held up service. For her efforts, Marco gave her 7 for service and Matt gave her 9 for food.
Rhys was in total head chef mode in the kitchen and seemed to please Marco when he shouted orders and encouragement to his friends Kiah and Cassie. There were some faults with the black pudding on his entrée, but overall Marco and Matt were impressed with his work, and both awarded him 8 points for service and food.
Rhys: 50/70
Sarah: 48/70
Rhett: 48/70
The grand finale taped three alternate endings to ensure the result was leaked, and even the finalists only found out who won yesterday. Rhys, who had a troubled upbringing, said he was going to use the money to buy a car and visit his mum in Western Australia, and invest in a restaurant. Sarah and Rhett received $10,000 each as the runners-up.
Photo courtesy of Network Ten