Rita Ora Interview in Australia on Gwen Stefani Inspiration, Recording Ora, Celebrity Crush and More
Rita Ora on Australia, Being Inspired by Gwen Stefani and the Highlight of Recording Her Album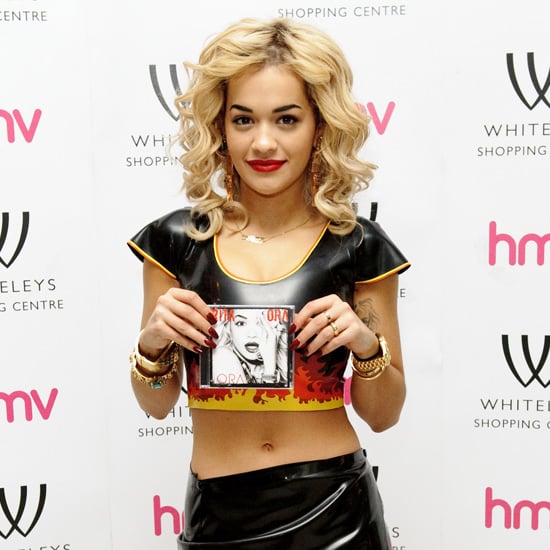 British musician Rita Ora spent last week in Australia promoting her first studio album, Ora. Her hit "How We Do (Party)" is one of the most recognisable songs of the year and her latest single, "R.I.P." went straight to the top of the UK singles chart, making Rita the first artist to have three consecutive number one singles in the UK — not bad for someone who's only 21! I caught up with Rita when she was here, where we had a very comfortable chat on a plush hotel bed and talked about her music, her inspiration, and how she's still not 100 percent sure what to do on social media! Plus, she shared her celeb crush, hidden talent and more.
What were your impressions of Australia and how does it compare to what you thought it would be like?
Australia's awesome. Australia's full of life. It's fun, it's sunny, it's flirty. Everyone wants to have fun, or everyone's getting over hangovers [laughs]. It's awesome. It's definitely a different world.
You've travelled a lot recently. Do you have a favourite place and why?
Hmm. I don't want to give the answer yet because I'm going to Japan after this, so I feel like Japan is going to be my favourite place. So if this goes out after Japan, I'm going to say Japan.
More from Rita when you keep reading.
I just got back from Japan! You will love it. How long will you be there for?
Three days. I need to go and get kimonos and do the whole thing.
I know Gwen Stefani is one of your biggest influences. Have you met her?
Nope.
How do you think you'd react if you met her?
I don't know. I'd probably be so excited. I'd just tell her that she's great and that she was just an inspiration for me growing up. I wouldn't be like completely crazy. I think I'd be crazy when I'd leave her, I'd be like, "Oh my God!" I just want to thank her for inspiring me.
Are you excited for her new No Doubt music or were you into her solo stuff?
I like the No Doubt stuff the most. That's my favourite band. My favourite song would probably be "Hella Good," even to this day, because that video was so cool. But I love old school No Doubt the most.
With your music, do you think about how it will affect people as you're writing and recording it?
Yeah, of course. I think my music is kind of like the weapon to connecting with people. I think it's really important that you keep in mind the connection you have with your fans, and the power you gain when you make a connection with your fans. Music is the easiest form to relate and connect to people without knowing them.
Have you had any weird, strange or memorable fan experiences yet?
No. I mean I've had ones where I've thought, 'How do my fans even know I'm here?' But my fans aren't crazy, ever. They're awesome. Awesome.
How do you feel about comparisons to other artists, like when people say you're the new Rihanna, and things like that?
It's normal, I think. When an artist is good, or when an artist is new, or starting out and came out of nowhere, everyone needs someone to reference, to keep it normal. "Oh, she's like so-and-so," because that's what you're familiar with. But I think in due time, like, we represent two completely different things. Me and her [Rihanna] are from different places. We're just part of the same team. I think it's something that will die down. She was compared to Beyoncé for a long time when she started. Give us some time. I'm not bothered by it at all. At least she's great. At least she's been at the top of her game. At least I'm being compared to someone good.
Can you tell me about recording your album? I know it took two years, you have a lot of great people involved . . . What was the highlight of creating Ora?
The highlight would be when I scrapped the first album and started again, because I didn't feel it was good enough. It was a big decision for me to make because my team and my family were like, "We're going to roll with you, of course," and I was just like, "You know what? I don't think this represents me good enough. It's my first album, the first time you're gonna hear about me — I need to do it properly." So I scrapped it and that was a brave decision because I didn't know if anyone would have my back — we spent a lot of money. But they did. They were incredible. They had patience and waited for me. So that was probably the most memorable moment, when I made that decision.
The more I interview musicians, the more I hear about the process and how they write hundreds of songs that don't make the cut.
Oh, hundreds. I could give you three albums right now! [Laughs] And imagine having to edit something down where you have no idea whether people like it or not. It's literally like playing in the dark. But that's what makes music so fun.
You've emerged at a time when social media and YouTube have completely transformed the music landscape. Were you testing things out before putting them on the record?
Sometimes I still don't get this social thing! All I know how to do is tweet. I know how to tweet, Facebook, and use my phone. But I think the social network is amazing. It's genius. Back in the day, all you had were shows. Now it's funny because you don't even need a label anymore.
Is it weird to think you're so accessible through social media? You go the zoo —
And people know you're there. It's amazing how you can interact with your fans so quickly. Like literally in a second. Back in the day you didn't have any connection apart from fan mail. It doesn't get scary; it's just a different time and you've got to work with it. Obviously you don't tell your fans, "I'm going to the toilet now." And then they're gonna meet you in the cubicle. You have to say the right things. If you want them there, you tell them. If you don't, then you just don't tell them.
What music are you listening to at the moment?
At the moment I'm very much into my indie bands. I'm very much into Little Dragon, Subtract, the new Frank Ocean album . . . I'm listening to the new Cruel Summer album, the Kanye West one that just came out. That's a great album. I'm listening to the new xx album — it's genius. It's stripped back.
Let's do some short fun pop quiz-type questions. Favourite food?
Italian.
Celebrity crush?
Tom Hardy, the one in Batman. Oooh! Tom Hardy is hot. And I know he's married and it's never going to happen, but you can still say someone's good-looking. Very good-looking. And he's hugely-talented and just got that rough look going on.
Favourite song to dance to?
It never lets me down: Michael Jackson "P.Y.T."
Favourite movie?
Taken. I'm so excited for Taken 2. I was looking to pre-order my tickets. I go to New York after Japan so I'll probably watch it there.
Favourite TV show?
Modern Family. How was his [Eric Stonestreet] speech at the Emmys? I've never seen him out of character or his interviews.
Any hidden talents?
Apart from singing I'm good at . . . cooking. I'm good at breakfast dishes. I'm a great breakfast girl. I'm good at poached eggs, but anything out of the breakfast range, don't even bother.