Robin Hood Movie Review Directed by Ridley Scott Starring Russell Crowe and Cate Blanchett
Robin Hood: Misses the Epic Mark
Certainly, Robin Hood is a figure we all know very well; most people associate him with at least one of the actors who've played him, like Kevin Costner or Cary Elwes. And the latest inhabitant of the icon is Russell Crowe, who takes his turn at avenging the poor in this year's Robin Hood. However, this version of the legend isn't just different because the actor has changed. No siree. In many ways, this is definitely not the Robin Hood we're used to.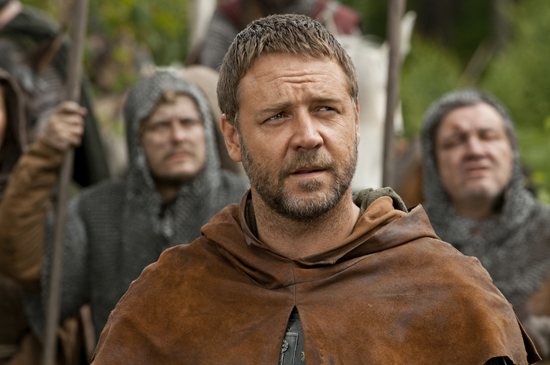 The main difference is that this is a prequel, a recounting of how a common archer named Robin Longstride became the man who stole from the rich to give to the poor. This film is serious and high-minded (read: there's not one chuckle in there), with director Ridley Scott clearly aiming to make this the most epic version of the tale. Scott has the ideal ingredients, namely star power: Crowe, most memorable for his heroic performance in Scott's Gladiator, and leading lady Cate Blanchett. But despite this careful mixture, something went wrong in Nottingham, making Scott's Robin Hood overlong and uninspiring. To see why I didn't love the movie, read on.
Keep reading...
I'd hoped the prequel status would be license to make a radically nuanced translation, but the only major difference here is that the film's just not as good as its predecessors (and yes, I'm including Robin Hood: Men in Tights). A huge fault is its length—clocking in a butt-numbing two and a half hours, the plot travels at a snail's pace. The running time is astoundingly unnecessary; the characters reveal their intentions in fifteen-minute scenes that could have been five-minute interludes. To add insult to injury, the action sequences are half-halfheartedly executed. It's really kind of surprising that the movie isn't more entertaining, considering that some of the roles have been reinvented. Maid Marian (Blanchett) gets to play soldier and fight alongside the boys. Mark Strong also appears as moustache-twirling villain Godfrey. Unfortunately, his presence is confusing, since he's one of many villains you know you're supposed to barrack against—you're just not sure why. In fact, there's not really anyone to cheer for, not even our beloved Robin Hood. There's so much screen time given to the circumstances that make Longstride an outlaw, without actually letting him engage in outlaw activities. By the time he's established as the title character, it's the end of the movie.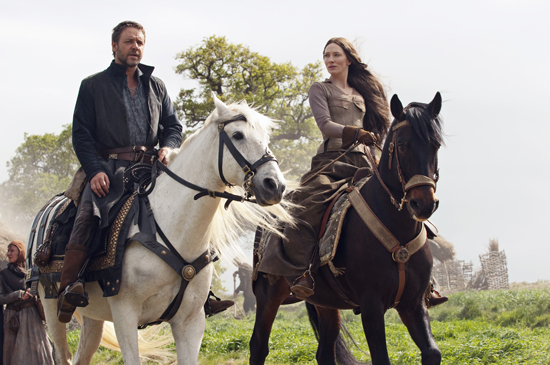 There's no payoff for viewers who are hoping to see a semblance of a story they're familiar with; what you get instead is a bland update to a tale that's been told many times before—but better.