Ross Clarke-Jones Australian Survivor Elimination Interview
"I Was in a Really Good Position to Go Really Far in the Game" — Australian Survivor's Ross on His Untimely Evacuation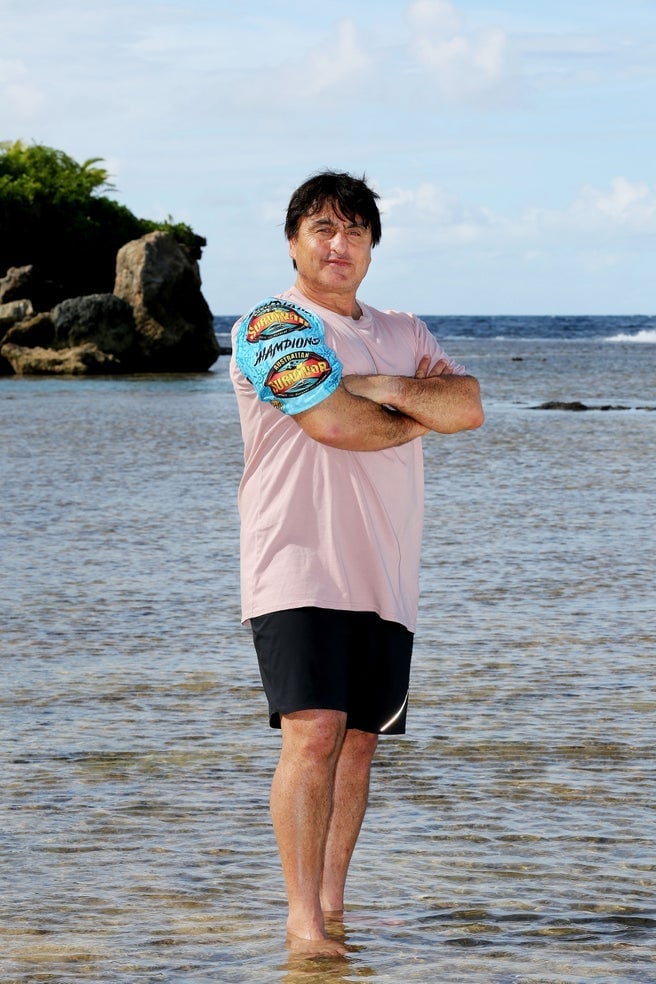 Ross Clarke-Jones was sitting pretty throughout most of his time on Australian Survivor. After having defected from the sporty seven alliance to the new majority early on, the loveable larrikin developed one of the strongest social games out there. Managing to fly under the radar, it seemed highly likely he would cruise through the upcoming merge. But, it all came crashing down (quite literally) when a faulty piece of challenge equipment led to a broken ankle and a medical evacuation from the game. Below, Ross chats would could have been if he had stayed in the game, as well as the number one thing he's surprised didn't make it to air.
POPSUGAR Australia: Hi Ross! I'm so sorry about what happened. How was it having to relive it on TV last night?
Ross: Well obviously I knew what happened, but it was actually good to see it from the other side. People have been incredibly responsive after the episode, I'm like, oh my God, they really care about me! [Laughs] It's a really nice feeling!
PS: The way you went out is such a shame, because from what I could tell, you were in a really good position in the game . . .
Ross: I was in the position that I could have possibly been in! I was flying under the radar enough, people thought I was incredibly insane, and when you're like that you can get away with murder. Everyone thought I was very loyal, and I was playing the game, but that was genuine. But then I needed to step up to raise some trouble, and that's what I was going to do if I could have. Unfortunately, I couldn't!
PS: Can you take us back to that moment where the accident happened?
Ross: So, the stepping stones portion of the challenge was really hard for me and Pia, as we have short legs. I thought that would have been the hardest part of the challenge, like I would have thought I'd break my ankle there. But then we got onto the platform [with the rope swing] and I thought, "oh this is easy, it's going to be fun, it's like Tarzan," you know? So then I remember just swinging, and halfway through the rope just broke and it was like slow motion, it was brutal! Then I rolled into the ditch and I remember that very clearly. I was just holding my ankle going, "whoa, what happened?!" Then I went to hospital, and it was a long ride there with a bumpy road, and every bump made me scream in pain.
PS: It's so frustrating that the accident happened through no fault of your own, it was just due to faulty equipment . . .
Ross: Yeah, it had nothing to do with having short legs, or being overweight or anything! I was actually the lightest I've been out there! [Laughs] I lost 10 kilos or something. It could have been Harry, it could have been Janine, it could have been Abbey, who went right before me. It just so happened it was me. . . maybe it was karma for using Harry's socks, I don't know! It was just so weird that it happened during my swing. It's like, was it sabotage, did Harry sabotage me? [Laughs] But there's no possible way he could have done that!
PS: It did seem like Harry was trying to hide his smile when he found out there was going to be no tribal council due to you going home . . .
Ross: No, no tears from Harry this time! I was just watching going, "oh Harry, you're good!" [Laughs]
PS: How's your ankle now?
Ross: I'm actually still in the moon boot almost three months later. I had surgery around a month ago for syndesmosis disruption, where they basically put a tightrope on my ankle and a pin and a screw. I get that out at the end of this month, and then I will have rehab until December. After that I can get back on a big wave again, hopefully!
PS: You must have realised the merge was coming up soon before you left, what would have been your strategy going into it?
Ross: The merge would have been like, let's get Champions strong and go back to Luke and Dave. I was in a trio with Luke and Dave, and we could have really punished people! It would have been me, Luke, Dave, Janine, Pia and Abbey. I was in strong with the three girls too, well at least I thought! They thought I was a nutcase, so I had them right where I wanted them! I think I was in a really good position to go really far in the game, by just being honest, truthful and genuine. At that stage, I'd yet to tell a lie. I'd avoided the truth a bit, but I didn't lie!
PS: You seemed like someone who had a good relationship with most of the people there, so who did you view as your closest allies?
Ross: Well on the plane ride over to Fiji, the first people I saw were Janine, Abbey and Pia, so we were sort of an alliance before they even even created. We were dying to talk to each other. Pia was a really good friend of mine out there, and she was really genuine, but she's an actress. [Laughs] I did really feel it though, they weren't crocodile tears. But in the end, when I left I was like, "everyone doesn't really care, they want me out anyway!" It's the name of the game. It's serious. People were like, "yeah he's okay, now get him out of here!" [Laughs]
PS: You mentioned last night that Luke was your pick to win, and you two seem like you're cut from the same cloth, can you tell us more about your relationship with him?
Ross: We had a definite connection from the start. Luke actually tried to vote me out the first day, he mentioned my name, and Dave came and told me straight away. So I went straight up to Luke like, "what are you doing?" [Laughs] This wasn't on camera, but he explained it was just the game. He really educated me and made me aware of what it was all about. From there, we got really close, along with Dave as well. But Luke was always there, when I was in the sporty seven alliance he would always try to get stuff out of me, but I wouldn't dob them in. I wanted to be on Luke's side, and I didn't want him be excluded. I was like, "I'm not happy with this seven, because Luke and Dave are not in it."
Steve Bradbury was the first guy to do some moves by forming the seven, but it was too confusing for me. I was like, "you haven't told me anything straight to my face, so I don't know." If he had done that, spoken to me directly, it might have been a different story. Everyone got confused, I reckon even the producers were! I was actually the first person to tell them about the sporty seven! And they were like, "WHAT?" [Laughs] So I said, "oh shit, have I dobbed someone in?" The secret seven, the sporty seven, the super seven, the magnificent seven, whatever you want to call it, I just wasn't really into it!
PS: You were certainly known as a larrikin out there, do you have any funny stories from the game that didn't make the air?
Ross: I mean, every night our bonfires were almost setting the jungle on fire! I can't believe not one of scenes made it to air. At night the producers would have to help me put the fire out, it was like I was trying to burn the shelter down with everyone in it! [Laughs] We couldn't see at night at all unless the fire was going, so I was up all night trying to tend to the fire. I put on a couple of dried palm fronds, it was like a bonfire, and it just ignited. So one time I woke up and it was ablaze and it was like, "what?! What's happening?!" but I wasn't trying to set them on fire, I was just trying to see! [Laughs]