Roula Rachael and Emma Fight on MKR Interview
What Roula, Rachael and Emma Had to Say About That MKR Blow-Up
Sunday night's episode of MKR saw Melbourne mums Kim and Suong take to the kitchen, and while the pair served up heartfelt dishes in a tribute to their Vietnamese heritage, there was a whole other situation going down at the table.
Roula and Rachael, fresh off the back of their own cook, took issue with the fact that Kim and Suong's rice noodles weren't home-made. A fairly heated debate ensued at the table, which culminated in Emma saying to Rachael, "You're just snapping like a little cow."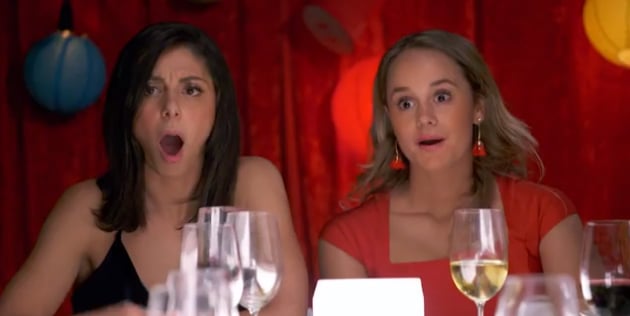 Cue Rachael storming off in tears, and a very awkward silence at the table. As this is reality TV, not only does drama instigate more drama, but things aren't always as they seem. Below, Roula, Rachael and Emma tells us what happened.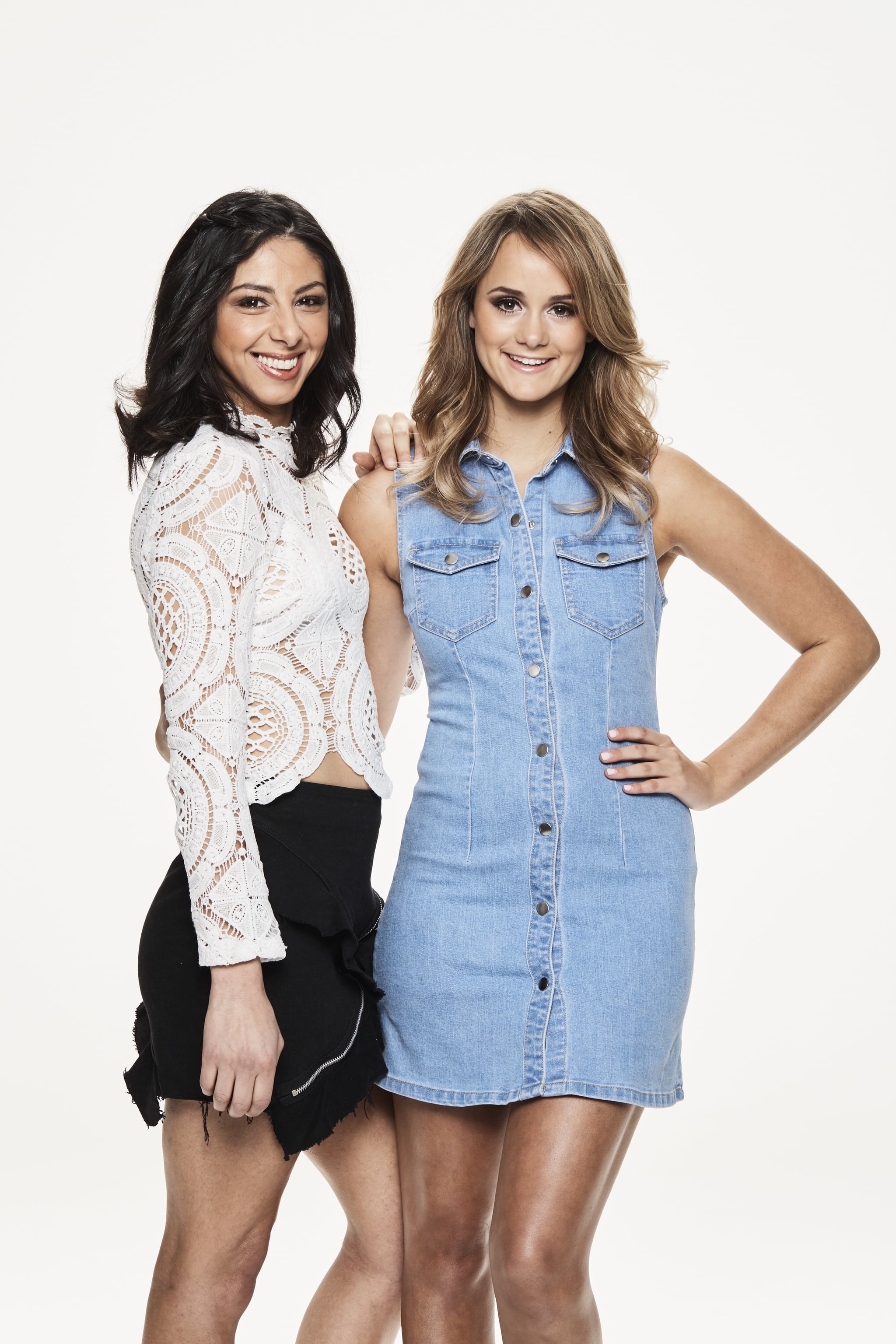 Roula and Rachael
On how they really feel about Jess and Emma . . .
Roula: "We love Jess and Emma, they're freaking hilarious! We clashed heads at the beginning, only because we are so similar and both very opinionated. When you're at the table with four strong women with four strong personalities, you're going to clash. But give us time, and we're like, oh my god, we're pretty similar. I'm good friends with them now."
Rachael: "Watching it, I know how [bad] it looked at the time — we didn't like them, we didn't get along, we clashed. They made us go through really miserable times, but we didn't know each other well at that point."
On that blow-up . . .
Rachael: "Roula and I were talking about the food, and that's what we were trying to talk about the whole time. Jess and Emma then start to pick on me as a person and who I actually am, and that's why I got so emotional. It became so personal. I never said anything to insult them as people, but they did to me. That's why I go so upset, it wasn't just a fight about food anymore, it was a fight about who I was as a person. They didn't know me at that time.
"That's why we had our guards up so much and were so defensive. We were also exhausted and came off the back of having our own instant restaurant, so it was hard for us to be ourselves. It was a full on experience — that was definitely one of the worst nights throughout the whole period of filming. We had some highs, we had some lows, but that was definitely the lowest."
On scoring . . .
Rachael: "Roula and I both know that we gave a really low score that night, but how can you sit there and enjoy your night when you've literally just been attacked? It's impossible to enjoy it. We scored on the experience, not the food. That's the only thing we're concerned about."
Roula: "It is what it is. I didn't eat, next! Some people, if they get upset, they eat. When I'm upset, I can't eat — I feel sick. So had that not happened, I would've definitely liked to enjoy Kim and Suong's food."
On what they want Australia to know . . .
Rachael: "We are literally standing up for everyone at that table. We just want to get our point across, we're very strong minded and are people that won't back down. I think people are seeing us in the worst light [right now]."
Roula: "In reality, we're pretty popular social people. We're not rude, we're not bitchy, we're coming across that way on TV, but that's not us. There's lots of personalities at that table and lots of strong minded women, and when you have different opinions, obviously you're going to clash a little bit. But it is what it is, we're friends now, that's all that matters."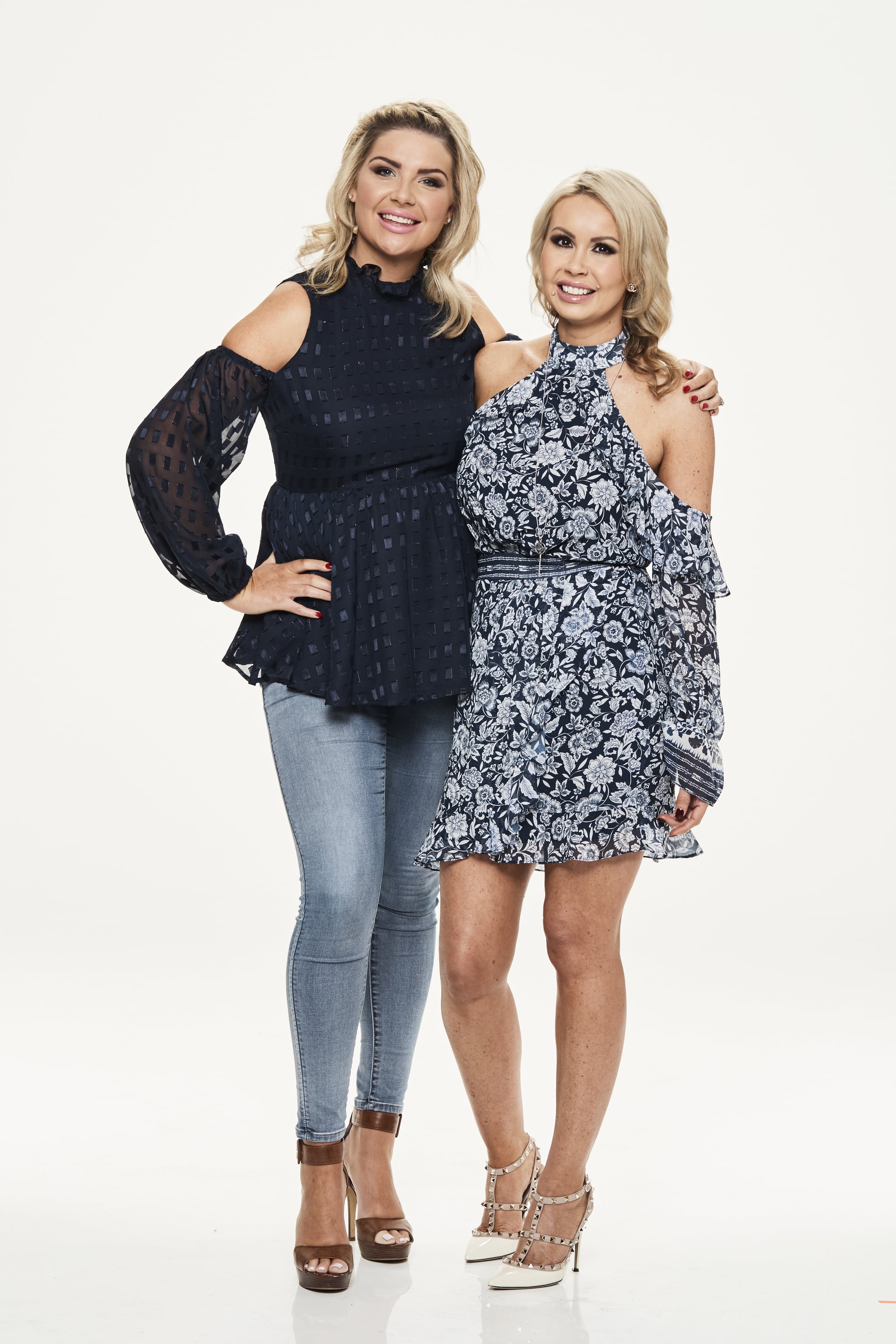 Emma
On accusations that she "bullied" Rachael . . .
"We were all very opinionated and all had an argument with each other. That's not bullying when two people can defend themselves, have an argument and not see eye to eye. But people are writing saying, 'bullying is disgusting', and I'm actually finding what I'm reading quite disgusting. We're such good friends with these girls now, I think they're amazing women, and it takes time to get to know people and get past certain things."
On calling Rachael a "cow" . . .
"To be honest, if you know me, that wasn't me trying to be nasty. It was just a really, really long night, we were all tired and she was getting upset with everyone. I felt like she was getting in everyone's faces and we weren't entitled to our opinions. I kind of snapped and went, 'You're actually snapping at everyone like a little cow.' She wouldn't let people get a word in. But it kind of just looks like I've gone out of my way to call her a cow, which is not the case at all.
"I actually asked her, 'Do you know how you're coming across?' She was really confrontational. But like me, sometimes I'll think I'm being funny and people may not see it that way, so maybe she didn't realise she was being confronting. So I asked the question first, like, you're actually being really rude. It came across like I was just screaming at her, but it really wasn't the case."
On whether she regrets her words . . .
"I've said this to her myself. I don't regret calling her a little cow, because she was being one. What I regret is upsetting her and hurting her feelings, because I know after that she was quite upset. For me, I don't feel like I warranted an apology, we had our say and I was happy to be done with it. But when I found out she was upset, I didn't want her staying on the show feeling hurt, because it was never my intention. I just wanted her to know she was being a little cow at the time. I definitely didn't want her to continue feeling bad. I said [to her], if I've upset you or hurt you, I'm sorry."
On the current relationship with Roula and Rachael . . .
"I really quite liked Roula to begin with. I think we're similar and probably get a bit emotional too quickly in terms of our responses. With Jess and I, if we don't like something, we try to put a bit of a humorous spin on it, because I don't like going out and upsetting people. That's not how we are. So with my critiques, I'm just trying to be funny and over the top. With theirs, sometimes I felt they were going a bit too far for the sake of it. That was our opinion at the time, and once you get to know people you realise they act a certain way, and that's just them.
"Hearing them say we had it in for them, that's absolutely not the case. I said to Jess, 'We really need to work on our facial expressions because they thought we had it in from them!' [Laughs] People form opinions from what they feel, and until you can talk to them and communicate about it, they're going to continue to feel like that."
On what she wants Australia to know . . .
"I'm actually sick of having to constantly defend our looks. Before we started filming the first couple of episodes, I had a massive allergic reaction and my lips were literally about to explode. People seem to think I've done that to myself and are carrying on about how filthy and plastic it is. They don't go down for a couple of episodes, and I can't wait for people to see when they do!
"I actually do look normal, I'm not that stupid that I thought I looked amazing. I'm well aware of how awful I look, but there's nothing I could do about it! Unfortunately I was stuck with it, so I hope people get to see us looking normal and stop being so awful. People hate us because they think we hate someone, but we really just want people to see that we had a lot of fun on the show, and we prefer to be humorous than nasty. Hopefully people enjoy the show and get over this bullying and drama!"
Image Source: Channel Seven