Ryan Jones The Bachelorette 2017 Elimination Interview
Here's Everything Ryan Had to Say About His Time on The Bachelorette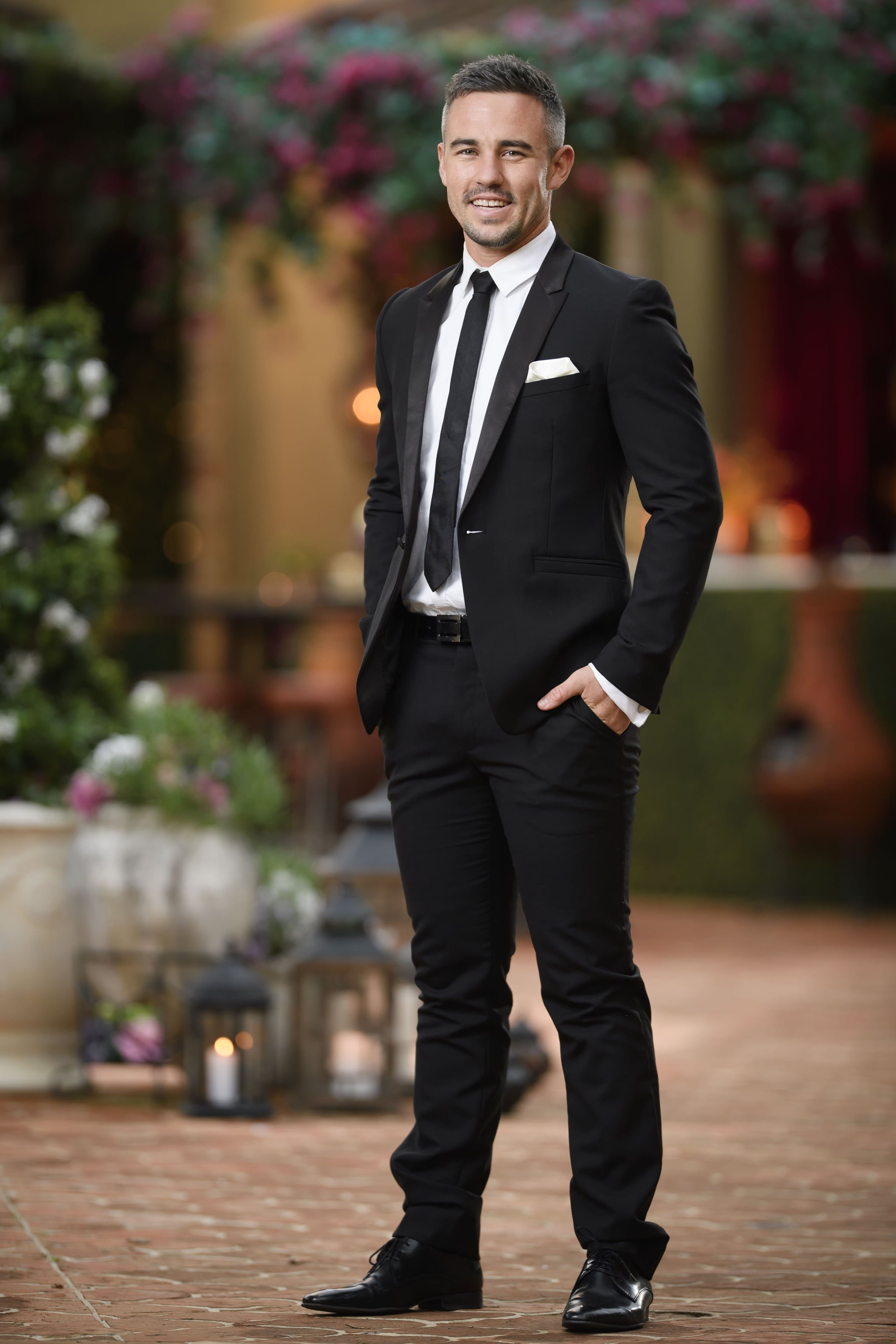 Ryan Jones didn't do himself the biggest favour when he said out loud on national TV that he likes a girl who looks good and doesn't swear (1950s called, etc) — and despite winning extra time with Sophie in the most recent episode of The Bachelorette, it was his turn to hot-foot it out of the mansion.
We hopped on the phone with Ryan ahead of his elimination, to find out what really went down and, uh, if Jarrod's really that intense (spoiler alert, he is).
POPSUGAR Australia: I was pretty surprised that you left, actually. Even though last week you said you didn't like girls who swear!

Ryan: Oh yeah, that was a good laugh. Look, it's been advertised over the media that she's got a bit of a potty mouth, but it's a shame they didn't show the rest of the conversation — because I thought it was a bit of a laugh; I've got a bit of a dry sense of humour!
PS: What did you make of all that? Were you surprised it became such a big story?

Ryan: No, not really. I haven't been surprised with what they've done with me throughout the whole thing. They're going to do what they want to do — it's for TV. I take it with a grain of salt and then have a bit of a laugh about it.
PS: How did you feel about being eliminated?

Ryan: Look, it was . . . The thoughts I started getting through my head started when Jimmy came home from the single date. I was sitting there in the lounge room and Jimmy came home after the date and I was the only one up. We sat down and had a chat and he was just totally smitten. He was like, "This chick's amazing," and seeing one of your mates have this kind of connection . . . Obviously that's what I wanted when I went in there, but it was at the point where I saw the emotions were becoming real. Given there were so many guys around and it's really hard for me to develop feelings in such a short period of time, it was playing on my mind whether it was really right for me to be there — and what type of man I would be if I got a single date and it got in the way of somebody else that really wanted to be there.
PS: So you weren't overly attached to Sophie at that point?

Ryan: We don't spend much time with her at all. We get a bit of time at the cocktail party and see each other on group dates, so collectively I reckon I'd spent four to five hours with her — and that's probably some of the most out of everybody. I just had to be real, you know? Can I fall in love with this person in the amount of time that we've got? I didn't think it was possible.
PS: After that chat with Jimmy, did things shift for you or did you keep trying?

Ryan: I did, I kept trying, but it was still playing on my mind. I went into the group date and was like, here's the perfect opportunity to be able to get some time with Sophie. I obviously got that time, and I went into that thinking, "Let's have a bit of fun with this, let's laugh about today, have a real light-hearted conversation," because opening up about Mum previously on the date, and having been as sceptical as I was on the first night, I thought it was time for her to see a nice and funnier side to me, and have a bit of a laugh. We had a chat at the polo night and she was asking if I'd be able to be in her life and . . . It developed from a really light-hearted conversation to a real one between two adults. And to be honest, that's all I ever wanted: to have a real conversation between two adults, because that's when you really start to get to know each other. It just steam-rolled from there. I just wanted to be upfront and honest with her. If I had taken somebody else's place who knew they wanted to fall in love with her, I wouldn't be a man of integrity.
PS: Did you choose to leave or did you get eliminated?

Ryan: I think it was a mutual decision. I told her how I was feeling, and she went, "What are you doing here?" At that point, we both knew that I wouldn't have enough time to develop feelings and she was like, "Well, I certainly don't have enough time with these other guys, so you're out if you don't want to be here."
PS: Once you'd left, how did you feel? Do you know that you made the right decision?

Ryan: I do, I do. They sent me back to the mansion and I got to say goodbye to all the boys. For me to go back and have a chat with the guys was great, it was such a real experience. You make such good friends with these guys and you're standing there seeing three grown men tearing up, honestly, it was such a good experience. I'm so grateful they let me go back to say goodbye. I got to have one last beer with the lads.
PS: When you first went in, you were very sceptical. Did you purposely go in with that attitude?
Ryan: I'd never seen the show before. I didn't really know what I was getting myself into, or expect all the cameras or the lights . . . I didn't know what was going on. I knew what I was going in for, and all of us guys, as well as Sophie, we all put a lot on the line to be there. A lot of guys were risking their careers, away from their families . . . I have a tight-knit circle of friends and my family's very close to me, so being away from them and having no contact was a big deal for me. I just wanted to hear it from her, that was it. Plain and simple. It's all well for someone to say, "She's 100 percent looking for love, pour your heart out, it's all going to be filmed, see what happens." [But] for me, I'd rather talk to somebody and see where they're at.
PS: Did you straight away get that vibe that she is genuine?

Ryan: I did, obviously we got interrupted and I couldn't have the conversation that I really wanted to have, but at that point I was like, for her to be able to open up and start breaking down the barriers, maybe I should take the first step and talk about the things I struggled with. Knowing we had a short time over filming to get to know somebody, after that I was like, I'm going to open up to her and we'll go from there.
PS: How were your relationships in the house?

Ryan: It was great! Other than having the opportunity to meet Sophie, I had the opportunity to meet 21 guys from all walks of Australian life. Just to be able to talk to anybody in that sort of environment was great. I learnt so much from every single one of them and have been lucky enough to keep in contact with everybody. They are some amazing guys and I don't have a bad word to say about anybody — they all offer something different.
PS: What can you tell us about Jarrod? What's he like in real life with Sophie?

Ryan: You know what, I'm an honest man: what you see is how the bloke is! It's quite scary and it's a little creepy, but that's him. You see something that you want, you go for it, and I can respect that.
PS: It's entertaining.

Ryan: It is quite entertaining. I know he's struggling a bit with [the negative media coverage]. I sent him a message last night and said, "Mate, keep your head up, it's all just words so don't think about it too much."
PS: And how did you feel about the intruders?

Ryan: We all knew it was probably going to come. At the end of the day, we all want Sophie to be happy, so if she wasn't feeling it with the guys that were there and the intruders came in, so be it. A lot of the guys were like, "We'll make it tough for them and won't welcome them," but as soon as they came into the house, I said, "Come on boys, let's go have a beer together, we're all in this for the same reason." I know Blake was a bit upset about our mate Brett leaving, so he gave the boys a bit of a hard time, but it's all good, they were mature about it.
PS: Have you found love yet or are you still looking?

Ryan: I'm dating. Early days, yeah.
PS: Do you have a frontrunner to win the show?

Ryan: I've got a couple. Looking at the connection that Stu and Sophie had straight away, something is going on there. And I think Apollo, as well. Looking at them together around cocktail parties, it's quite evident there's something there.