Sam Cochrane The Bachelorette 2017 Interview
Sam on His Nudie Run: "Of Course It Was the One Day I Didn't Wear Calvin Klein Undies!"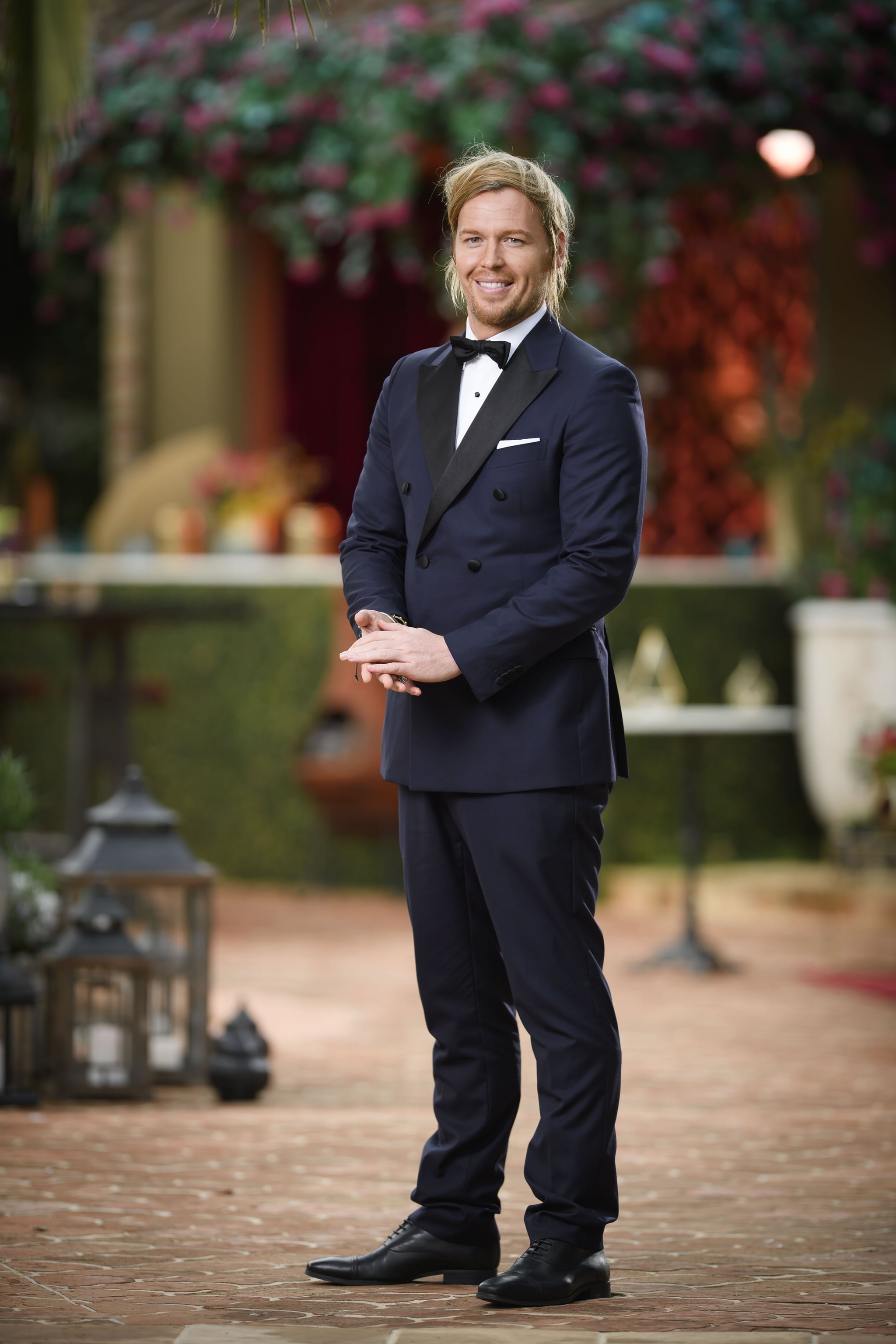 If you're ever in doubt about how to make a great first impression on a girl, just enlist the help of some very cute little boys to do the sweet talking — oh, and reference Sam's entrance on The Bachelorette. It worked like a charm, and suffice to say, set himself and Sophie up for some great banter. His strong run continued at the first cocktail party, where he became involved in an inaugural walk-off, all of which culminated in him stripping down to his underwear and doing a lap around the mansion.
It paid off though, because at the end of the night, Sam won the coveted double delight rose, which earns him two single dates with Sophie. We caught up with him off the back of the premiere to get the low-down on his side of all things Bachelorette.
POPSUGAR Australia: How are you feeling about the launch so far? Last night was quite the episode!
Sam: Good! It was funny, I actually laughed. I was able to separate myself from it, and I saw it for what it was. It was very funny, there's a great bunch of dudes, and Sophie's amazing.
PS: Was it how you remembered?
Sam: Yeah, it was, there wasn't too much difference. I'd spent a fair bit of time with Sophie that night, but obviously you can only cram so much in. It was cool, it was nice to relive that. Stripping down to my undies was something I'd thought would come back and haunt me when I was in deep thought, but it played out OK, it wasn't too horrific!
PS: Congrats on the double delight rose. Did you see it coming?
Sam: The conversations I'd had with Sophie were really quite lovely. I definitely saw a really warm, caring side to her, especially with my nephews, and she was just really accommodating and funny. I think we were able to come together with humour and attraction, it just all kind of worked. I'd like to think she decided she'd like to give me the rose before I stripped down to my undies, but we'll see!
PS: I mean, it came across as if the rose was a reward for running around the house . . .
Sam: Mmm, I think if anyone decided to strip off, I don't know if that would've been the result. She did ask me to strip off though, she did say, "I'd like Sam to do the nudie run", so I'm going to take it! At this stage, that's the only way I can justify it! [Laughs]
PS: What did you think about Sophie when you first met her? Was there a spark?
Sam: Absolutely, and being able to hear her talk to my nephews through the limo door, I was hearing laughter . . . As soon as I saw her, I thought, wow. It's one thing to see her in magazines and on TV, but when you're in her face, it's just lovely. She's very warm, she's funny and very honest, and you get that — as soon as you stand in front of her, you get that.
PS: Great move with the nephews, too by the way.
Sam: Yeah, little charmers! They completely lied about me never having a girlfriend though.
PS: Did it worry you when she said she didn't like man buns?
Sam: [Laughs] Well, I didn't hear her say that, but she jabbed me! We jab each other, that's the good thing. She said, "Did you get them when they were in fashion?" and it was like, bam! A shotgun straight to the heart. But it was funny, she's actually genuinely funny, and that's definitely going to come across. She's got a dry wit and sense of humour.
PS: I feel like you guys have really good banter and chemistry.
Sam: 100 percent, and that just continues, it's good!
PS: What was your underwear run really like, and what made you decide to jump into the pool?
Sam: The pool was an opportunity to just hide for a second, I think. For the two or three seconds I was under there, I just kind of took it all in for a second. I thought that things would be a little different when I came up, you've got a bunch of dudes that have seen me in freezing cold water, in tighty whities . . . I mean, of course it was the one day I don't wear Calvin Klein undies! [Laughs] And I don't always wear undies, so thank god. I think I got the middle: it could've been way worse with no undies, or it could've been way better with better undies. C'est la vie, huh?
PS: Definitely should've worn Calvin Kleins!
Sam: Yeah, I was just in these basic white briefs. And the thermals! What are the chances of that? But it was cold, I think everyone needs to know that I had a Titanic moment there, it was colder than you could've ever imagine. That's why that otter got out really quickly!
PS: It was a possum!
Sam: As long as I live and breathe, it was an otter. I finally got to see an otter, I'm calling it an otter!
PS: How do you feel about the other guys?
Sam: They're all lovely. At the end of the day, you can't really go completely off the first night, because everyone's being the best they can be in that situation. It's pretty scary, you've got a bunch of guys really putting themselves out there, you know? I think everyone's lovely, obviously they can't capture everything, but for me personally, moving forward, the guys are awesome — they've got my back, I've got their back. So far, so good.
PS: What do you think makes you a good match for Sophie?
Sam: We're very similar in the way we use our sense of humour, in that we use it as a tool in life. So there's a familiarity there and definitely chemistry, and there's support. I feel supported by her in this and I think she feels supported by me as well. There's a little bit of a sense of home there.