Sam Frost Interview About Dating at the 2017 Logies
Sam Frost Opens Up About Her Love Life at the Logies: "I'm So Happy to Be Independent and Single — I Don't Need a Guy"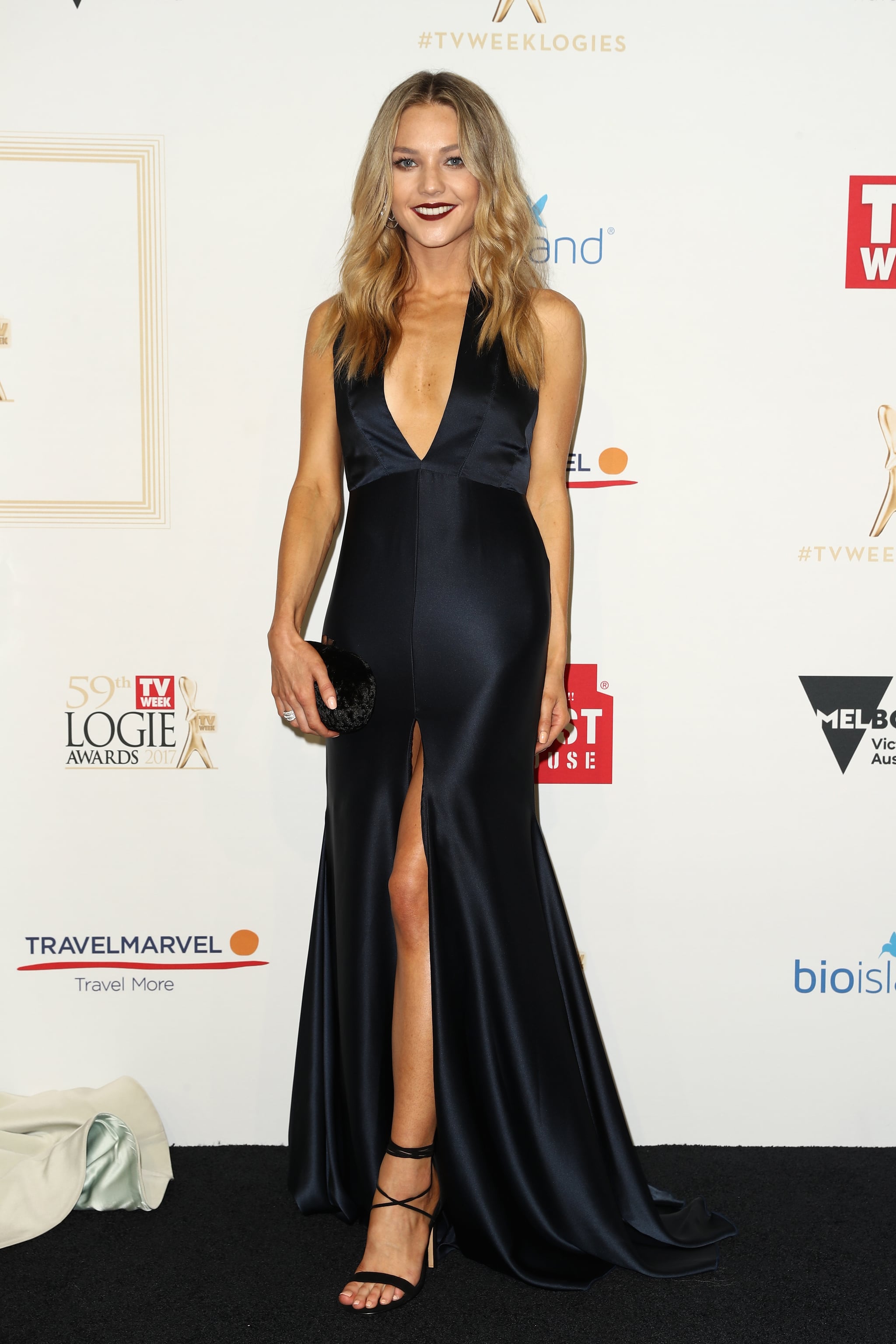 Sam Frost is one of the most delightful humans we've ever had the pleasure of working with — and that's when we're on the record and off. She's up front, she's kind and full of love and she wears her heart on her sleeve, even if it means she's a little vulnerable in the public eye.
After a rather rough few months — a break-up, a job shift and soul-destroying media scrutiny — we dare say Sam is back, and feeling better than ever. She was positively glowing on the Logies red carpet, and we stole 10 minutes with her to find out how she's really been.
POPSUGAR Australia: Thanks for jumping over and chatting to us! How are you?

Sam Frost: Aww, anything for you. I just finished filming Hell's Kitchen . . .
PS: Talk to me about this because cooking on TV sounds terrifying . . .

SF: I'm literally the worst cook ever and I'm not even being one of those people who's like, "Oh yeah, I'm a really bad cook," when they're actually really good. I am terrible, I burn toast, I burn toasties.
PS: Then why do this to yourself?

SF: Well, because I just thought it would be fun. It would be such a challenge and Marco Pierre White is amazing and hopefully I can learn how to do something better than tuna and rice [laughs].
PS: So you finished filming?

SF: Yes, we actually had the wrap party last night. I was like, "OK I can't drink too much because I have the Logies the next day," so I had a couple of wines. I'm just more tired because it's such a long schedule; it's so full on, you're pumped on adrenaline, you've got a chef screaming at you all the time but it's seriously so much fun. I don't think I've ever laughed so much in my life. The cast I'm working with is phenomenal, the crew is amazing . . . It's the best job, I can't believe it!
PS: Is it different to filming the Bachelor?

SF: The scheduling is pretty much the same, it's pretty intense but I like working like that, I like being busy. I feel like if I'm not working hard then I'm not achieving anything. So for me, having really long days and just being exhausted from working, I think it's a great achievement and I've been able to buy my own house because I've worked really hard.
PS: Massive congratulations on buying a house — that is so exciting!

SF: I bought it myself! I saved up so much money, and I was umm-ing and ahh-ing about whether to buy in Sydney or Melbourne. Then I was actually having wines with my girlfriends and we were talking about my relationship breaking down and all these things and I was like, "Oh, I'm in a funk." I was like, "You know what I'm gonna do? I'm gonna buy a house."
PS: That's the best break-up present ever!

SF: So the next day I went to an auction and bought a house for myself. I did it all by myself!
PS: Were you scared?

SF: Of course! I was shaking.
PS: It's a beautiful place! How did you feel after you bought it?

SF: I squealed! They were like, "SOLD!" and I was like "Ahh! It's mine." I couldn't believe it. No one was there to celebrate with me so I was just high-fiving myself and then I had a champagne with the owner and the auctioneer and the real estate agent. They were like, "We're gonna go." I was like, "Cool I'm just gonna hang out here and have some wines and bikkies and dip."
PS: How are you feeling now? Times have been tough for you.

SF: I'm honestly feeling so happy. I feel like everyone goes through challenges and I honestly believe that it makes you so much stronger. I feel like, throw whatever at me, world, because I'm ready to take it on. But you just grow so much [after tough times]. I feel like I've evolved so much within myself. I know myself better than I have before and I'm so happy to be independent, and single. I don't need a guy, I haven't dated since February.
PS: Are you looking to date or are you not ready yet?

SF: I don't know. I don't really care, I'm not actively looking to date someone. I just think that when you're working so hard, when you're so happy with who you are I think it's just going to naturally come to me — that's the attitude I've got, anyway.
PS: I think that's when a lot of people do fall in love, when you're not looking and you're just focusing on being happy.
SF: Exactly! So it has been amazing.
PS: The scrutiny from the public — has that gotten better for you since you went off social media?

SF: Yeah, I just don't pay too much attention. Just recently I uploaded a selfie and people were like, "Eat a burger! Blah, blah, blah!" And I just ignored it. You know, how many times have we gone around this circle? And I'll gain weight and I'll lose weight and I'll gain it again — it's just what my body does and it probably will forever. My mum has the same body as me so it will never change. It's a cycle that will just keep going around and around but you can't indulge in it and let it consume you, because it's toxic.