Sam Frost Interview After Blake Garvey Split on The Bachelor
Sam Frost Wants to "Put This Behind Us and Move On"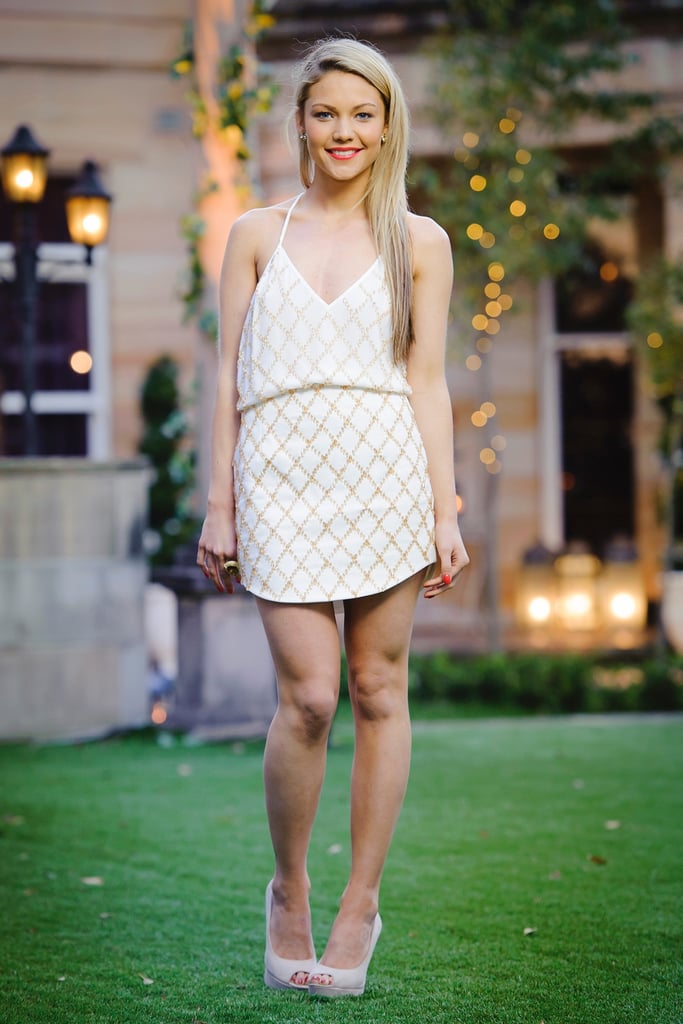 It's been a massive week for Sam Frost. In less than 24 hours she went from being Australia's most in love, newly-engaged girl to the most famous single woman in the country. Even if you didn't watch The Bachelor, it was impossible to miss what happened the morning after the finale aired: on Thursday night, in front of millions of Australians glued to their TV screens, Blake Garvey got down on one knee to propose to Sam after telling her she was the only girl he was in love with, after dating 30 women over the course of the series. Sam was overjoyed; she told him over and over that she loved him, and she told him she would "100 percent" marry him. It seemed perfect: they kissed and cuddled against a South African sunset, and it appeared as though they'd both gotten the fairy tale endings they were looking for.
Not so. The following morning, after much speculation as the result of a media blackout on Blake, Sam and the other two girls in final week, Lisa Hyde and Louise Pillidge, Network Ten confirmed that Blake had ended the engagement. Blake and Sam stayed on in South Africa for another two nights after the proposal (Sam has since said she stayed for an extra night), and they returned to their respective cities, Perth and Melbourne. Then they had to deal with reality, as well as keeping a massive production secret. They kept in contact through phone calls and Skype sessions, but they have differing opinions on how many times they actually met up — according to Blake it was a few times, but Sam said they only met up once in person during the six weeks between the filming and airing of the finale. The actual breakup happened just a few days before the finale went to air.
This week Blake and Sam have both been interviewed — separately — to share their sides of this TV love story gone awry. Sam almost lost her voice as a result of talking so much, so she kindly answered some questions for us via email.
POPSUGAR Australia: Were you able to tell anyone you and Blake had split? If not, how hard was it keeping that to yourself?
Sam Frost: I was able to tell my sister, Kristine. She was so incredibly beautiful and supportive. It was really difficult to not be able to tell anyone else. But I am glad I had that time to privately deal with the breakup.
PS: What was it like being engaged for a few weeks? Did it feel like a real engagement?
Sam: To be honest, it didn't feel like an engagement at all — we never got to spend any time together.
PS: What went through your mind as Blake started getting down on one knee?
Sam: I couldn't believe it was happening. I was so happy and excited! And totally caught up in the beautiful surreal moment.
PS: Blake told you that he felt you completely knew him, all the way to his core — did you agree at the time?
Sam: At the time, I definitely felt like I knew him through and through. I didn't think there would be any surprises at the end.
PS: How did you watch the finale, given you knew the outcome and what had happened since it was filmed?
Sam: I was with my best girlfriends who have known me since I was a 15-year-old chubby dork with braces! We had wine and dinner, I was so happy to be spending the finale night with those beautiful supportive women.
PS: When Blake met with you to call things off, did you try to resolve them and make it work? Or had he made up his mind?
Sam: I didn't have too much say in the matter, Blake had already made up his mind.
PS: We know Blake's feelings changed about you. Did yours ever change about him?
Sam: I can honestly say, they never changed. I was very in love.
PS: We've heard how you feel about him breaking up with you — what about your family, and your brothers who gave him their approval? How do they feel about Blake?
Sam: My family were devastated for me. My sister cried and cried, she just felt for me. My brothers were pretty disappointed, they really thought he was a genuine guy. All my family want is for me to be happy — when I hurt they hurt. That's why it's so important for me to pull my socks up and move on and be the happy, positive person I am.
PS: Blake's copped a lot of flak from the media and Australian public. Do you feel sorry for him at all?
Sam: I do feel for him, I really do. We have all chucked in our two cents about the situation, myself included. So now I think we just need to put this behind us and move on.
PS: Do you regret any of the wonderful things you said about him, or any part of your experience?
Sam: I don't want to live with any regrets, I have learnt from it and I'll carry that lesson with me on the next chapter in my life.
PS: You have so many great friends in the other bachelorettes, and they're the only ones who will ever be able to relate to this experience with you. How have they helped you get through it?
Sam: The Bach women have been absolutely incredible, I can't speak highly enough of them. They have just always made sure I know they are there for me, we are always exchanging texts and calls between each other, checking in to make sure they're OK. We have girls' nights out and dinner catch ups. It's very comforting to know they'll always have my back!
PS: You've gained so much support throughout all of this and have mentioned you don't want a 9-5 job. What's next? What would you like to do?
Sam: I have no idea?! I just want to keep an open mind . . . Cross my fingers and see what happens.
Want more? Follow us on Facebook, Twitter, Instagram and Pinterest!
Source: Network Ten; Instagram user fro01