Sandra Bullock to Divorce Jesse James; Introduces Adopted Son Louis
Breaking: Sandra to Divorce Jesse and Introduces Their Adopted Son, Louis!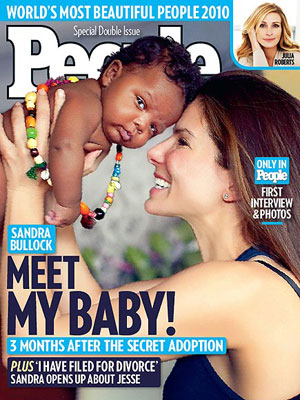 Sandra Bullock had two big stories to announce this morning. The actress is filing for divorce from husband, Jesse James, in the wake of his cheating scandal, saying, "I'm sad and I'm scared." And she's also on the cover of People with the son the couple adopted and have kept secret since January! Their baby, Louis Bardo Bullock, entered the family from New Orleans just before the Oscars, after Sandra and Jesse started adoption proceedings more than four years ago. The actress is now finalising the process as a single parent. Sandra spoke about her child, saying, "He's just perfect, I can't even describe him any other way. It's like he's always been a part of our lives." What a huge morning for Sandra and congratulations on her beautiful son!