Sandra Bullock Makes The Blind Side the First Female-Driven Film to Make $200 Million at the Box Office
Sandra Bullock and The Blind Side Make History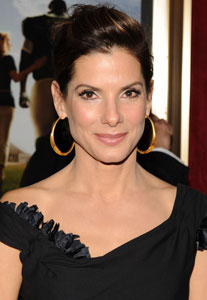 2009 was a very good year for Sandra Bullock, and the actress is bringing her big success right into 2010. Over the weekend, The Blind Side became the first female-driven movie to rake in over $US200 million at the US box office. It's hard to believe and yet incredibly empowering—even megastars like Julia Roberts and Meryl Streep have yet to hit the $US200 million mark without the help of a male costar.
I couldn't be happier to see one of Hollywood's most beloved actresses blazing a new trail, and hopefully this is just the first of many big blockbusters we'll see from the slew of other talented ladies in the industry. Plus, Bullock's award-worthy performance absolutely deserves the recognition, as does The Blind Side.
Now, we'll just have to wait and see if her luck will continue throughout the upcoming award season — starting with the People's Choice tomorrow!