The Sapphires Movie Review
The Sapphires: Shines as Brightly as Its Name
After watching a string of blockbuster releases in recent months, The Sapphires, the Australian film that wowed critics at the 2012 Cannes Film Festival and earned a 10-minute standing ovation, is a breath of fresh air. Combining music, comedy, history and a touch of drama, The Sapphires delivers 103 minutes of feel-good entertainment, backed by a soul soundtrack that will have you wanting to dance in your seat.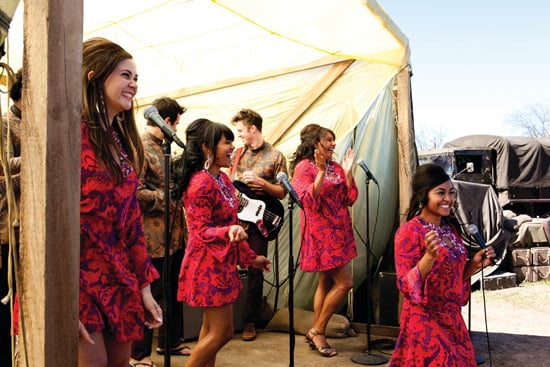 Loosely based on a true story, The Sapphires is about three indigenous Australian sisters (Deborah Mailman, Miranda Tapsell and Jessica Mauboy) who are discovered at a talent contest held at their local pub by a soul-loving Irishman, Dave Lovelace (Chris O'Dowd). Dave thinks they've got the musical chops to be the Australian version of The Supremes, and using his connections he takes them and their cousin (Shari Sebbens) to perform for troops in South Vietnam in 1968. What ensues is a singing tour that involves high-risk situations, romantic dramas, and relationship issues within the group.
To find out why I loved The Sapphires, keep reading.
The musical element of the movie has been one of its strongest selling points — there's a lot of singing and dancing, or attempts to dance — but The Sapphires also has a surprising amount of comedy. It has its deeper, dramatic moments as well, showing the harsh realities of war, touching on racism, and referencing the Stolen Generation, but its overall tone is positive, and it uses the music, with hits such as "I Heard It Through the Grapevine," "What A Man" and "I'll Take You There," to bring joy to the soldiers, and in turn, the audience.
Just as Dave assigns the girls their roles in the band, the actors shine in different ways. Mauboy's strong vocals, which the nation first noticed during her days on Australian Idol, carry the soul soundtrack. Tapsell and Sebbens are breakout stars — Tapsell in particular is hilarious, Sebbens stands out in quieter moments — while Mailman is the grounded, emotional heart of the film. As for O'Dowd, his performance is one of the film's highlights, pulling in a majority of the laughs with his Irish sensibilities and adding his (sometimes drunken) baritone to songs.
While it's not a perfect film — plot points can get a little clunky — it is pure entertainment and a delight to watch. At the end of the day, Dave wanted the girls to sing soul music to share their talent in its best form, and it's in helping them find their voices that The Sapphires reveals its soul.