Sarah Clare MasterChef 2018 Elimination Interview
Sarah on the MasterChef Judges' Generosity: "They Really Want Us to Do Well"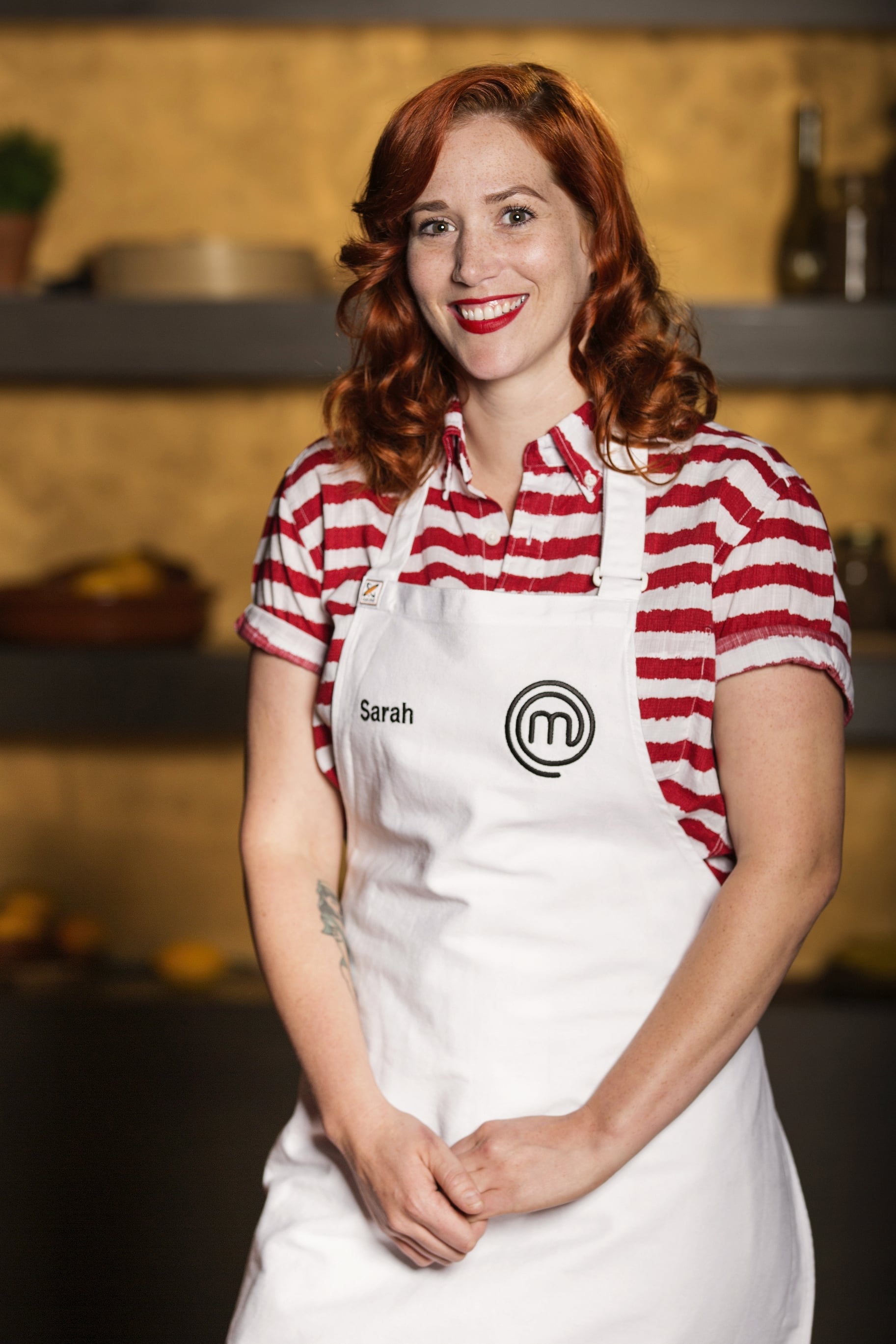 As if they weren't high enough already, now we're into the top ten of MasterChef, the stakes are now taken up a notch. From here on, we're seeing great cooks go home, and the cream of the crop truly shine. During Monday night's Pressure Test, Jess, Sarah and Chloe had to recreate Saransh Goila's famed butter chicken dish, which George himself called the best of its kind in the world. No biggie, amirite?
Of course, this wasn't just any butter chicken, with even the slightest preparation mistake proving to be costly. In Sarah's case, it was failing to read the recipe properly and keeping the chicken skin on the meat, leading to overly-charred protein and throwing the balance of the dish off.
Off the back of her MasterChef exit, we caught up with the 33-year-old stay at home mum to chat about her experience on the show. Here's what she had to say about MasterChef life lessons, the generosity of the judges and the best thing she ate during the show.
POPSUGAR Australia: Sorry to see you go! Up until this point in the competition, how have you been feeling about everything?
Sarah: Really good! It's one of those things . . . There's always ups and downs and I think it's hard to be entirely sad when you get to go home and see your family. It's only the end of my MasterChef journey, not the end of my journey!
PS: Did you have a feeling that your time was up?
Sarah: Yeah, I had a couple of bad cooks. I had the cooking version of writer's block, when the judges said, go for it, do whatever you want, I couldn't think of anything. I just blanked and lost a bit of inspiration there for a moment. Everyone has a bad day in the kitchen, but I'm so happy for the top nine. They're the most amazing group of people and all really deserve to be there. They're such incredible cooks.
PS: How did you find that Pressure Test?
Sarah: It was definitely out of my comfort zone. I don't eat butter chicken, so therefore I don't cook it! [Laughs] As much as I love Indian food and eat a lot of curries, I don't really go for butter chicken, so I didn't really know how to prepare it. I knew the dish Saransh Goila put up was incredibly tasty, but it was right out of my comfort zone, definitely. And yeah, there were a few little slip ups there!
PS: You really rushed through reading the recipe at the start. Was that from the pressure?
Sarah: Yeah, I knew it was going to be a really long cook, and I always try to read the recipe all the way through, but I just was skim reading a little bit too fast and missed a couple of crucial points, which is definitely something I would do differently.
PS: So you think that was your undoing? What with leaving the chicken skin on . . .
Sarah: Yeah, I would definitely say so. It's one of those things you tell yourself every time you do a Pressure Test, like make sure you work clean and read the recipe, but under the pressure and the time constraints, it kind of just goes out the window. My brain really just fogged up and I started panicking, which is the worst way you can be in the kitchen, I think. Running around, losing your head, not reading things properly . . . That's when you start making mistakes, and I knew I was in a little bit of trouble.
PS: You found yourself in a few elimination cooks throughout the competition. How did that affect how you went about things?
Sarah: In the MasterChef kitchen, if you're not in eliminations or in immunity, you don't actually get to cook that much. So I must say, I did learn the most in the elimination challenges. There were a lot of lessons I learnt in them from cooking for amazing chefs, so I don't really regret being in those challenges. Obviously there are always things that you'd do differently, but I feel like I learnt heaps from it.
PS: What are some of the things you've learnt?
Sarah: Definitely trying to keep your area clean. Mise en place is really important, and getting everything prepped properly. And just the actual dishes that I got to cook, I mean, I now know how to make cakes! [Laughs]
PS: What's the hardest thing about Pressure Tests?
Sarah: I don't know if you've ever been a home cook that's picked up a recipe that was eight pages long and thought, I'll do that in and hour or two! [Laughs] I'm a bit like that when I look at recipes, I always used them as a bit of a guideline and have never really been a stickler for them. That's definitely something I've learnt on MasterChef, how to read recipes properly and how to go about tackling a really big one. You get huge ones during Pressure Tests, there are so many ingredients and it's something you've never made before, and they're just like, and go! Sometimes, I'll look up a recipe from a chef online, see that it's two pages and I'll be like, nope, let's find something with a shorter recipe! [Laughs]
PS: What's been your favourite cook in the competition and why?
Sarah: I loved the fried chicken challenge, I thought that was good. And obviously the carrot challenge. It was funny, after that, it became a bit of a joke with the contestants, and some of the crew would call me carrot because of some of the comments that Matt Preston made. That kind of stuck and so then I made a lot of carrot jokes, and they've used a lot of that footage in the show. Now everyone thinks I'm crazy for carrot, and I do love them, but now I'm going to have to start banning myself from saying the word! [Laughs]
PS: I do remember that! Especially in the Alla Wolfe-Tasker challenge . . .
Sarah: Yes! That dish was the best thing I ate in the MasterChef kitchen. I had some amazing dishes, being in as many elimination challenges as I was, but my gosh, that dish was exceptional. It was so delicious, she's a rockstar!
PS: What's the biggest lesson you've taken away from the show?
Sarah: There's been a few. I've learnt a lot about the way I cook and what I want to do. When you go into the kitchen for the first time, you're just a home cook, so you do get asked a lot of questions like where you want to go, and you think you know, but the more you learn, the less you know about what it is you want to do, because you start getting more information and ideas. So it's really helped me decide what I want to do for my restaurant, and that's been amazing.
PS: You mentioned how much care the judges gave you guys throughout the show. Can you elaborate on that? We don't get to see much of it!
Sarah: Yeah, the judges are there to do a job, and once that job is over, they could just happily get in their cars and go home. But quite often, they'll stick around, come over to us and give every single person feedback. What you don't see during the filming is that they actually go around, taste everyone's dishes as they go and give us feedback. Obviously they can't show that in one episode, otherwise it'd be five hours long, but they really want us to achieve. They really want us to do well, and you do learn a lot from them. Sometimes, if your dish isn't amazing or it isn't really bad, you don't get feedback and you don't know what you could've done to make the dish better. At the end, Matt, Gary or George will come over and go, that dish just needed a little bit more salt, or that dish needed a bit more time. They'll go through little things you could've done to improve.
PS: What are your food plans now?
Sarah: I've got a pop-up happening at the red velvet lounge in Cygnet, Tasmania. That's going to be on the 14-15th of September, and it's called Wild. It'll be showcasing native and local ingredients. And I'm looking to open a restaurant in Cygnet, hopefully at the start of next year. I've realised how important sustainability is and eating produce that's in season and local. That's where I'm going to be going — using a lot of native and local ingredients, keeping everything within the radius so that you're getting the freshest, tastiest food that's grown as close to the restaurant as possible.