Sarah Harris Logies Red carpet 2017 Interview
Sarah Harris Gushing About Her Son at the Logies Will Melt You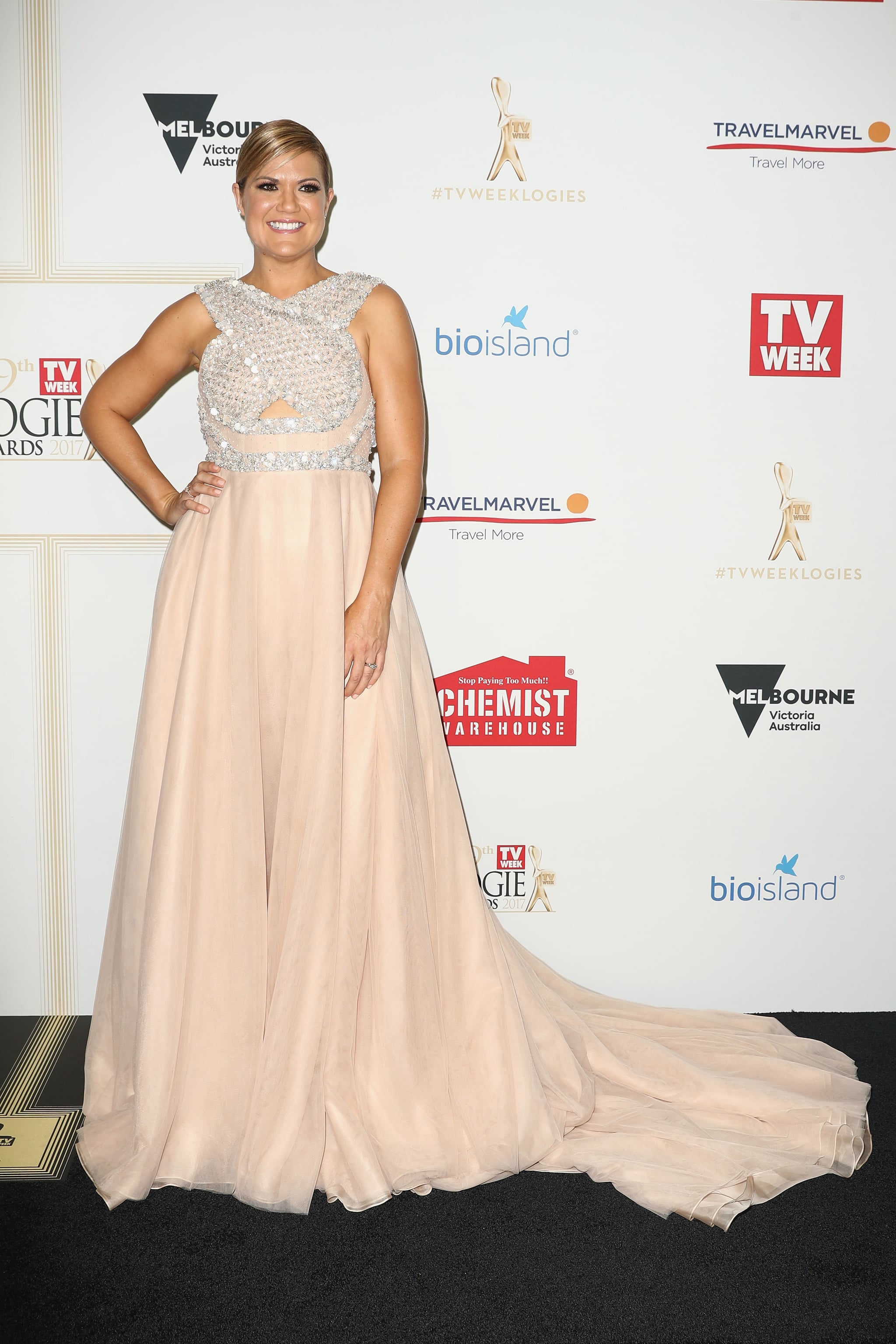 There's a lot of things we love about Channel 10 presenter Sarah Harris but the hilarious truths on motherhood she shares via Instagram takes the cake. So, when we spotted her at the 2017 TV Week Logie Awards on Sunday night we obviously asked all about her little man, Paul. Scroll!
POPSUGAR Australia: How are you?! How has your night been so far?
Sarah Harris: It's really full on. The red carpet is insane, and there are huge cheers but they aren't for us [laughs] they are for Rodger Corser and stuff like that!

PS: Oh I know! Richard Wilkens walked past before and the cheer for him was amazing.
SH: He's an absolute icon
PS: Oh he is, you can't stop staring at him.
SH: Fantastic hair as well. It's funny though, even though you are on here [the red carpet] legitimately, you still get star struck by people you see.
PS: That's what Georgia and Lee were just saying!
SH: Oh isn't she beautiful! I can't say it too loud but I can't wait to see some RHWOS
PS: Oh my god amazing! They are larger than life in every way. You just want to absorb some of their energy, they are so funny. So how has your year been? I spoke to you last year on the red carpet . . .
SH: Oh that's right! You did! Well I was breast feeding last year.
PS: Yes you were, I remember!
SH: Well baby's not here this time, he's at home with dad and I'm flying solo.
PS: Are you? How is it being away?
SH: Um I kind of missed him this morning. I had to Facetime him. But yeah he's my little mate. I adore him. He's such a good age — he's 16, 17 months and he's just funny, he's engaging and his personality is starting to come through. He's a quirky kid. He does this thing where he puts his hands behind his back and walks around the garden smelling the flowers. It brings me such joy.
PS: [Laughs!] How old soul of him!
SH: It's beautiful.
PS: We love when you share snippets of your parenting on Instagram, it's so refreshing! It's like oh yes, it's real.
SH: We're just trying to do our best right! You're just trying to keep them alive [laughs], so far so good. I thought I'd have all these rules when I first had Paul like no sugar, no television but that all goes out the window. I just think for us, a relaxed parent means a relaxed kid.
PS: That's so true! Thanks so much for chatting we hope you have a great night!