Sarah Murdoch Interview on Everybody Dance Now, Working With Kelly Rowland and Jason Derulo
Sarah Murdoch Gets Us Excited About Everybody Dance Now and Reveals Her Favourite TV Shows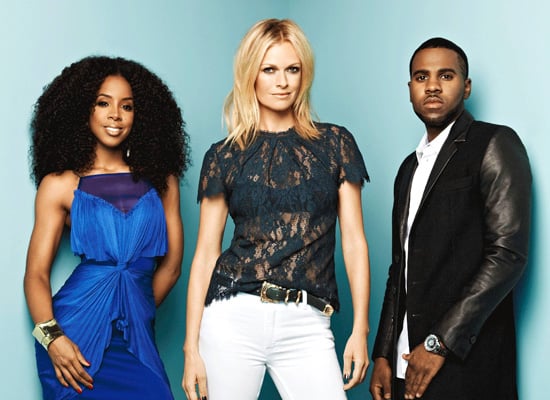 Sarah Murdoch is returning to TV this Sunday night when Everybody Dance Now premieres on Network Ten. The former Australia's Next Top Model host and producer is taking the hosting reins again for the new show, an original Australian format, which sees dancers of all ages, styles and experience levels competing for a prize pool of $450,000. On hand to mentor the contestants are international stars Kelly Rowland and Jason Derülo, known as Dance Masters. We spoke to Sarah yesterday afternoon ahead of today's first show taping (which will air on Sunday), where she shed light on the incredible talent we'll see, her own dance experience, and which TV shows she loves at the moment.
What have you been doing today?
We've been going through everything — just blocking on the stage and rehearsing. The acts are rehearsing at the moment, which is really great, just going on the stage to work out where they are. It looks amazing. The stage is huge. It's set up like an arena, like a colosseum. The audience sits in the round and they vote each winner.
It's been a few years since we've had a dance competition show like this. What can you tell me is new and different about it compared to what we've seen before?
It's open to all ages and all types of dance. When I say types of dance, obviously there's the jazz, ballet and contemporary, hip-hop and all that sort of thing, but what's been amazing is when you say, "OK, we want see all types of dance," you will see stuff you have never seen before. Even Kelly Rowland was saying, "I've seen things I've never seen before." We have circus performers who have props and have incorporated dance into them. Or even cultural mixes, like a hip-hop group of girls who do traditional African dance. [We have] tap dancers, rock groups. There's a girl on pointe, actually, like a ballet tap group. It's really cool that the dance acts have come up with really creative ways to showcase dance, but in ways that you've never imagined, culturally and in style.
More from Sarah when you keep reading.
So there's that, and the fact that there are no judges. The pace of the show is really fast. We basically announce winners off the bat. Once the two acts go up against each other — we call it a duel — it can be any type of dancer. It could be a 12-year-old hip-hop boy up against a ballet group. The audience decides then and there who wins.
As much as I appreciate judges' comments on shows like these, I think sometimes they can take the focus away from the dancing, and as a viewer sometimes you just want to see the performances.
Yeah, they're so specific, aren't they? Sometimes they get technical and you're like, "I don't know, I just found it boring." Or you just don't get into it. That's why every act is there just to entertain. Obviously they could not have gotten into the show unless they were extremely talented — the competition was really tough and thousands of people auditioned. But the fact that they've got to entertain the audience is sort of a new spin, as well.
How did you get on board and how involved is your role as host?
The network came to me with the idea of this show, which is exciting because this show has never been done anywhere in the world. The whole world is waiting to see how we create this show, which is great. It also lets us get involved in how the show happens behind the scenes as well. I've been working behind the scenes with the producers, even though I'm not producing it. I really want to just concentrate on being the host. I'm still very much involved with everyone in it. It's been a lot of fun to work on it and create this new show.
What's it been like to work with Kelly and Jason?
They're fantastic. They're so great to work with. They're such big stars but very down-to-earth, and very into mentoring and discovering these acts. More than once, they've said, "Wow, I could have them perform with me!" So that's really cool. For me it's just such a pleasure to see regular Australians being adored and fawned over by these international stars.
We know there's competition between Kelly and Jason's teams, but what about within their own teams? Everyone is still competing with each other, right?
Yeah, I find that really interesting, actually, because we did this series of days where Kelly and Jason picked their teams, and I come from a dance background — I studied since I was six and went to a performing arts school, but I was never a professional dancer, obviously [laughs] — but I do know how competitive it is in that world. But what's amazing is that they're competing against one other, but they're actually really supportive of one another. They just cheered on every act, even if they knew they'd be competing against them down the line. It kind of made me a bit emotional at times. I love that there's still that camaraderie in a fierce competition like this.
Will we see you dancing?
[Laughs] Oh I know! I keep getting asked that. I have asked the producers. I've said, "Maybe I could have a little entrance." We're not sure at this point. But I can tell you every time I see a Latin ballroom dancer, I feel like I need to do those moves, but I can't do them at all. I'm hopeless! [Laughs] But I can't help myself.
I know you've pre-recorded parts, but is there a live component to the show?
Nothing's really pre-recorded. We actually shoot the first show tomorrow night but we'll shoot it as a live show. It's got a live audience. We've got those background tapes, those little packages we do, but it'll be shot like a live show. And then it goes to air Sunday night. So we haven't actually done the show.
As it's based in Melbourne, how has it been for you to juggle the show and your personal life? [Sarah is usually based in Sydney.]
I'm just starting, so this is the first week of nine weeks I'll be down here on weekends. Thursday night until Monday morning, and then back up in Sydney. So I'll come up and down every week. This week's been the longest I've been away from the kids, so it's been hard. But it's only nine weeks, so it's not as if it's a year long. And the kids are really excited about it! They love dance, so they're excited that I'm doing it.
Are any of your kids doing dancing?
My little girl goes to ballet class already — she's two. So I go to ballet class with her. With the boys, what kids don't dance as soon as you put music on? I love that. They don't go to dance class, but they do love to do a bit of a dance show.
Whenever I watch these shows, and see how people can move their bodies, I wish my parents had put me through dance school.
Even beyond that, once you've been a dancer you have such a mental discipline. You have to be so physically disciplined, so the mental discipline that comes with that carries you through life. I don't think you'd find many dancers who weren't perfectionists.
There are a lot of cash prizes, and it's great that it's not just a winner-takes-all situation, but what other opportunities can come out of Everybody Dance Now for contestants?
I suppose it's the international exposure they'll get from the show. We've got amateurs. We've got a hip-hop crew from Brisbane who are accountants — one of the guys works for the Attorney General, but they dance hip-hop on the side, and then they put together this group and you'd think they'd been dancing for years. They're amazing and they've been together for two months. So we have the acts who are amateurish, very fresh and new, but incredibly talented. But we do have some professional groups. We've got some world champion ballroom dancers, cabaret stars — all kinds of dance acts who are going to perform. So for those guys that are professional, this is a great way for them to show what they can do. And for the others, it's a great way to be discovered.
Which TV shows do you love at the moment?
I love Modern Family. It's the best. It's my favourite show. I love The Shire [laughs]. I do, weirdly. I love all those larger-than-life, crazy characters who make me laugh out loud. I haven't had a show that I've had to pause to go and get something out of the fridge for a long time. And I'm really excited for Puberty Blues. All the best Australian actors are in there — it's incredible. And of course Everybody Dance Now, my favourite show ever.
Everybody Dance Now premieres on Sunday, Aug. 12 at 7:30 p.m. on Network Ten.
Photo courtesy of Network Ten