Sashi Cheliah MasterChef 2018 Winner Interview
Sashi's Number 1 Lesson From MasterChef? "Make Sure People Want More!"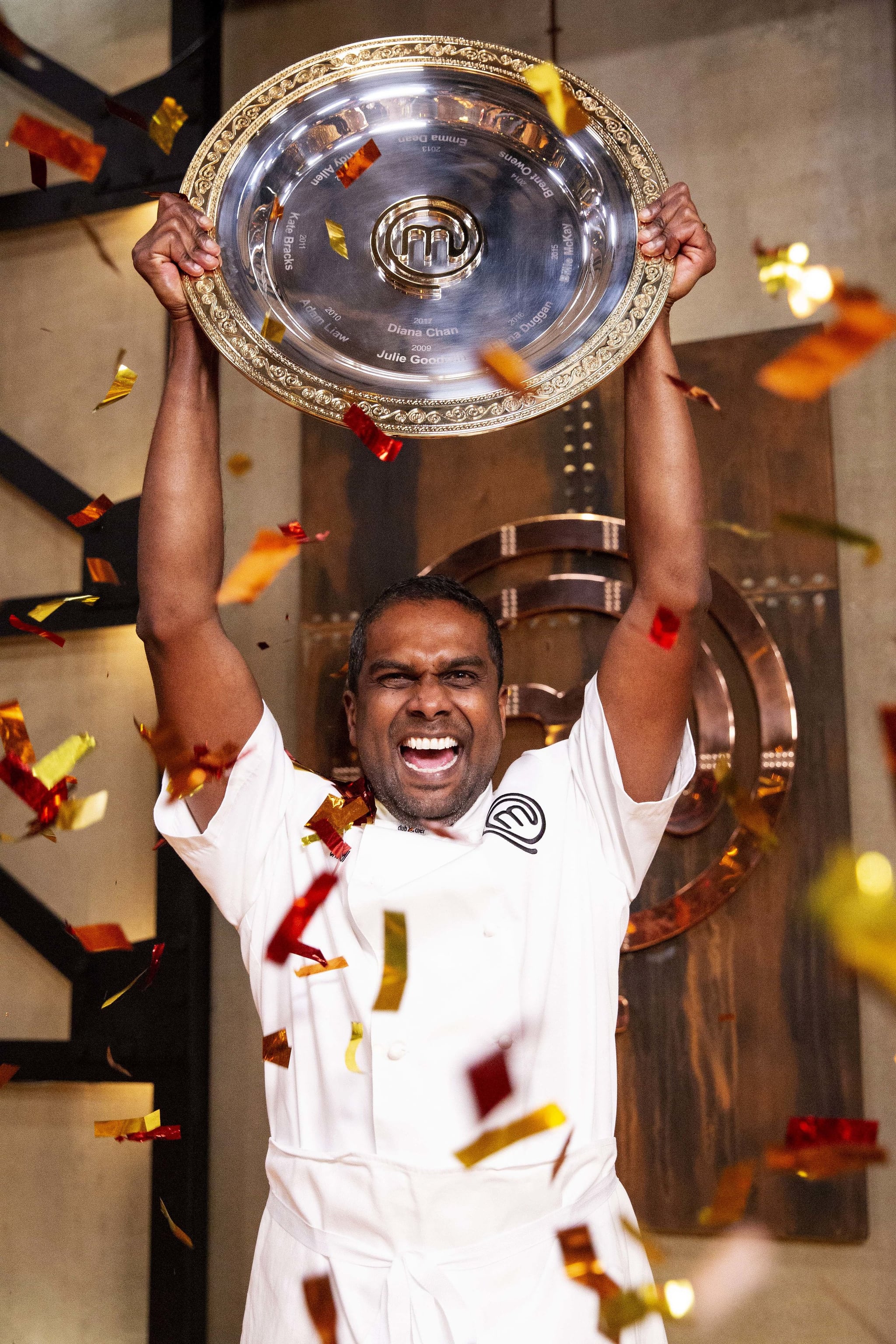 In an exciting two-round grand finale, Sashi Cheliah was crowned the winner of MasterChef 2018 with an all-time high score of 93/100. The Adelaide prison officer seriously impressed the judges with his sambal prawns and fish curry in the first round, and despite being out of his comfort zone with the Heston Blumenthal Pressure Test, still managed to hold his ground against Ben.
A long-time competition favourite — find me someone who doesn't love Sashi, I'll wait — Sashi's made history on the show with being the first contestant to not only win two immunity pins, but score the highest grand finale score ever. Not bad at all, eh? While we eagerly await to see what he'll be doing next, here's what he had to say about his hearty style of cooking, what he credits to his success and support from the public.
POPSUGAR Australia: Congratulations! How are you feeling?
Sashi: Thank you so much! Um, actually a bit scared! [Laughs] I don't know what to expect after this. It's going to be a new ride for me. On the show, I was enjoying it, taking it day by day, but now thinking about going into the food industry full time is a bit nerve-wracking.
PS: How did you find the finale?
Sashi: I was a bit scared going into it. I had a lot of ups and downs during Finals Week, some good cooks and bad cooks. I wasn't having the smooth ride I was used to having, so I was a bit nervous. But thankfully, my family were there, so that was a great motivation.
PS: And you also came out with the highest score ever!
Sashi: Yes, I never expected that to happen! I went in and did the usual, to cook my best, and making sure there were enough flavours in everything I put in, enough textures and enough balance. I was focusing on that and the result was, yeah, the highest score ever, it was great.
PS: How do you think your cooking style has evolved over the course of the competition?
Sashi: My cooking style has pretty much been authentic all the way. I love authentic food, but in terms of plating and making my food more competition-worthy, I've learnt a lot there and how to do it better. My motto has become less is more, so I've learnt to put [less on the plate], but make sure that people crave more and more. That's something I've learnt in the competition: if you're plating up good food, make sure people want more. I've also learnt a lot about other cuisines on the show. I've learnt how to make good desserts, pastas, about Mediterranean food . . . So I've evolved to be a better cook who understands more flavours now.
PS: You've been such a popular contestant. Everyone I speak to absolutely loves you. How have you found the support?
Sashi: [Laughs] Public support has been very good, they've been so loving towards me. When I go out on the street, to the mall, people approach me, especially kids. Oh my god, I didn't know I had such a big kid following! So many kids come up to me and go, "Are you Sashi?" Then their parents end up talking to me, and also when I go and pick my kids up from school. I'm really enjoying it now, especially the kids. Social media have also been very kind and I've been getting a lot of support there. It seems like my fan base has grown out of Australia and gone over to South Africa, India, Canada, Finland, Malaysia, Singapore . . . Around the world. It's good, it's very nice.
PS: You started off very strongly, you won two immunity pins and things like that. But then closer to the end you found yourself in more eliminations. Did that worry you at all or did you see it all as a learning opportunity?
Sashi: Without going for an elimination or a Pressure Test, you can never win MasterChef, because there will always be on in the finale. I treated the previous eliminations and Pressure Tests like practice rounds, and I made sure not to make the same mistakes I did in those during the finale. So that was good for me, actually.
PS: The judges have commented that your style of food has been a bit too home-style at times, which is tough because a lot of South East Asian cuisine is quite rustic. How did you reconcile what their feedback and stay true to the cuisine?
Sashi: I'm a very rustic, home-style cook, so I remained truthful to what I believed. If you came to my restaurant, that's what you'd be getting for sure. You'd be getting a hearty, home-style meal served with a smile. So the judges had their views on how I could improve myself in terms of the competition, but I tried to stay as close as possible to my heart and serve them good, authentic food in a MasterChef way.
PS: What have you taken away from MasterChef?
Sashi: Knowledge. The amount of knowledge I've gained from the judges is enormous. They're such amazing people with so much experience in the food industry, talking to them is like reading a dictionary every time. You're getting new stuff every time. So I learned a lot from the judges, including Shannon Bennett. His way of plating, his way of looking at food is in a different dimension.
PS: Apart from being away from your family and friends, what did you find the hardest?
Sashi: The unknown. Every time you walk into the kitchen, you don't know what you're cooking or what you're going to be doing. That was very nerve-wracking. Every day there would be some level of stress before you even started.
PS: What do you credit to your success on the show?
Sashi: My perseverance. I don't give up that easily, and if I feel I'm not ready for something, I make sure I practice and try again and again to make sure I am competent. So I feel like my perseverance was what got me this far.
PS: Tell us a bit about what you're doing now!
Sashi: A restaurant is definitely in my mind and a long-term plan, but for the time being, I'm going to take a couple of weeks with my family and see what opportunities come in and work around those. I want to try a few things, so from there, I'll decide what will suit. But it will definitely be in the food industry! For now, I'm not planning to go back to the prison, but I have a plan to work with a prison department in the future in terms of rehabilitating and getting employment for ex-prisoners. That is definitely a must-do for me, I've been saying that since day one in the competition.