Sean Keenan Interview For Puberty Blues Season 2
What Does Sean Keenan Have In Common With His Puberty Blues Character?
Like many of his fellow young co-stars, Sean Keenan was relatively unknown when he landed the role of Gary Hennessy on Puberty Blues in 2012, but he quickly became a fan favourite after delivering an affecting performance of a teenage boy who struggles with his relationship with his father, gets caught up in drugs, and falls in love. At the end of season one, Gary's story was, as Sean explains, "kind of up in the air," but it's clear the character lived on and has matured in season two. So what are the biggest things Gary has to face this time, and how does he deal with them? Here's what Sean told POPSUGAR Australia.
POPSUGAR Australia: Remind me where we left your character at the end of season one.
Sean Keenan: At the end of season one, it was kind of up in the air. A lot of people didn't know whether he was dying or not, because he was addicted to heroin, and the last time we see him he's having a hit, instead of lying down into his bed, so people thought he was going to OD. But no, he lives on and clings to life. He actually gets off the heroin this season. He's clean. And it makes way for him to develop more as a person, without the drugs hindering that. He was a pretty big stoner; he was into it all. It's good, he's less foggy and bit more pro-active, which is cool.
PS: What do you have in common with Gary, or how do you relate to him?
SK: I consider myself a bit more of an assertive and opinionated person. And a more energetic person [laughs]. And that's what he's moving towards in this season; I was doing some scenes and thought I was bringing more of Sean into it. Which was weird! He gets off the drugs but he's still chasing the rush, but it's more of an adrenaline rush this season. He gets into a bit of trouble, but also focuses on good things as well, like helping out his mum, standing up for his mum. And standing up for the girls against the other guys who are just sort of getting real sloppy, or getting on the heroin.
I think now I can draw more connection between me and him. We both obviously surf, which is pretty much my only form of exercise, and something I'm very passionate about. Sport is a very big part of who a person is, and we both surf. It's good! It feels good to be out on the water.
PS: So this is obviously the perfect role for you.
SK: Yeah! We have days where you're just paid to surf for a day! And unless you're a professional surfer, who the f**k does that? It's great! It's just sick. "Paid to surf for a day." I can't stop saying it! I love that idea. And I get to do it.
PS: Two big things for Gary this season are his relationship with Debbie, and what happens when she gets sent to boarding school, and also the return of his dad. So how does Gary cope with these scenarios?
SK: The separation from Debbie, it's pretty hard on both of them. They're the only couple out of the show, out of the young cast, who are actually in love, not just in lust. They really do care for each other, and she gets sent quite far away. They struggle. And his dad does come back, and his dad is constantly telling him that Gary is his dad, like, "You are me." Gary doesn't want to turn into that person. But there's a bit there where he almost gets tempted, and he almost believes he is his dad, and sometimes you almost see it come out. That drives him to be a little bit unfaithful when Debbie is away. So their relationship definitely gets tested, but I think they are so in love that things will always work out for them. Or at least you hope so.
PS: People are definitely rooting for them, pardon the pun.
SK: Yes, rooting for them. Oh, nice — I see what you did there [laughs].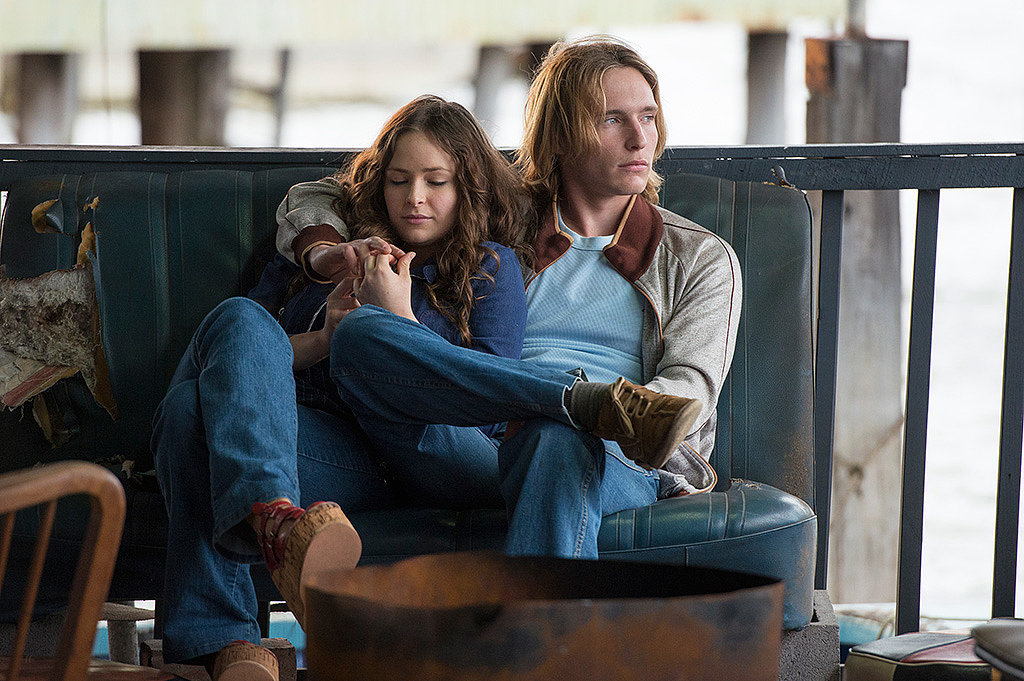 PS: For you, what are the hardest kinds of scenes to film?
SK: It's weird. There's not a type of scene. Sometimes it can just be if you're tired, or scenes won't click. There's no excuse, it's just sometimes you know it's not right. I do scenes with lots of people, but especially me and Susan [Prior], who plays my mum, we often talk about scenes once we've done quite a bit, and we go back and analyse. It depends who you're with, and sometimes you'll be with someone who's keen to sit down and nut out a scene, like, "How can we make this work?" Sometimes you can feel it's not right. And it's not necessarily going to be a hard scene; it could be the most simple scene written down on paper. And then you get there, and in that situation you're like, "What the f**k? Why isn't this working?"
We had one [scene] where I think I had to come in, arrive home, and mum's saying goodbye to a man she's seeing, and I just say, "What are you doing?" It was so simple, but something wasn't right. But we nutted it out in the end, and it's good when you have someone who's willing to sit with you, and really cares about the other person as much as they do for their own performance, and look at scenes as a whole. Emotional scenes, sometimes they come extremely easily, sometimes they don't; it depends how you're feeling at the time. I think the bigger scenes are not as bad because I get myself amped up for them, and you always make sure you're very focused — drink a couple of coffees, get all amped up [laughs]. Basically the harder ones aren't always the ones that may seem the hardest. And big scenes that you have to shoot a million times can get a bit tedious as well. Especially when you're cold and it's late at night.
PS: What do you and the rest of the young cast get up to when you're not required on set?
SK: We all hang out. Me and the boys will go surfing a lot; Dylan [Goodearl] and Jack [Horsley] both have big vans and swing by to pick me up. If I hang out with the girls, we just hang a few drinks out at some bar. Just like normal people.
PS: Which actors' careers or acting choices do you admire?
SK: I'm a really big fan of Joel Edgerton. There was an interview he did in the Sunday Times or something that was probably the most intelligent interview I've ever read, from an actor. It was so long ago. Just his insights, and the fact that he didn't crack it until later. He said something like, "If I had become big when I was younger, I don't think I would have handled it, or done it how I've done it." He's so humble, and I love that. And so smart. I love his work as an actor and think he's very talented. I always loved Heath Ledger. In terms of females, I love Emma Stone; I think she's great. She's so funny and smart. And I think Cate Blanchett is great too. I name a lot of Aussies. I like Michael Fassbender, too — he's very strong.
Puberty Blues airs on Wednesdays at 8:30 p.m. on Network Ten.
Source: Network Ten