Shane Gould Survivor 2018 Winner Interview
"There's a Myth About Older People Being Incapable" Shane Speaks Out After Her Survivor Win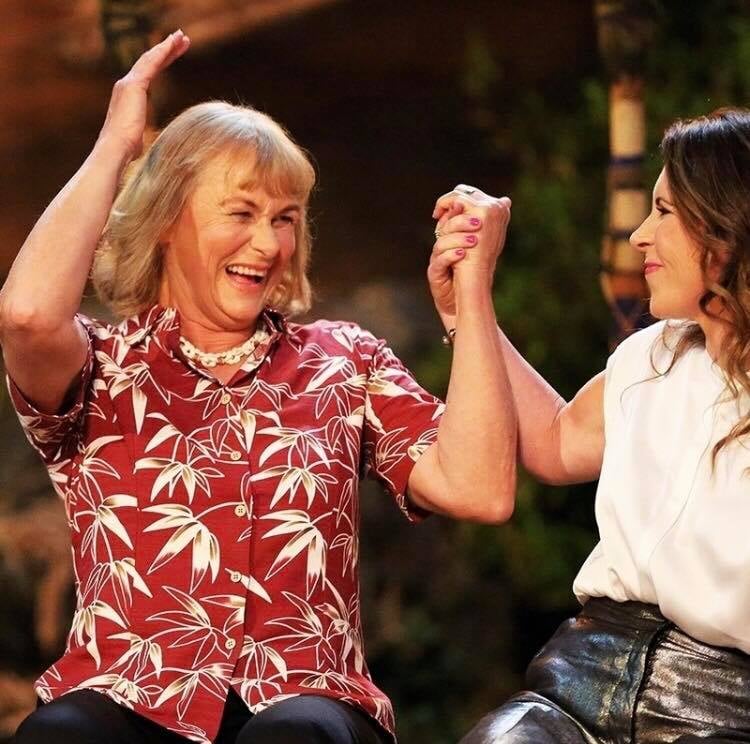 On Tuesday night, former Olympic champion Shane Gould was crowned the winner of Australian Survivor, narrowly beating out second place finisher Sharn Coombes in a 5-4 vote. Shane was taken to the final two by Sharn, where she certainly held her own against the criminal barrister, coming up with a convincing argument about her subtle game play that ultimately won her the title. Ahead, her thoughts on being the oldest ever winner of Survivor, her strategy going into the final tribal council, and what is in store for her next.
POPSUGAR Australia: Congratulations! How are you feeling?
Shane: I'm exhausted. . . with elation. [laughs] It's been a huge year preparing for it, and then living through it, and watching it over, and then the resolution being revealed last night. It's been quite a long process, but I'm really happy.
PS: Did you have an inkling that the result was going to go in your favour, or was it a surprise on the night?
Shane: Well, I knew it'd be close. When it got to four [votes] all, I was thinking "okay, it could go any way." I didn't really know, I couldn't read how the jury members had taken to both of our pitches. So, it was definitely 50/50 as far as I was concerned. Sharn played a hell of a game, and was a great friend, and we helped each other to get through. We made subtle moves and weren't overt about our power relationship, in order to reduce the targets on us as a couple.
PS: A clearly effective strategy!
Shane: Yeah. I saw Sharn walk past earlier today and I just wanted to go give her a hug, go back onto the beach and cook rice and beans together. We said after the show, "whoever wins, let's go back to Savu Savu [the filming location] together." We enjoyed living together and being on the beach, we had a good understanding of how to cook the food and all that. We're both professional women who lead meaningful and active lives and we have a lot in common, so we'd like to continue that friendship.
PS: I think we'd all like to see that happen! How did you go about your final tribal council speech, knowing you were up against a criminal barrister?
Shane: In retrospect, Sharn was pitching for herself, not for her client. So while she was good with the points she made about her game, and trying to rebut the jury's questions, I think she wasn't quite as a strong as she could have been if she was defending, say, me or someone else. But how I prepared was by thinking of five or six major points and how I'd present those. I wrote them down in the sand, the key words I needed to remember. Our brains were starved of fats and sugars, so at that stage our bodies were eating themselves, where as the jury were well-fed and their brains were sharpened. So I prepared by whittling down my key points to help me remember. The actual tribal council went for a long time, and some of the questions had as many as four different points to them, so if I was sharper and my brain was functioning better, then I probably could have managed some of the questions better. The jury were pretty brutal, and smarting a bit of course, which I would have been too if I was on that bench. You invest a lot of your time, energy and emotions into the game, so it's not that the jury are sore losers, it's just a natural thing for them to be disappointed that they were knocked out.

PS: Yeah, and there were times when some members of the jury were clearly leading you to an answer they wanted, like Sam. . .
Shane: Well, Sam's quite eloquent, he was pretty tough on me and didn't see the subtleties of my game, he saw more of the overt game and the silver-tongue of Sharn. While I wasn't so much in the background, but I just didn't say as much. I still talked to my alliances, but I just didn't have as many words, and I wasn't as panicky as some of the others were. Sometimes other players being paranoid and anxious would come out in wordiness, and [makes hyperventilating sound effect]. But, I was able to stay calm and inside myself, so some of the players on the jury didn't see how I managed myself, and that was a strategy in itself. I was being authentic to who I was, and that helped me.
PS: How does it feel to be the oldest ever winner in Survivor history?
Shane: I'm quite surprised that I'm oldest person to have won, but also not surprised in another way. The game is sort of targeted towards those young, fit and vibrant people who are in the prime of their lives, and there's a bit of a myth about older people being incapable. If you just look around in your workplace and in your life, you'll see how many middle-aged women are still vital, functioning, creative, contributing and wise. I think I stand for that demographic, that group of people who tend to get pushed aside, and it's such a waste of resources, talent and wisdom. I was a metaphor for underestimating older people. It's a good lesson, that maybe we've got to take care of our older people, and if someone's applying for a job when they're 55, then seriously consider them, they've got a lot to contribute to society. People are actually probably more vital in their older years, before of their life experience. Hopefully people will have that take-away from my experience of being the oldest person to win Survivor, to value my generation more.
PS: While we're talking about celebrating you and your game, what moment from your game are you most proud of?
Shane: I think my ability to be in the right alliances at the right time. I had a relationship with everyone, some more than others of course, and I think it was my ability to read social situations . . . my social game was stronger than I imagined it would be. So I don't think there was any one moment, I think the general thing was reading the situation, reading people, and knowing when to schmooze them, when to trick them, or when to cooperate. This came into play with the Lydia, Jackie, Fenella, Shonee and Monika votes. They all encapsulated that skill.
PS: Talking of schmoozing, I thought when you started complimenting Fenella during final tribal that it was a tangent, but now I see it was a strategy.
Shane: Well I had a bit of a run-in with Fenella, Shonee and Monika, and I was a bit critical of them. It was meant to be a humourous thing, but I apologised. I just wanted to be genuine in that moment at tribal council, and say to Fenella, "look I saw what you were doing and I admired you for it, even though I voted you out." That's what you do when you're a competitor, you have to revere your competitors.
PS: You've led such an interesting and varied life, what's next for you now the show's over?
Shane: I've got a number of projects under way that I sort of put on hold to do the show. I've got to finish my PHD on the culture of swimming in Australia, which will get examined early next year. I've also done a lot of research that can't go into the thesis, but I'm going to release a separate book on swimming culture, which will be a bit biographical. I'd also like to make a documentary based on that material, and I'm in contact with a very good Australian producer to do that. Then there's two projects I do with my husband, that's drowning prevention work in Fiji, and documenting swimming culture in the pacific. We also have a fearful swimmer program. A lot of migrants have been leaving the Middle East to go to Northern Europe or other safer countries, so there might be opportunities in the Middle East to work with Muslim girls to get them active in swimming. . .so I think that's quite a bit of activity, isn't it? [Laughs].