Shannon Baff Bachelor 2018 Elimination Interview
The Bachelor's Shannon Is Still Open to Finding Love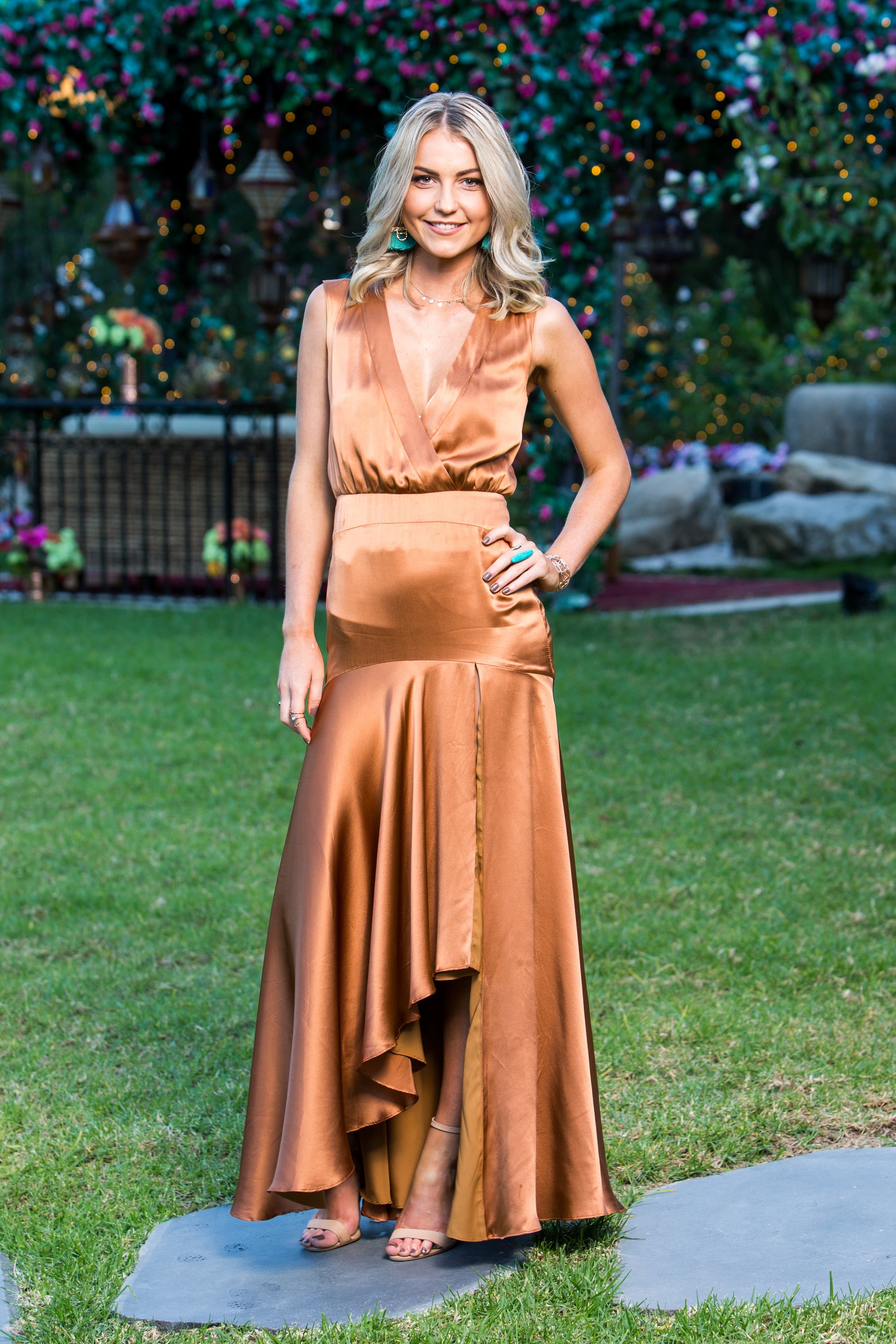 She was first to greet Nick on opening night and had declared her love for him within seconds of the meet. But even after scoring the very first single date, the pair struggled to maintain a connection.
We spoke to Shannon about her feelings towards Nick, the struggles she faced in The Bachelor mansion and standing up to Cat.
POPSUGAR Australia: You didn't seem too confident going into the rose ceremony. Were you surprised that you didn't receive a rose?
Shannon Buff: I knew it was my time, to be honest. When Osher came out and put the [single date] card on the table and then Sophie walked out, and she had got the last date. I sort of knew then that my time had expired. I was a little bit disappointed, obviously, because it was a long time we were living in there and waiting.
PS: The conversation at the cocktail party looked like it went well. What happened?
SB: I can only speak for myself so it's hard to tell you what was going through his mind, but I stuck around because I thought there could be potential there, but obviously, we needed more time. So much happened in the meantime and I'm sure he got a bit lost in transition but that last conversation [at the cocktail party] really defined whether I was going to make the next step forward and potentially hang out with him more, but it didn't work out that way. I'm strong on the fact that the universe is looking over me and what is meant to happen will be.
PS: What did Nick say to you when he pulled you outside after the ceremony?
SB: It's a very touchy situation for Nick as well. He's got all up 28 women and I can't begin to imagine where his mind was at. I can't speak for him, but he made the decision for me to leave and at the end of the day I was looking for love too and if he wasn't feeling it 100 percent then I'm ok with that.
PS: Judging by the emotion you showed, especially in the final episode, is it safe to say you had strong feelings for Nick?
SB: I most certainly did! I really hit it off with him on that first date. You don't really see what's happening or the conversations we really had throughout the day, but we really did connect. We shared the same values and beliefs, but you know it was hard with the pressure of having the first date then seeing all these other girls come back and they've had a more recent connection with him and I think it genuinely just faded out a little and that's OK. It's difficult having all these girls and having to speak up over people. It was a very unusual environment.
PS: You seemed to have struggled throughout the experience, with talk you suffered from feelings of depression and anxiety. Was it hard for you?
SB: I think if you put anyone in that house with 25 women . . . Look, it was very difficult and I think having that pressure of having the first date and then everyone has to have their time still and when it really started to kick in for me was when people were starting to get second dates and extended time and I still hadn't been given the opportunity. I just took what I could at the cocktail parties. So yeah, it was easy enough for my confidence to drop a bit. I felt I was really trying to get some time in with him, but it just wasn't reciprocated.
PS: Was it hard being shut off from the outside world?
SB: Yeah, bloody oath! I think everyone did. It's very compact when you watch it back, but we were away from everyone for a very long time and you don't really get those reassuring conversions with your family, so it does feel a bit weird. I wouldn't take it back and I would do it all over again for the amount that I learnt about myself, that's for sure.
PS: You stood up to Cat and the girls when you thought their behaviour at the cocktail party was out of line. What made you say something at that moment?
SB: In my normal day to day life, I would never get into any confrontation, that is something I truly avoid. But for me, that was just like the kettle boiling. I just observed for a little while and the words just came naturally, I just literally felt that way. But I feel proud of myself for sticking to my guns and staying true to my values and what I believe. But in saying that, of course, you're going to have people you don't necessarily click with because you're in a house with 25 women and you wouldn't normally have something like that to happen unless you're on The Bachelor.
PS: How did you feel after you'd confronted Cat?
SB: It felt good and I felt like it was something I needed to get off my chest. But I did let it go after that because you've got to live with them after that so it's best just to let it go and move on forward.
PS: Have you found love since leaving the mansion?
SB: No, I haven't unfortunately but I'm still open to it. I'm on my own two feet here in Melbourne, just been doing my own thing, but no love yet.