Sharlene Elimination Interview The Bachelor Australia 2017
Sharlene on Matty J: "I Was Starting to Question Why I Was Still Getting a Rose"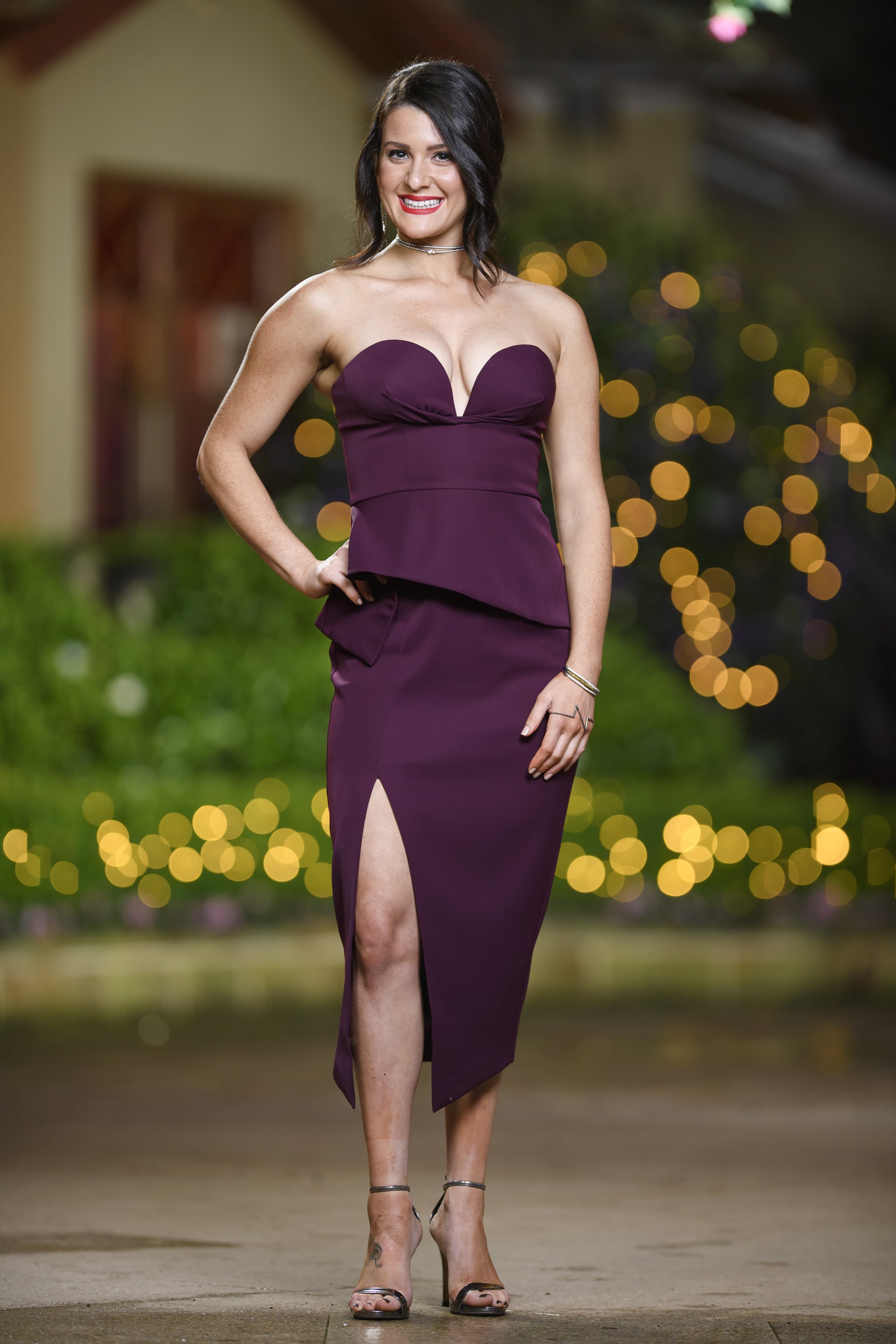 Sharlene Boguslavsky Mik, 26, has been eliminated in the eighth episode of The Bachelor, but after speaking the woman ourselves, we're happy to report that she's totally fine about the whole thing.
Admitting that she was surprised when Matty unceremoniously (literally — there was no rose ceremony for her) let her go, she also said she totally understood, because she'd had next to no time with the guy, and that there were no hard feelings.
We hopped on the phone with the Victorian wedding planner to ask her everything we could about her time in the mansion.
POPSUGAR Australia: I'm sad to see you go tonight. Can you tell me a bit about what happens?

Sharlene: Sure. My time in the house was great. I didn't spend a lot of time with Matty and after six — how long has it been? Four weeks, how long has it been on air?
PS: This is the fourth week.

Sharlene: Fourth week. So I guess I was in the house, or in the process, for six weeks and I was sort of starting to question why I was still getting a rose every week.
PS: Right.

Sharlene: And I didn't really know where it was going. So I decided, you know what? If it was in real time, in the outside world, I'd like to sit down and have a chat and be like, "Look, is this going anywhere?" If not, then no, if yes, great. And Matty was absolutely honest about it and I'm so glad that we had the conversation. I wouldn't have changed a thing.
PS: Did he say to you that he just didn't feel like it was right?
Sharlene: He said some lovely things. He said that there was a lot about me that he liked, but the connection wasn't there — when he did say there was no romantic connection, I kind of was a bit shocked that that's the way the conversation was headed. But when he did say that, I was like, "You know what? You're probably right."
PS: Did you get much time with him at all?

Sharlene: No, not at all. I got about . . . like, five minutes on air. [In real life] it was like 27 minutes with him. I seriously think that I could count on both hands how many minutes we spent together. We just didn't get a lot of time together. It just left me confused because all I thought was, "That's fair enough, we don't have a romantic connection . . . but why have I still gotten a rose every week?"
PS: Did he answer that?

Sharlene: I didn't ask him that, that was just going through my mind.
PS: Did you feel like you had a connection with Matty at all?

Sharlene: I don't believe in love at first sight but I definitely thought, he's a great person, he's gorgeous. I'm sure I could develop feelings for him. But there was no, like . . . it's not like I looked at him and thought straight away, "Oh, I just want to rip his shirt off." I just thought, you seem like a lovely man and I'm sure that I would develop feelings for you if we spent time together. But we just didn't get that chance.
PS: Well normally you probably wouldn't know straight away if you were going to be in love with someone.

Sharlene: Not at all, not at all. You know, I'm a wedding planner and I see marriages and couples all the time — you don't really hear about many couples who say, "I saw this person in the supermarket and married them." You know? You hear about connections growing over time. I guess I'm past the point in my life where I turn lust into the thought of a relationship. It's got to be more than that for me and I just didn't have the opportunity to explore that with Matty.
PS: How did you feel when you said your goodbyes? Were you sad to leave or did you feel relieved?
Sharlene: I had mixed emotions. Obviously I was shocked that that's the way the conversation had panned out, because it's not like I expected to have that sort of ending. But at the same time, I was so relieved and so happy that he was honest with me. I thought the worst thing that he could have done would be to say, "No, no, you're safe," and then not give me a rose. I think it was really great that he was upfront with me and it was a really, on his behalf, a lovely thing to do.
PS: I loved last night when you told Elora she was out of line.

Sharlene: Yep.
PS: Was that kind of your role in the house, to call people out when they were being a bit harsh?
Sharlene: I'm quite a diplomatic person. I look at every situation from a neutral third-party perspective and sort of exercise my moral compass and I'm able to determine, whether I'm friends with that person or not, if they're right or wrong. And I wasn't necessarily best friends with Leah in the house but I didn't agree with the way that Elora spoke to her in that situation. I thought it was completely unnecessary, she was already under pressure, she was already embarrassed. There's no reason to . . . throw salt on the wound, you know what I mean? Like dig that knife a little deeper. I think that was Elora's intention there and little comments like that tick me off and I just don't stand for them, so I had no issue speaking up.
PS: Did Elora show any remorse after that?
Sharlene: No, no, she was totally fine with what she said and that's completely her prerogative. She had her reasons for feeling that way and obviously Leah did upset quite a few people in that house, but that comment was just completely unnecessary. I didn't see the reason for it in that conversation.
PS: Did we see the real Leah and Elora on TV?

Sharlene: I definitely don't think that you can put words into someone's mouth. So obviously everything that everyone said in that house, they consciously said. The whole context of the conversation isn't always included but it is always spoken from that person's mouth. I wouldn't say that we were best friends but I respect everybody in that house and I think they've definitely got some great qualities, those girls.
PS: And who are friends with from the house?

Sharlene: Michelle.
PS: I love Michelle. What's she like to live with?

Sharlene: Michelle is a lovely girl. She is very strong, she's very to the point, concise. As a police officer, I think her profession has impacted on her personal life in the sense that she's a very strong, independent woman. And she was a big support for me in the house.
PS: In tonight's episode everyone was really scandalised by Elora going on the date.

Sharlene: Mm-hmm.
PS: How did you feel about it?

Sharlene: Look, in the back of mind, even though there was speculation about an overnight date, I always knew that Matty wasn't probably the type of guy who would throw in a sleepover with one of the girls half-way through the show. So my initial thought was a bit of speculation like everybody else, but I didn't think that Elora was going home, and I didn't think that they would have an overnight date. So I really thought it was just a bit of a spanner in the works and that nothing would eventuate from it.
PS: Were you annoyed by it?
Sharlene: I think a few of the girls were a little bit annoyed that Elora had a second date before some of the other girls got their first date.
PS: How does it feel when people go on a second date before some have had their first?
Sharlene: It is really frustrating. It's hard, it's a hard situation. You do sort of sit there and wonder, well, he must really like that person — what's going on? A few of the girls were a little bit confused. So I can imagine how difficult it would have been for some of the other girls and for me it was kind of like, you sort of start to question why. And obviously surrounded by so many other women, you think, "This is such a hard process, I really just want to know if it's worth staying on for, or if I'm just going to be strung along for another week." So I think like any relationship, people would just want to seek some answers.
PS: Did you enjoy the experience overall?
Sharlene: 100 percent, it was fantastic.
PS: I'm glad to hear that. Thanks for being great to watch!
Sharlene: What you saw of me [laughs]! For the whole 30 seconds!