Simone Ormesher Elimination Interview The Bachelor 2017
Simone Says, Yeah, She Was a Bit Bloody Annoyed by What Happened on The Bachelor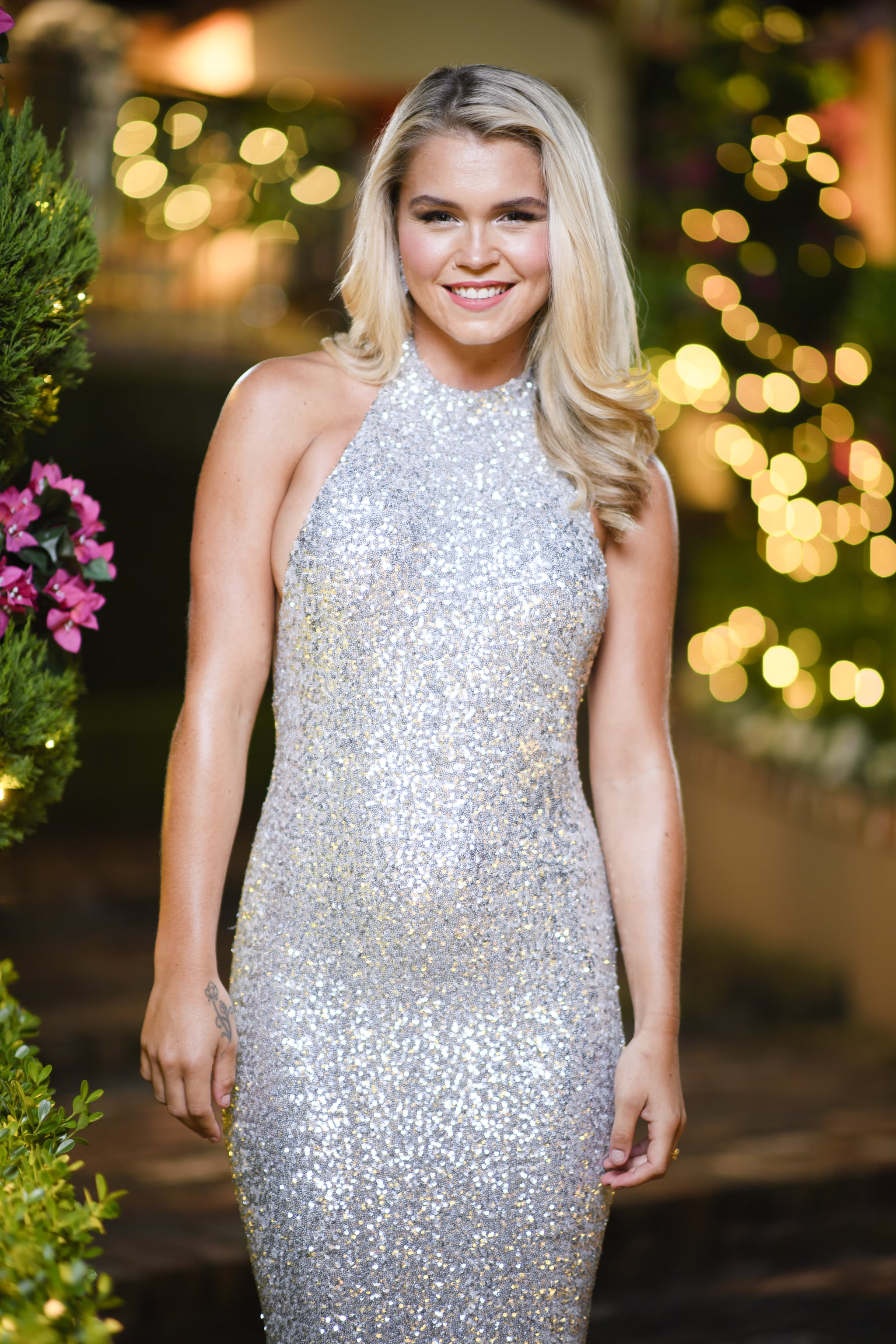 After 10 episodes of The Bachelor, 25-year-old Simone Ormesher still hadn't received a single date with main man Matty — despite a few of her competitors and friends already on their second.
By the time Wednesday night's episode, number 11, rolled around, it was pretty clear that Simone wasn't on her path to true love and she was finally put out of her misery when she was eliminated by Matty. While we're sad to see her go — she had some cracking one-liners — we're mostly relieved that she doesn't have to feel like she's being ignored anymore.
Below, Simone tells us her side of the story.
POPSUGAR Australia: How did you feel about the episode coming out tonight?

Simone: I was a bit nervous! I didn't know how it was going to go down, I just knew how it was for me that night.
PS: How did it feel that night, and in the lead up to your elimination?
Simone: It wasn't a great week — or couple of weeks, actually. I'd had enough. You feel ignored, you feel like, "What am I doing here? I'm just wasting my time." I did get a bit angry towards the end, it was a bit crap.
PS: Did you get annoyed that it went on for you as long as it did?

Simone: Yeah, because you feel hope. He'll say things now and again to you and you're like, "Oh, he does like me." You build it all up in your head and you just keep getting let down week after week. You've got all the girls that are like, "It's going to be you next!" but it never is.
PS: Did that get a bit awkward?
Simone: Yeah, my face just gets moodier and moodier each week! [Laughs] I was so moody. And it's worse . . . it sounds ridiculous, but being in that house, that's all you're there for, and you're not getting it.
PS: By this stage, you'd already been in it for a fair while. You must've been so over it!

Simone: So over it! Yeah, I was just thinking, "I've got things to do on the outside, and I'm just here for no reason." He seemed to be straight up with the other girls, so I was like, "If you don't like me, just tell me, please."
PS: Do you feel annoyed at Matty for taking girls on second dates before some had been on their first?
Simone: Yeah, when I was in there, I was annoyed. Because you know it's his choice and he's doing this. He honestly is a lovely guy, but I am a bit annoyed, because it's like leaving someone behind. I wouldn't do that. The novelty of being in there wears off after a while, and you think, oh, I've got no hope, I'm near the end.
PS: Did you ever have feelings for Matty?

Simone: When I got in the house, obviously the situation is so heightened, it's like a show and tell, and I had an inkling it was him before I went in. So I did like him, and he was so charming and lovely, but as it wore on, it turned into anger. I was like, I'm not a quitter so I'm not going to leave, but just tell me you don't want me here! So I did get a bit angry towards the end.
PS: So any feelings for him wore off?

Simone: Yeah, they did definitely wear off. We get along as friends — we got along so well — but I definitely left the house with nothing there for him.
PS: That would've made it easier for you.
Simone: Yeah. Like Elora said on the night I left, she'd rather me leave now than with a broken heart.
PS: You and Elora were super close. How do you feel about her now and do you think she's got a good chance of winning?

Simone: Yeah, we were. I don't know, obviously we're close but . . . I would love it to be her, because I know who she is, but I honestly have no idea. There are so many girls who have connections with him! When one comes back [from a date] you're like, it's definitely her, then another one comes back and you're like, no, it's her!
PS: Are you and Elora still friends?

Simone: Yeah we're still friends. It's really weird, I would say I'm closer with Cobie — she's like my best friend, I speak to her every day.
PS: When Elora made the tipping comment about Leah, there was a bit of debate about what Elora is really like off camera. Can you tell us a bit more about that?

Simone: Yeah, it's so strange she said something like that, because that's not how Elora is — she's really good with her words and people would go to her in the house for advice. She just helped me a lot, she was like my rock in the house. Living in the house with a certain two girls, it just got impossible . . . it was the one thing she said the whole time she's been there, and she got criticised a bit. I don't think it was wrong. I think when someone so nice says something not nice, it's a bit more of a story than someone that's horrible.
PS: Watching the show back, has anything been very different from how you experienced it in the house? Has anything surprised you?

Simone: It surprised me how much hasn't been shown, that's the only thing. And some of the girls' connections with him, because you just don't imagine it. And I'm shocked how many girls he's kissed! [Laughs]
PS: Yes, he was up to six before tonight's episode! When you were in the house, who did you think was the frontrunner?

Simone: When I was in the house? Laura. She's very confident, and the way she spoke about it made you feel like that.
PS: Has that changed since you watched it on TV?

Simone: Every single week I think something else, honestly. It'll go from Flo, and now I honestly just don't know. I think Matty and Laura are well suited; I think they are the same person. So probably still Laura.
PS: How did you find the house after Jen left? You guys ended up being quite friendly, didn't you?

Simone: Towards the end, I think we related to each other a bit. I don't think we were friends, we just both hadn't had a date, and all the other girls didn't understand how it felt, so we became a bit close. But it still was very awkward in the house, and as soon as she left, it was such a good atmosphere.
PS: So the rest of you guys were pretty close?

Simone: Yeah, we were all friends in the house. We all clicked just like that. When you leave, everyone's in different states, so you don't see each other as much, but everyone's friends.
PS: And are you still single?

Simone: Yes.
PS: Are you looking for love or needing a break from the whole thing?

Simone: No, I want to meet someone!
PS: Did the experience help you narrow down what you were looking for?

Simone: I just want someone who's down-to-earth and who accepts me for me. Obviously Matty didn't. In the house I was like, am I too blonde? Are my boobs too big? I just want someone who can be my friend as well. It's honestly so hard to meet someone. And I think in Melbourne it's hard, because it's so big.
PS: The whole drama around Leah's job — did you feel you were put on the spot a little bit with Matty's sister? And did it surprise you how big a deal that became?
Simone: Yeah, before it happened, I had a feeling it was all going to come out anyway. Obviously it didn't come from me in the first place about the job, and she thought it was me, but I wasn't going to lie to Matty's sister – she was the only one asking me who is not there for the right reasons, and I told the truth. I think we were guinea pigs in a way, so it wasn't something we would've chosen to say. I wouldn't have thrown anybody under the bus.
PS: No, it didn't seem like something you wanted to do.

Simone: Yeah, we had to say it, and I'm not going to lie. Everyone already sort of knew!
Now Watch: US Bachelor Couple Nick Viall and Vanessa Grimaldi Call Off Their Engagement