Sonya My Kitchen Rules Interview 2018
MKR's Sonya on Owning Your Abilities: "If You Don't Back Yourself, Then Who Will?"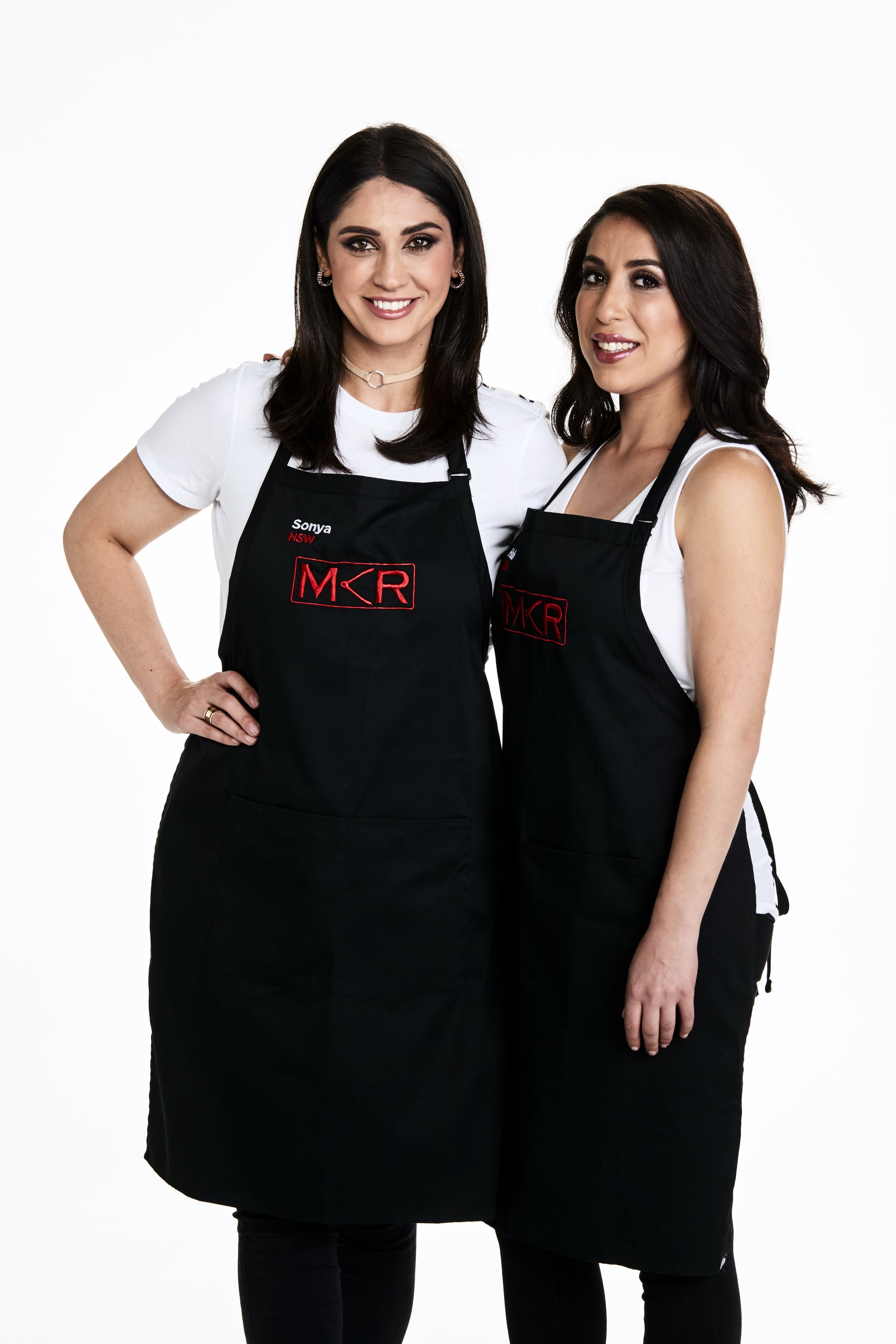 On Thursday night, Sonya and Hadil took to the kitchen in the final instant restaurant of MKR's Group Two. Having talked a huge game so far in the competition, everyone's expectations were up there. And triumphantly, they were met. The Sydney besties ended the night with a score of 114, which put them exactly where they wanted to be — on top of the leaderboard. Off the back of their success, we caught up with Sonya to get her take on the night, relationship with the Russians and being a confident woman.
POPSUGAR Australia: Congratulations on how well you guys did in your instant restaurant! How do you feel about it all?
Sonya: I'm really excited to be able to share our Jordanian cuisine with Australian viewers, it was a big part of why we wanted to join MKR. It's a great outlet to be able to show the recipes you've grown up on and your family's recipes with the whole of Australia. I hope people appreciated it!
PS: How do you guys feel about being on top of the leaderboard?
Sonya: It's really exciting, the pressure's always on to stay on top, I guess! [Laughs] It's a really good feeling to be able to work really hard towards something and then be rewarded for it. That was really exciting for us.
PS: You guys talked a huge game over the course of Group Two. Were there ever any concerns you wouldn't be able to back it up?
Sonya: 100 percent, I was kicking Hadil under the table the whole way through! [Laughs] Except maybe that last episode with Pat and Louisa where I was like, I'm ready to get in the kitchen! So that kind of just all came out. With the 120 goal, the conversation we had that didn't make the edit was that if you don't aim high, then you're not going to achieve that goal. We always like to work towards a specific target, and in my case, 120 just came out. Like, really, Sonya? Why didn't you say 115?! [Laughs] It was a new experience for us. Sure, we love cooking and are so passionate about it, but having the cameras there and working to impress the judges and all the guests, the pressure was on. But Hadil and I worked really well together and thank god everything just fell into place.
PS: Tell me how you feel about that dessert. Were you kicking yourselves endlessly afterwards?
Sonya: Oh yeah, I was. I felt really terrible because my mother specifically said, make sure you drench it with syrup. Then I've got Hadil on the night saying, no, it's going to be too sweet! In the early hours of the morning, you just don't know what to think. We had jugs on the side to serve the syrup in, it's just that we didn't think to have it on the side, and if people wanted to add more, they'd have it as an option. I was kicking myself for weeks after that, and the judges made it worse by saying you could've had three 10's!
PS: Where did you guys learn to cook so well?
Sonya: Both Hadil and I learnt to cook from both our mums. For me, I've always been a little bit creative and loved food. I love living in Australia because it's so multi-cultural and I've always enjoyed different types of cuisines as well, so if there was something I had eaten out, I'd try to make it at home. I guess it's a knack of mine — I've always enjoyed being in the kitchen. It allows me to zone out and it's one of those things I've enjoyed from a young age. But yeah, I've learnt a lot of it from my mum!
PS: Who do you guys see as your biggest threats in the competition?
Sonya: There are a number of good cooks in the competition, but I would say people I feel are our strongest competition are Kim and Suong, Henry and Anna, Georgie and Alicia. Russian cuisine . . . For me, I was scoring on the night based on what I tried. It wasn't my cup of tea. Mum makes something similar at home using cabbage rolls, and when she does make that particular dish, I always end up getting Maccas! [Laughs] I've never been a fan of that sort of food, so on the night, I wasn't trying to insult their food in any way, that wasn't just to my taste. So I don't know how far they can push their cuisine in the competition, but it was interesting to see. They did really well.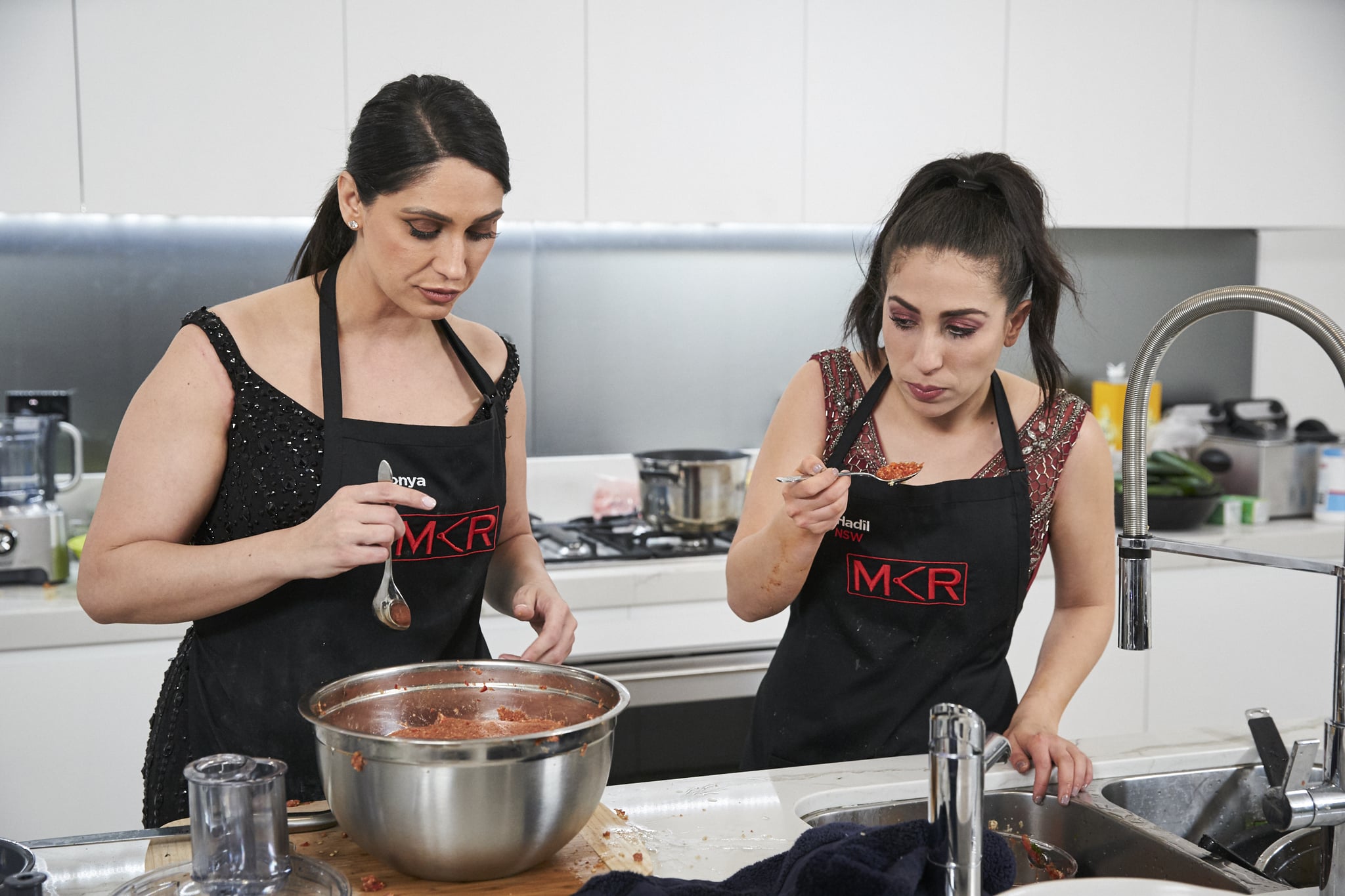 PS: How do you guys really feel about Olga and Valeria?
Sonya: I have a lot of Russian friends, so when I met them, they reminded me of a lot of who I'm close with. They're very forward and direct, and their accent can be taken incorrectly. But I have complete respect for them and are both really lovely girls. They can come across in the wrong way, but once you get to know them as individuals, you realise they're not mean girls, but they're very direct.
PS: I want to talk about the confidence piece because it was something I really admired in you guys, and I think a lot of women struggle with it. How do you guys harness that confidence?
Sonya: Look, growing up, I was a very shy person, and now, I've been running my own business for 10 years, so I deal with a lot of different types of people, from models to suppliers, publicists all the time. You meet with lots of people, and I think over time, you just start to build your confidence. I used to always doubt my abilities and skills, but it's one of those things where you just slowly begin to appreciate the person that you are. I mean, if you don't back yourself, then who will? It's nice to be confident, but for me, it's not about thinking I'm better than anyone else. If you're a receptionist, I'll respect you as much as a CEO. There's a difference between being confident and arrogant, and it could certainly come across [as the latter] on the show, but I think the reason why my business has been so successful is because I take the time to respond to all my clients. I think it's important to connect with individuals and not think you're better than anyone else. You have to build up your own confidence, whether it's your image or your weight, and the older you get, the more confident you become in your own skin.
PS: What kind of business do you run?
Sonya: I run an event company called Fashion Palette, we worked with Australian brands to help them grow their labels locally and internationally. We also produce runway shows in Sydney, New York and are launching in Dubai and Miami later this year. We cast all the models, source the venue, produce the show, work with the publicist on the ground to get all the right buyers and media to the show.
PS: Do you think you've been accurately portrayed on the show?
Sonya: [Laughs] I'm going to say no! I'm definitely not desperate. When I'm out, I'm quite shy, I don't really walk up to a guy and start talking to him or throwing himself at him. I'm definitely not that way. I'm someone that compliments people a lot, and it can definitely come across the wrong way. When you're sitting at the table for such a long time, you can't not talk to Henry, for instance, I've got to make conversation with the guy! Otherwise I tend to take a back seat to Hadil, I'm a little bit more reserved. I have moments where I blurt out something and go, why did I say that? But that's just me, and at the end of the day, you have to own what you say and how you come across. But the desperation thing is definitely not me! I don't generally throw myself at any man, actually.
Image Source: Channel Seven