Sophie Monk The Bachelorette 2017 Launch Interview
It's Official! Sophie Monk Is in Love: "I'm So F*cking Lucky"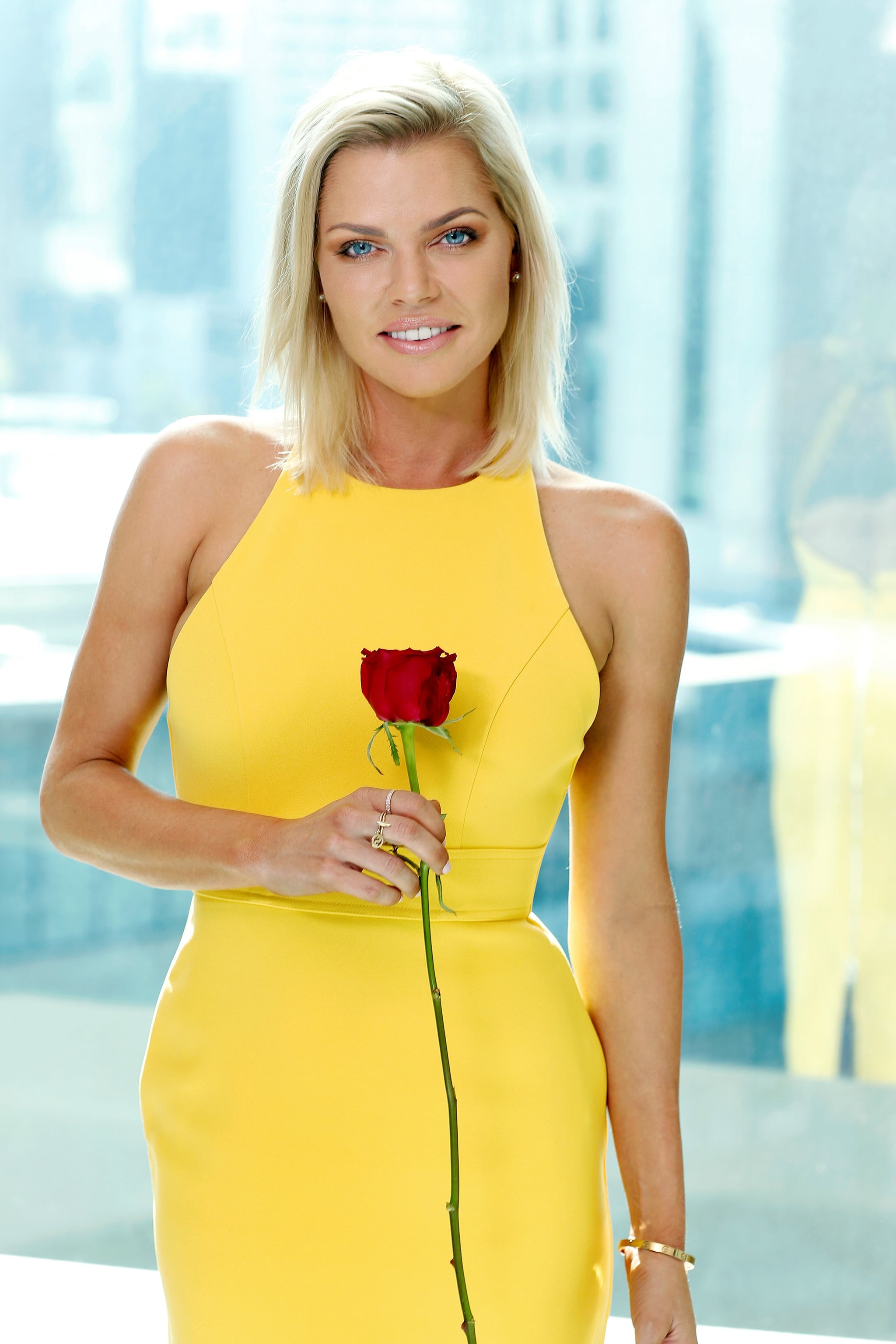 When Sophie Monk walks into the bar in Sydney's CBD, she's wearing a black hoodie and has her long blonde hair flowing. She keeps a relatively low profile as she walks to our booth seat in the back, but the two men having a business meeting across the way definitely don't not see her.
We're here to talk about The Bachelorette, the upcoming reality TV show in which Sophie is the star. She'll have the arduous task of sifting through a bunch of handsome and hopefully kind men, whittling them down until she's left with just one standing. The way this reality TV story goes, that man will be Sophie's one true love — and in our chat below, she confirms that she is, in fact, madly in love.
We chat for a long time, Sophie opening up about this being her last shot at love and being nervous to show another side of herself to Australia. It's a wide-ranging chat and it's Sophie at her best: honest, vulnerable, raw and, best of all, happy. Settle in with a drink, friends, and read on.
POPSUGAR Australia: So Sophie, what's led you to this point?

Sophie: Well, you know I approached [Network Ten], right?
PS: Yes, you told us at the Logies, when it had just been announced!

Sophie: It's a bit weird, isn't it. I think it's just, my life . . . In my twenties, I didn't go to any nightclubs, I was working my ass off. And I had a profile so anywhere I did go there was always a hidden agenda or I was just attracting the wrong person — or just someone really confident, who is too confident, who's a player. Those are the people I attract. I just wanted that everyday person, who I never get to meet properly.
PS: How old were you when Popstars all happened, 19? You've pretty much been famous your whole dating life. How do you gauge if someone's trustworthy or not?

Sophie: Well, I haven't met a lot of them and that's why it's hard. You want to ignore it because you want to think positive of people, but I've learned now. I get from "hello" what someone's intentions are.
PS: Especially in your situation where people are in it for the wrong reasons.

Sophie: And I'll give everything too, so they just take. I'm very generous. I want to make everyone happy.
PS: So with a show like this were you hesitant about people knowing it was you?

Sophie: No, I wanted them to know it was me because they're going to take on a whole different life as well, and they might want to live in the country and not work. I wanted them to know what they're taking on.
PS: Who is Sophie Monk nowadays?

Sophie: God, I feel like I've just found myself in the last couple of years.
PS: Really?

Sophie: I think so. I'm a people pleaser. I'll be whatever the public want me to be. But now, there was just one day when I went, I'm not happy. So I was just going to start being me and see how it goes. And it actually worked! I thought it would backfire. I was like, here we go. They're going to see that I'm a bogan and don't give a shit, or I'm not having fun.
PS: That's what people like, that realness.

Sophie: I know, but I didn't think they would! And when I did, I was so relieved to go, actually people respond to me.
PS: Totally. The reactions from everyone have been great.

Sophie: I don't read anything because I get too nervous. But yeah, I've heard from [Network Ten] that it's pretty good. I'm really putting myself out there. I'm like, who does this?
PS: What was it that helped you find yourself? Did it just become too much pretending to be someone else?

Sophie: Yeah, I was just trying to be . . . You know, I'm playing characters that are seductive — and I'm so bad in bed. I do missionary. My boyfriend went to me once, "Do you want to change it up?" And I'm like, "Do you want to go in the spare room?" I'm playing all these promiscuous characters so that attracts the wrong guys because they think that I'm that and I'm not. And I'm shyer than people think. Awkward, just so not flirty. If I flirt with someone, they think I hate them. That I'm going to smash them. I'm terrible with all that so I learned how to flirt on the show, towards the end. The producer taught me one night. I was like, "That's how you do it?" Look in their eyes and be soft? I was like, "Oh wow."
PS: How were you on the first night of The Bachelorette, when you met everyone?

Sophie: I was relieved. Because I was standing there on the carpet going, "What did I do to myself and my family? I'm going to embarrass everyone. I'm going to ruin my career, everything." Then after that night, I went, "Yeah, it's on."
PS: Did you detect any people who weren't genuine straight away?

Sophie: No, I actually got it wrong a few times I think.
PS: And did you have any sparks straight away?

Sophie: With a few people, yeah, which is good. I'm lucky.
PS: Are you allowed to tell me if you're in love?

Sophie: I know I'm in love.
PS: You are in love?

Sophie: Like, ridiculous. Yeah. I went, "I don't think I've ever been in love before until now."
PS: Compared to others, you mean? You weren't in love?

Sophie: It's completely . . . No, I just think sometimes the love the idea of me or I'm trying to be something for that person. Yeah, no this is ridiculous. The best thing I've ever done. I'm the real me — embarrassing. Crying.
PS: Really?

Sophie: Yeah, I was so emotional through the whole thing. You're letting people down as well, and hurting their feelings. I think I cried more than any Bachelor or Bachelorette in season. I'm not a pretty, pretty crier either. It's like, "eh, eh, eh."
PS: And so what does your family think? What did they think before you went on?

Sophie: Well, my mum was the one that said to go on. And my family is so used to me having such a mental, crazy life, they were like, "okay". Like it's just another day for them.
PS: Did you ever have any second thoughts once you'd signed on?

Sophie: On the red carpet, before they came. I went, "You're an idiot and you're impulsive and what are you doing to everyone around you?" I was like, Australia could hate me. Because what if I don't like any of them? You want an ending to the story. But I'm too true to myself. If I didn't find anyone, I would have gone, "I couldn't find anyone."
PS: So we can trust that it's legit?

Sophie: It's the best. The best thing ever. It's like, imagine all that and then nothing. You're like, "Thanks, I just invested in this." And I'm like, "Actually, I'm a lesbian. Or, actually, turns out I'm just going to stay single forever, thank you." [Laughs]
PS: Because everyone gets so invested, right. Like the Richie result last year, people still talk about it today. We get so caught up in it.

Sophie: I realise that too, the brand side of it. So I took a lot of risks, because I'm fussy too. But they just nailed it.
PS: Did you have deal breakers or things that you definitely didn't want?

Sophie: I did, but at the same time if you get along with someone, you're just going to get along with them. If you have too much of a list then you're looking to tick boxes on paper and that's what people do with me. You just got to feel the chemistry and feel it out.
PS: You've done Popstars, Australia's Got Talent, Celebrity Apprentice . . . Was it hard to decide to go back to a full-time TV job?

Sophie: It's not doing a TV show where you can perform or manipulate, you've got to be you. If you're going to fall in love, if you put any walls up or try and pretend to be something, you're not going to get what you want. And genuinely, that's all I wanted. I don't need the fame part of it. I'm done with that. If I can't date online like other people, this is my way of doing it. And that's what everyone does today. You don't go to a bar and meet someone. Everyone's so antisocial because of that whole world. Also, I can't. This was honestly my last option, otherwise, I'm done. I'm going to get nine cats and just sit in my house.
PS: I think for a lot of people there's that real stress of, "What happens if the last resort doesn't work out?"

Sophie: Yeah, I'd be screwed. I'm so f*cking lucky.
PS: Really?

Sophie: Yeah, it's the best ever.
PS: Did you get nervous at any point that the right person wasn't in the line-up?

Sophie: No, I've learned to be patient. Because sometimes you can meet someone and have that chemistry and it's absolute love, distraction-free. I wanted to be patient and get to know everyone really well. I've always gone on that impulsive chemistry that doesn't mean that it's right. You've got to get to know people. You can change as people get more relaxed as well.
PS: Do you feel like you've always been really open with the public about your relationships?

Sophie: No. They've been open with it. They just steal it and run. So that's always been a hard thing, too. I've loved that in this, there's no stress. Bang, we're out. And there's no anxiety of going, "Do we come out together?" which is so lame. It's all out there, straight away and everyone knows I'm with this guy.
PS: Now you're going to get asked about your relationship 24/7. Are you alright with that?

Sophie: Yeah, I am. Because anyone that comes on this show knows it's going to be talked about. It's not like where you date someone and they go, "Can you not talk about me?" They know I'm going to. It's kind of the perfect thing I could do.
PS: How did you like the whole Bachelorette experience overall?

Sophie: Loved it. It's hard. It's hard work. It's emotional. Then you're in front of cameras being that vulnerable all the time and just thinking, "What are the people going to think of me?" And it's long hours because you have to get to know people very quickly and make tough decisions quickly. And if you send someone home that, you know, was wrong, then the whole thing could be over. So it was full-on, but great. So much fun doing it. The crew was amazing.
PS: What's your type normally?

Sophie: The wrong thing. You know what I usually go for is whoever likes me. Because no one has the balls to come up to me for some reason. I'm not intimidating. But I think they assume something of me or . . .
PS: I think it would be that they'd never think they have a chance, right?

Sophie: I don't know if it's that, or they come across a bit fan-ish. I don't want someone who was a fan, you know? Or they want pictures, or they me want to do a video for their cousin [laughs]. It's just different. I don't think they even try, so I haven't been hit on in forever. When I do, I'm like, "I'm in. You love me. You win me! You're the only person hitting on me, I've got you."
PS: That's interesting because I think people would just assume you have it so easy.

Sophie: God, no. Never.
PS: Did you get any tips from previous Bachelors or Bachelorettes?

Sophie: No. I'm friends with Matty J though, and he's a legend. He kind of gave me tips to start with, you know? He's a sweetie. I think he said, "Go with the flow."
PS: You've had a great career so far.

Sophie: Oh, thanks. It's been ups and downs trust me.
PS: There was a Hollywood period — when you were on Entourage and all that. Do you ever look back on that period? How do you feel when you do?

Sophie: It just wasn't me. It's just filled with superficial people. And they want to date you because you tick every box. It's like, "Okay, she's got a brain that matches mine and this, that, that," then they're like, "I love you." And I'm like, "You don't know me yet. You love the idea of it all. And the idea of my life, of me." I can tell.
PS: Did you realise this at the time? Or afterwards?

Sophie: I felt empty all the time. I just felt like something was missing.
PS: And this love now feels different?

Sophie: Completely different. I'm so excited.
PS: Do you have a codename for him?

Sophie: I do, but I didn't know it! And I can't tell you — but we've got codenames. If I say it, you would know.
PS: Do you get nervous about how it's all going to come out on TV?

Sophie: Abso-f*cking-lutely.
PS: Do you really? I can't believe you still get nervous.

Sophie: Well, I'm crying . . . People have seen me being funny — but I'm not like that on there. I'm vulnerable, crying. I'm like no one has ever seen me, so I'm not sure that they'll like me anymore. I looked so tough before.
PS: They'll love you.

Sophie: Now I look weak.
PS: No.

Sophie: I'm too vulnerable.
PS: I hope you can see that lots of people are loving you.

Sophie: Well, I hope so. We'll see how it goes after this, they may hate me!