Sophie Tieman Elimination Interview The Bachelor 2018
The Bachelor's Sophie Admits She's Been in Contact With Nick Cummins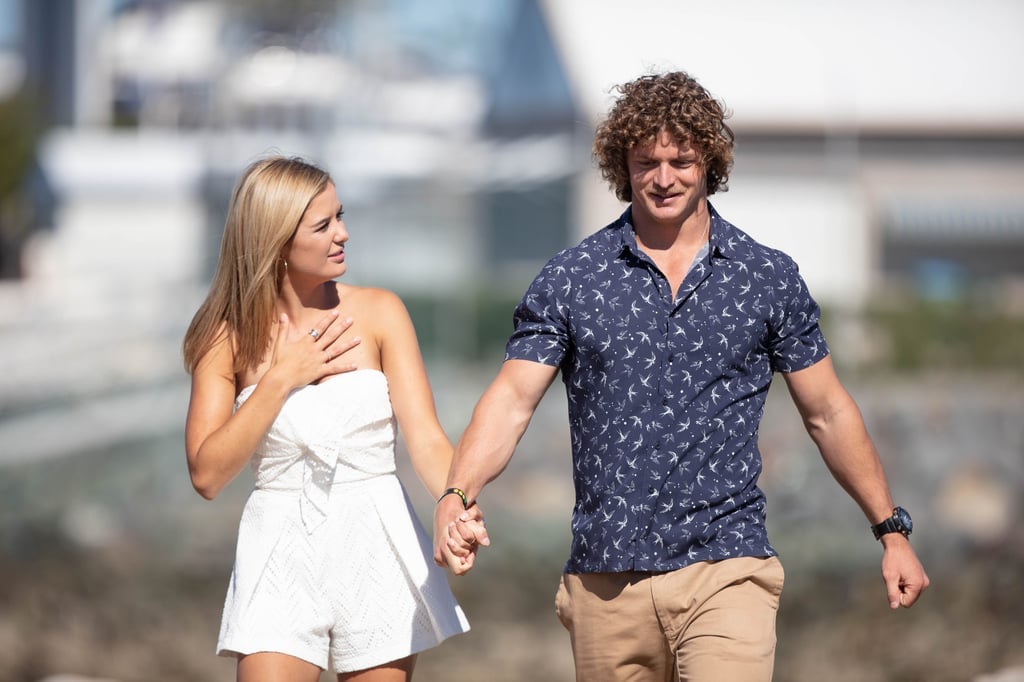 She was the 25-year-old blonde who brought out the playful side in The Bachelor's Nick Cummins with her fun and adventurous ways, but during Thursday night's season finale we saw a more vulnerable side to Sophie Tieman. Struggling to open up throughout the season, the property valuer from QLD finally admitted to have fallen in love only to be told she wasn't the one.

We caught up with Sophie post-finale to talk about her heartbreak and why it was all worth it.
POPSUGAR Australia: How did you feel when Nick first told you you weren't the one?
Sophie Tieman: Well I really, really did fall head of heels for Nick—that was real, but when I was walking up to Nick I knew it wasn't going to be me, I could just sense it from how he was. I think you can see it on my face the whole time.
PS: What were you thinking when Brittany appeared and told you that Nick hadn't chosen either of you?
ST: I honestly thought I was on one of those shows where they were playing a prank. I thought, "really guys? I've just been dumped on national television are you guys joking? Why are you putting me through this", and then I realised the second time she said it and it really sunk in and I was just shocked, I wore my feelings on my face in that moment and you can see I was in disbelief. Then it sunk in a few seconds later and I was awkwardly laughing because I didn't know how to feel. Was I happy I wasn't the only one rejected or was I angry because of what he'd done? I went through it all.
PS: Have you spoken to or seen Nick since the show ended?
ST: Nick reached out on social media, yeah. He just sent me a message touching base just making sure I was ok and that everything was all good. I'm aware he did that with a few of the other girls he'd formed really good connections with. In saying that, that was soon after filming which was about four months ago and that's kinda where the story ends.
PS: If he wanted to give it another go, would you consider it?
ST: Look, there's no denying that my feelings were so real and raw for him at that point in time, but Nick decided I wasn't enough and that I didn't tick all the boxes, so because of that I was out of there and I thought, "ok Sophie, it's time to move on" and that's what I've been doing, so no.
PS: Do you still have feelings for him?
ST: I think I'll have something for Nick for a little while and I think it comes down to the fact that I learnt a lot about myself and I grew a lot as a person thanks to him. If it wasn't for him pushing me to open up and be more comfortable with my feelings, then I wouldn't have done it and that's something that I take away from the experience. I miss the fun we had together but in saying that I have moved on and I'm in a happy place.
PS: Britt was your best friend in the house. Was it easier or harder with her being the other woman?
ST: It's not easy to have any other girl in the finale, but like I said after when Nick told me it wasn't me, if it was anyone else I would have hoped it was someone as amazing as Brittany. I've gotten to know her extremely well having lived with her for months, so I knew that she is amazing and I had really gotten to know Nick and I knew that he was amazing, so I was nothing but happy for them. I was glad, in that moment I thought to myself if it wasn't me I'm so glad it was someone who really deserves that happiness.
PS: Do you think the outcome would have been different if Brooke hadn't walked out?
ST: It actually really hurts Brittany and I to have people question whether we were there by default or not because you only see what you're shown and they really highlight Brooke and Nick's connection throughout the series, but that doesn't mean he didn't have that with anyone else, it just means that you're just shown that part. There was this point in time after Brooke decided to leave that Nick spoke to us one on one, looked at us right in the eye and told us 'you are meant to be here, this is how I wanted this to go'. He just reassured us there was no form of default in any shape or form. He wanted Brittany and I in the finale and I just really wish that was something that was shown because I can't help but feel a little bit affected when people start questioning why I'm there. Nick and I really did share something special and Nick can't be produced, if he wanted another girl there in the finale, they would have been there because he would have made sure they were.
PS: Is there anything you wish you'd done differently?
ST: No, I have no regrets whatsoever. I don't regret for a second opening up and telling Nick how I feel because imagine if he did end up picking someone and it wasn't me because I didn't open up. I just didn't want to leave any stone unturned at that point in time and I wanted to make sure I gave it my all because I was very certain of my feelings for Nick at that point in time. I don't regret doing the show, I have made lifelong friends out of it and I grew as a person so no, I'm super glad about how it all ended.
PS: Are you still looking to find love at this point in time?
ST: The fact that the finale was only last night I definitely need time to just enjoy myself with my new girlfriends that I'm now allowed to hang out with in public and just really lap that up for a little while. But in saying that, I'm still ready to settle down. I'm not going to make it a priority right now, if it happens it happens. I'm still really looking for that person.