Stressful MasterChef 2012 Episode During Italy Week at Mercato Restaurant
Was Last Night's MasterChef the Most Stressful Episode Ever?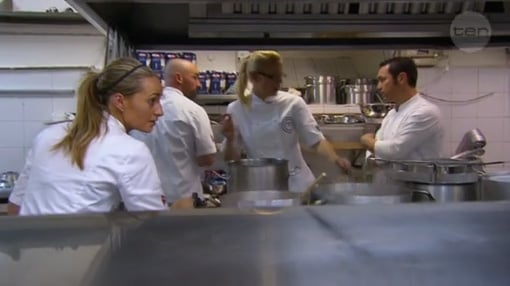 Four contestants, eight Italian dishes, a "kitchenette" and 120 covers — add them up and you get the recipe for one of the most stressful episodes of MasterChef we can remember watching in a long time! In case you missed it, Alice, Wade, Mindy and Julia were tasked with creating a pizza and a pasta dish each, and feeding a full restaurant (at Mercato) of 120 patrons during Italy week. Things didn't go exactly to plan — they had trouble with their pizza dough; Wade kept using Julia's tomato sauce because he didn't get a chance to make his own (George Calombaris urged him to); Alice and Julia couldn't keep up with the pace at which their dishes were being ordered; and George suffered a thumb injury after helping the contestants with a task each. Even Gary Mehigan noted at the tasting table with Matt Preston, "You know what's funny? I'm looking at this menu and I've never wanted to taste food less than I do right now, because I know the pain that they've had in the kitchen."
More when you keep reading.
I'm not sure about you, but for me the franticness of the whole thing made for viewing that was exciting but almost bordered on being uncomfortable, just because it was so intense. In the end Alice and Mindy were rewarded for their respective pizza and pasta dishes and have the chance to cook for guaranteed immunity. Do you think the contestants were pushed too far or it was a good test of their skills and organisation?