Summit Entertainment Looking Into Hiring Oscar Nominated Directors Like Sofia Coppola or Gus van Sant For Twilight: Breaking Daw
How 5 Famous Directors Would Tackle Breaking Dawn
Breaking Dawn, Oscar nominee? That sounds like the goal Summit has for Twilight's final, show-stopping chapter—the studio is reportedly eyeing a few Academy Award-nominated directors to take on Breaking Dawn. On the short list: Sofia Coppola, Gus Van Sant and Bill Condon. New Moon's Chris Weitz may not be the studio's first choice (though he had distinctive ideas for the film), but I'm all atwitter thinking about what a talented helmer could do with the sometimes-outrageous book (which is said to be two movies).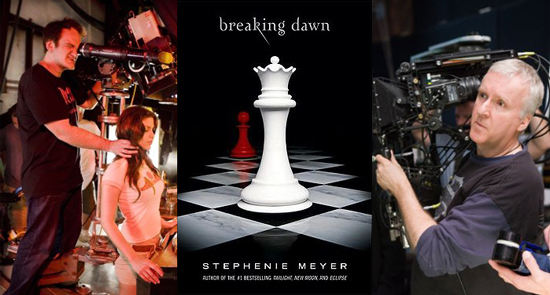 Allow me then, to imagine, with my tongue firmly in my cheek, what Breaking Dawn could be like with five very well known, very distinctive directors.
Quentin Tarantino: The already-violent birth scene would become several times more graphic, with more blood than Kill Bill Volumes 1 and 2 combined. The script would be altered to fit in upwards of fifty F-bombs. Obviously, the rating would ratchet up to an R immediately.
Tim Burton: The dark material would suit the director just fine, while the visuals would become trippy and the colours saturated. Johnny Depp would play Renesmee.
Keep reading
Woody Allen: Bella would become extremely neurotic during her post-vampire transition and start visiting an analyst. She'd question her choice to be with one man for all eternity, but she'd be blessed with the gift of witty dialogue.
James Cameron: First decision: Nail it down in 3D. Cameron would be cool with the current script, though he'd add a catchphrase we'd all be repeating for years to come, like "I bite you." Unfortunately, the movie would be delayed at least 10 years while Cameron develops a new technology for Bella's protective shield.
Michael Bay: The honeymoon would end with an explosion. No literally, the first of many explosions inserted into the movies. We'd lose much of Jacob's pacing around the Cullen house and Edward/Bella's discussions, in favour of extended action scenes (fighting, and again, explosions). Also featured: gratuitous shots of Bella's new cleavage.