Super Movie Trailer, Starring Rainn Wilson, Ellen Page, Liv Tyler and Kevin Bacon
Super Trailer: Rainn Wilson and Ellen Page Fight Bad Guys
The Office's Rainn Wilson is leaving his desk job to take on a masked alter ego in Super. Wilson stars as Frank, a married man whose wife (Liv Tyler) leaves him for a drug dealer (Kevin Bacon). Upset over the split, Frank decides to win her back by taking on the persona of Crimson Bolt, a violent hero who wields a wrench as his weapon. To help him in his endeavours, a girl from a comic book store (Ellen Page) offers herself up to be his sidekick.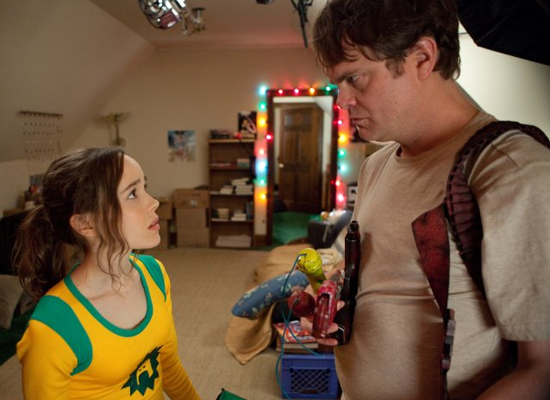 Sound familiar? It should, because by all appearances, Super plays out like a ripoff of Kick-Ass. It's impossible not to see the similarities between the films' concepts or how Page's Boltie resembles Hit Girl. That said, Super looks more quirky-indie and, unfortunately, not as good. My other complaint: could we please see more Nathan Fillion? The actor only pops up once in the trailer. Take a look, and share your assessment after the jump.
Click here to see the trailer.