The Switch Movie Review Starring Jennifer Aniston and Jason Bateman
The Switch: Changing Up the Romantic Comedy
In The Switch, Jason Bateman and Jennifer Aniston star as best friends Wally and Kassie, whose friendship is shaken when Kassie declares that she wants to get pregnant via sperm donor. Wally isn't exactly supportive of her choice, and on the night of the insemination, he gets blacked-out drunk and switches his sperm for the original donor's. While it's not an entirely palatable concept (and certainly doesn't seem like it'll lead to romance), it provides the groundwork for a pleasingly unconventional romantic comedy.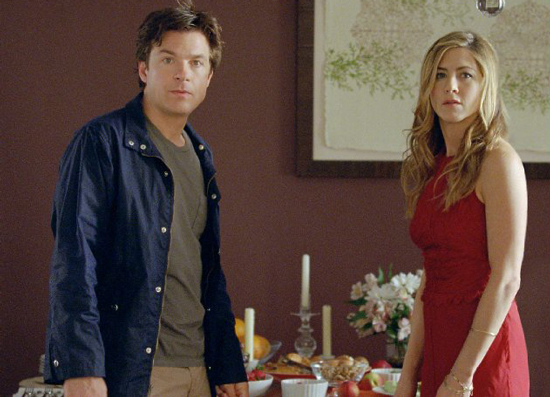 Kassie moves away to raise the baby, and the story really begins when she returns to New York City years later. Wally meets Sebastian and puts the puzzle pieces together that Sebastian is his son. From here, it's a sweet ride watching the three main characters form an unconventional family unit. To find out what else I thought of the movie, just read more.
Keep reading . . .
Thomas Robinson is irresistibly cute as six-year-old Sebastian and his scenes with Bateman make Wally a more sympathetic character. Wally's unappealing until he meets Sebastian, a child so obviously his son that it's a little unbelievable Kassie never picked up on it. This is where the real switch is; though you know that Wally and Kassie are made for each other, the movie is more about Wally's bond with Sebastian than his love for Kassie. There's one scene in particular that's so prosaic yet touching between father and son that I almost couldn't take it.
The film's not without its flaws; aside from inebriation, there's no motivation given for why Wally would do something so reckless (and frankly, icky). One suspects it's both his subconscious need to establish himself in Kassie's life or that he also wants a child, but we never find out for sure.
Furthermore, it gets frustrating when the movie drags, then seems to realise it's used up all its time and thus suddenly hits the climax. The film is capped off with a too-swift resolution that doesn't give you enough time to revel in the characters' happiness.
Despite its shortcomings, a funny script ultimately makes The Switch worth watching. It's cleverer than you'd expect from a movie that's pretty formulaic, with Sebastian getting some great one-liners and Bateman getting to play Wally with the dryness he showed off on Arrested Development. It all adds up to make The Switch a worthy entrant into the romantic comedy genre.