TV Series 24 Being Made Into a Movie
24 Heading to the Big Screen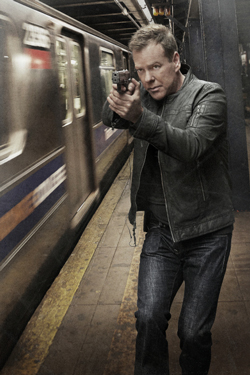 I guess Jack Bauer isn't retiring any time soon: 24 is about to be made into a full-length feature film starring Kiefer Sutherland. It's not known if the production on the 24 movie will start before or after the series ends, but since The Simpsons and The X-Files were made into films while their TV counterparts were still on the air, the timing is anyone's guess.
This is not the first time the show has ventured into feature length territory: the show's two-hour TV movie in 2008, "Redemption," was both successful and a good indication that the big screen version of 24 could be awesome as well.
Old TV series have long been mined for movie material; right now, The A-Team and Gunsmoke are headed to the cinemas. But what current TV shows would you want to see jump from the small to big screen? Lost is an obvious one, while Mad Men has the kind of production value that could translate into a film. But what do you think?