Tamara Graffen MasterChef 2017 Interview
How MasterChef's Tamara Always Sees the Brighter Side of Things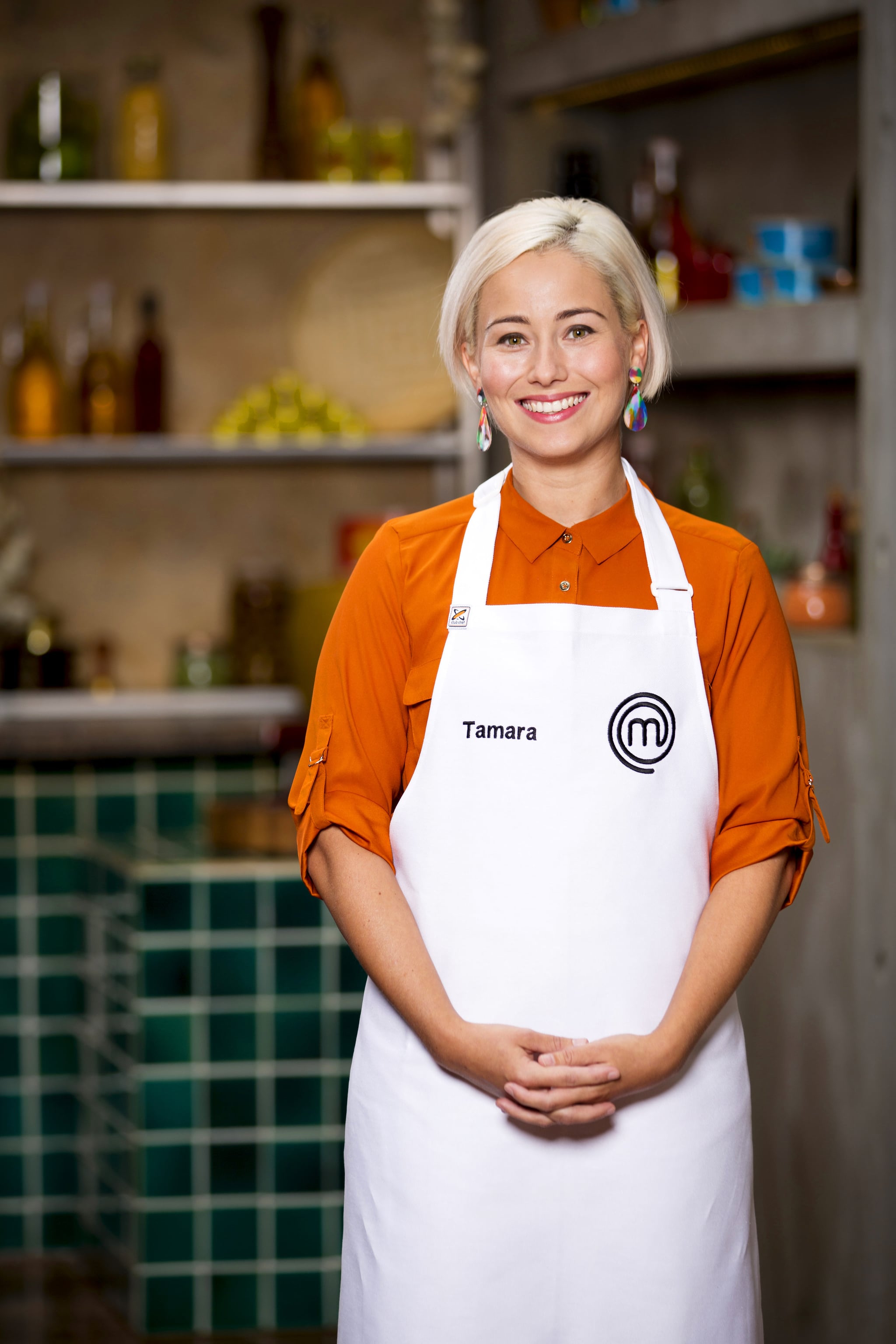 Second chances in a revered competition like MasterChef don't come around often, and after winning the cook-off, Tamara is one of the lucky ones who now has another shot at the 2017 title. And you can bet she's back with a renewed sense of chutzpah. Below, our chat with the 28-year-old on flexing her cooking muscles again, her tight friendship with Eloise and her food earring collection.
POPSUGAR Australia: Congratulations on getting a second shot at the competition! How are you feeling at this point?
Tamara: I have to say, I feel like it's been an absolute rollercoaster ride, but it isn't over yet. And I think the team challenge proved that yesterday. I'm back in elimination again, but that's what the competition is about — it's just heating up now.
PS: Your reaction when you found out it was you was the best. Did you see it coming?
Tamara: To be honest, I approached that second chance cook with no expectations about getting back into the competition. I wanted to cook a really good dish for the judges so I could walk away happy, regardless of the result. When the result was announced, I just couldn't contain my excitement or how I felt at that point in time when I got my apron back.
PS: Do you think getting eliminated and then coming back has made you stronger?
Tamara: I think it's tough to go through elimination, leave the competition and come back, but in some ways, it does make you stronger. Whilst it's not that enjoyable to go through those experiences at the time, reflecting on it, I think it does make you a stronger cook.
PS: You seem like such a positive, upbeat person. Tell us your secret to seeing the bright side of things!
Tamara: [Laughs] I feel things just like everybody else does — I feel the pressure, the stress. But I think my reaction to all of that is just to smile through it, and I feel like if I smile, that things will somehow be better. I definitely have a nervous smile, so not all the smiles are 100 percent happy, but I do think it helps to stay positive through it.
PS: What did you learn from that dessert pressure test?
Tamara: I thought that was my kind of dish to recreate and something that I'd be quite strong at, but I think I put too much pressure on myself to succeed in that challenge. I really should've just trusted my instincts a lot more.
PS: What would you say your biggest strength and weakness is?
Tamara: I think my strength is being a little bit creative and thinking outside the box. In terms of weakness, it's definitely hard to back it up every single day, so it can be quite hard to think of things on the spot. But you just have to take every challenge as it comes, and that's what I try to do.
When you've done well and you end up in an immunity challenge, or done badly and end up in elimination, every single cook in the kitchen gives you experience, but it also means that you cannot falter at any point in time. If you make two mistakes in the MasterChef kitchen, it can send you home, as I've seen already! So you've really got to front up for every single challenge. It can be hard when the smallest thing can send you home, but at the same time it's a good thing that everyone is cooking so well.
PS: I'm loving all your little food earrings. Do you have a collection going on?
Tamara: I definitely have a little jewellery suitcase I always carry around with me in the house. It's full of all sorts of earrings. My friends and family actually send me little pairs of earrings from time to time while I'm in the MasterChef house, and when I wear them, I feel a bit closer to home and their support. I do have a lot of food-related earrings. I've got some Bubble O' Bills, some avocados, some doughnuts . . . Sometimes in the MasterChef kitchen it can be tough to stay upbeat and positive all the time, so I feel like even just having a bit of brightness on my ears can make a difference.
PS: I know you and Eloise are close! What do you think made you guys bond really quickly?
Tamara: It was funny, because I met Eloise straight away at the judges auditions, and we just clicked. I'm not sure if it's because we're both short and outgoing people! [Laughs] We have quite similar personalities, but we were fast friends from the start. She's definitely my BFF. We've already spoken about whether we can do things together after the show — we'd love to continue the friendship and continue the food adventure together.
PS: There's been a few new guest judges this season like Yotam Ottolenghi, as well as favourites like Curtis Stone. Tell us a bit about the whole guest mentor situation – do you guys get much time with them at all?
Tamara: Yeah, it's really great, there's a lot of moments — some of them off-camera — where they will come around and give you extra feedback on your dish after a cook has happened. They're all really lovely and more than willing to share their time with us. It's really great because it's what we aspire to do in the food industry — they can see that and they want to help us.
PS: Who's really surprised you?
Tamara: Yotam 100 percent surprised me, because I have to say, I'm not really a salad person, and I'm not really a massive fan of having my veggies, but that's what Yotam's all about. Somehow, even for someone like me, he was just incredibly inspirational. He just has this aura about him that makes you love his style of food. He completely blew me away, and the rest of the contestants, with just how beautiful of a person he is.
PS: Who do you see as the biggest competitors?
Tamara: When I was eliminated and thought at that point, who might go on to win it, I actually think Sam has a great chance. I also joked at the time, Sam Goodwin, Julie Goodwin, it might be the Goodwin name, but I think Sam is an extremely versatile cook. He's really creative as well and I think he'll go far.