Tangled Movie Review Starring Voice Actors Mandy Moore and Zachary Levi
Tangled: Let Down Your Hair and Enjoy
Disney's latest animated film, Tangled, is such an unabashed delight that I wonder why the studio took so long to take on the story. On the other hand, the story certainly benefits from its 21st-century treatment, because the direction of the story is modern, fresh, and a little bit feminist. Mandy Moore stars as the voice of Rapunzel, the princess who is kidnapped from her royal family as a baby and raised in total isolation in a tall tower.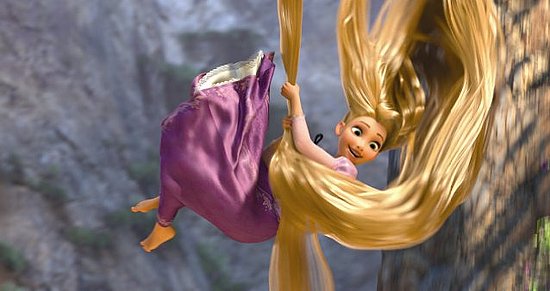 Her only companions are her pet chameleon Pascal and Mother Gothel, the woman she believes to be her mother. Of course, she's actually the old hag who stole Rapunzel away to take advantage of her magical hair (when Rapunzel sings, Gothel becomes younger. It's Disney botox). Rapunzel's love interest is Flynn Ryder (Zachary Levi), who's no prince—literally. Flynn is a bandit on the run who hides in Rapunzel's tower, brusquely intruding into her life and changing its course forever. Flynn strikes a deal with Rapunzel, agreeing to guide her through the strange, scary outside world, which she had always been forbidden to explore. From the start, Rapunzel's motivation is freedom, not love, which makes Tangled a refreshing interpretation of the classic tale. For more on why I enjoyed the film, just read more.
Keep reading . . .
Flynn and Rapunzel's romance isn't the focus of the movie, nor is it conventional by any means. Upon their first meeting, the imprisoned princess defends herself against the fugitive, bashing him over the head with a frying pan, and then proceeding to hide the body. It's an all-out bid for slapstick humour, and it's more fun and original than a longing look between the leading lady and man. Once Rapunzel figures out that she can use Flynn to assist her on her journey, they forge a companionship that's more platonic than romantic. It eventually gives way to a romantic connection, but it's the most realistic relationship development from any Disney animated film.
I also appreciate that Flynn and Rapunzel have bold, complex personalities; they don't fit into the familiar archetypes of dashing-but-bland hero and damsel in distress. Flynn is a criminal and far from perfect, but he becomes a better person over the course of the story. Rapunzel is a down-to-earth girl with ambitions and dreams, but she's also indecisive and a little bit annoying. In one of the funniest scenes, she becomes an emotional wreck and goes from high to low spirits when she first leaves the only home and parent she's ever known.
It's that humour, united with the low-key sweetness of Tangled, that make it an exuberantly entertaining movie no matter your age.