Taylor Lautner To Star in Abduction
Taylor Lautner Abducted by Another Film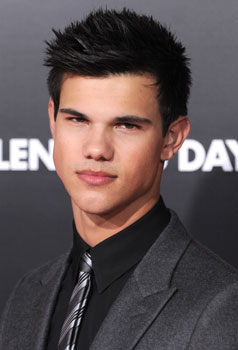 Never underestimate what Twilight can do for a career. Taylor Lautner is adding yet another project to his growing list of upcoming movies. This time around, he's playing a guy who realises that something sketchy is going on when he discovers his baby photo on a missing persons website. Sounds a whole lot like The Face on the Milk Carton, but everything old is new again in Hollywood, right?
The movie is called Abduction and has already been picked up by Lionsgate after an extensive bidding war. Lautner's going to be quite the busy man: he's also got two more Twilight films to make, plus Stretch Armstrong, Cancun, not to mention a bunch of others that he's rumoured to star in.
I'm not surprised that studios are eager to snatch up any chance to capitalise on Twilight's huge fan base, but I'm curious about how Lautner will find the time to star in so many movies (and keep up the bulk required for Breaking Dawn). The real question is whether or not the world will have found a new franchise to worship by the time Lautner makes his way through his long list of films.