Teen Choice Awards Full List of Winners for 2011
Announcing the Winners of the 2011 Teen Choice Awards!
Another Teen Choice Awards has come to an end, leaving in its wake some nerdy fun with Zachary Levi, a sing along with Ashton Kutcher, and many a surfboard distributed to favourites in movies, TV, and music. The vampires and wizards called it a draw this year, as both Eclipse and Harry Potter and the Deathly Hallows Part I dominated the movie category with four wins apiece. Rupert Grint and Tom Felton represented Hogwarts, while a handful of the Twilight kids came out for the show, including Robert Pattinson, who took home the surfboard for choice movie actor in a drama.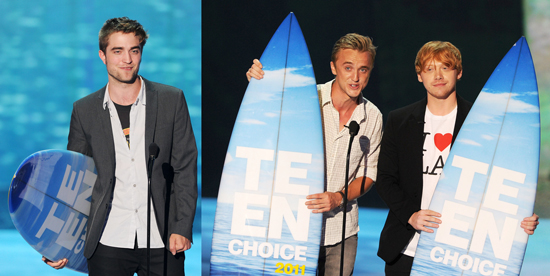 Vampires also ruled the TV roost, with The Vampire Diaries taking home five awards, with Glee in a close second. Meanwhile, Taylor Swift, Justin Bieber and Selena Gomez seriously cleaned up in the musical category.
To see the full list of big winners, just read more . . .
MOVIES
CHOICE MOVIE OF THE SUMMER
Harry Potter and the Deathly Hallows Part II
CHOICE MOVIE: SCI-FI/FANTASY
Harry Potter and the Deathly Hallows Part I
CHOICE MOVIE ACTOR: ROMANTIC COMEDY
Ashton Kutcher, No Strings Attached
CHOICE MOVIE ACTRESS: ROMANTIC COMEDY
Emma Stone, Easy A
CHOICE MOVIE ACTOR: SCI-FI/FANTASY
Taylor Lautner, Eclipse
CHOICE MOVIE ACTRESS: SCI-FI/FANTASY
Emma Watson, Harry Potter and the Deathly Hallows Part I
CHOICE SUMMER MOVIE ACTRESS
Emma Watson, Harry Potter and the Deathly Hallows Part II
CHOICE SUMMER MOVIE STAR
Daniel Radcliffe, Harry Potter and the Deathly Hallows Part II
CHOICE MOVIE ACTOR: COMEDY
Justin Timberlake, Bad Teacher
CHOICE MOVIE ACTRESS: COMEDY
Cameron Diaz, Bad Teacher
CHOICE MOVIE ACTOR: DRAMA
Robert Pattinson, Eclipse
CHOICE MOVIE SCENE STEALER: MALE
Kellan Lutz, Eclipse
CHOICE MOVIE SCENE STEALER: FEMALE
Ashley Greene, Eclipse
CHOICE MOVIE HISSY FIT
Ed Helms, The Hangover Part 2
CHOICE MOVIE VILLAIN
Tom Felton, Harry Potter and the Deathly Hallows Part I
TELEVISION
CHOICE TV SHOW: COMEDY
Glee
CHOICE TV SHOW: DRAMA
Gossip Girl
CHOICE TV SHOW: SCI-FI/FANTASY
The Vampire Diaries
CHOICE REALITY SHOW
Jersey Shore
CHOICE TV SCENE STEALER: MALE
Michael Trevino, The Vampire Diaries
CHOICE TV SCENE STEALER: FEMALE
Katerina Graham, The Vampire Diaries
CHOICE TV VILLAIN
Justin Bieber, CSI: Crime Scene Investigation
CHOICE TV ACTRESS: DRAMA
Blake Lively, Gossip Girl
CHOICE TV ACTOR: SCI-FI/FANTASY
Ian Somerhalder, The Vampire Diaries
CHOICE TV ACTRESS: SCI-FI/FANTASY
Nina Dobrev, The Vampire Diaries
CHOICE TV ACTOR: COMEDY
Cory Monteith, Glee
CHOICE TV BREAKOUT STAR
Darren Criss, Glee
MUSIC
CHOICE MALE ARTIST
Justin Bieber
CHOICE FEMALE ARTIST
Taylor Swift
CHOICE FEMALE COUNTRY ARTIST
Taylor Swift
CHOICE COUNTRY SONG
"Mean," Taylor Swift
CHOICE BREAKUP SONG
"Back to December," Taylor Swift
CHOICE SONG OF THE SUMMER
"Skyscraper," Demi Lovato
CHOICE SINGLE
"Who Says," Selena Gomez & the Scene
OTHER
CHOICE COMEDIAN
Ellen DeGeneres
CHOICE ACTRESS
Selena Gomez
CHOICE MALE HOTTIE
Justin Bieber
CHOICE FEMALE HOTTIE
Selena Gomez
CHOICE RED CARPET FASHION ICON — FEMALE
Taylor Swift
CHOICE TWIT
Justin Bieber
CHOICE VAMPIRE
Robert Pattinson
ULTIMATE CHOICE AWARD
Taylor Swift