Tenille Favios Bachelor 2018 Elimination Interview
The Bachelor's Tenille Reveals She's Still Open to Finding Love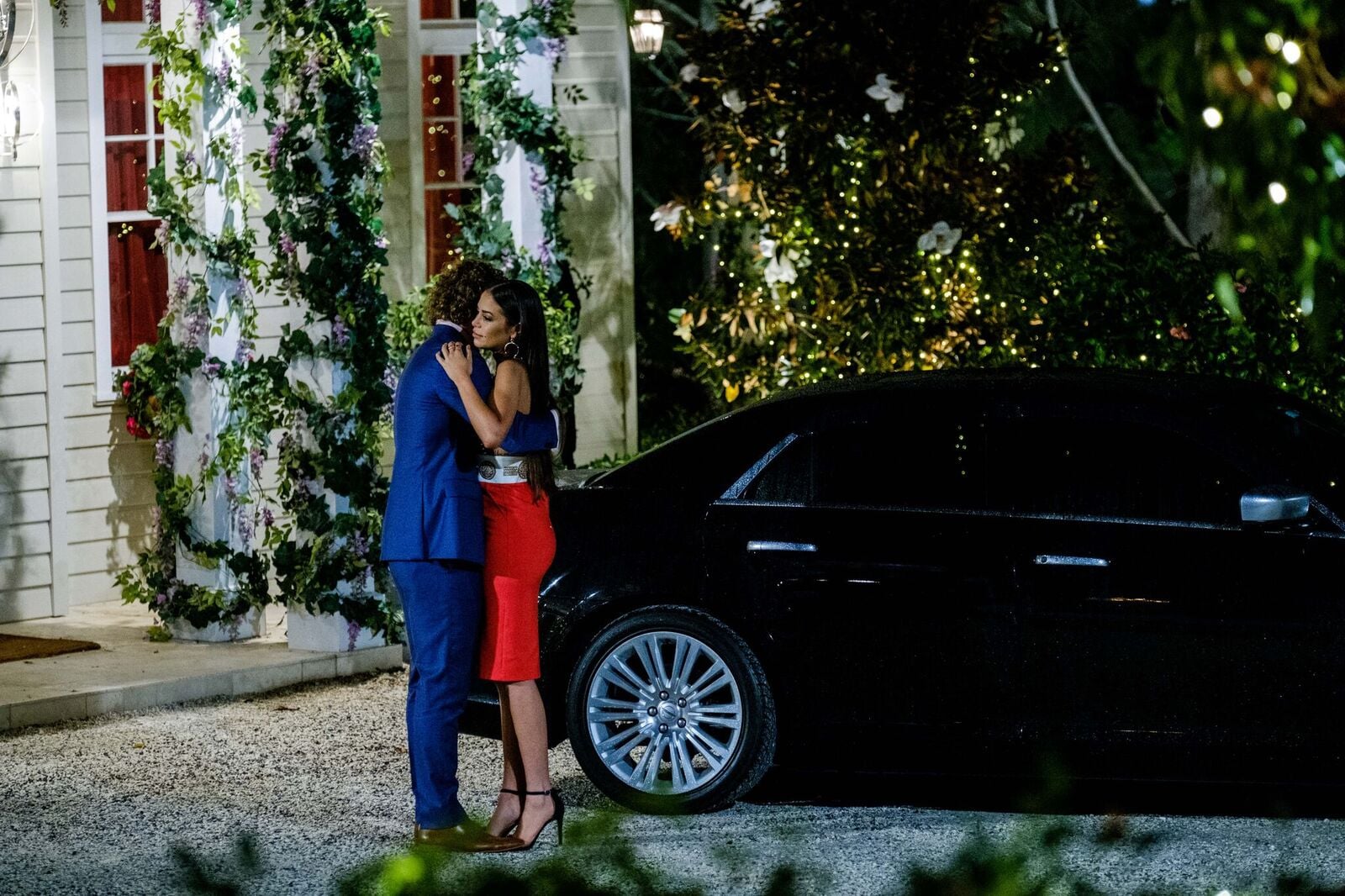 After Tenille reached breaking point on The Bachelor last week causing her to run from the mansion, it was only a matter of time before the brunette beauty had decided enough was enough. But even after troublesome triplets had left the house, it all proved too much for Tenille who, at the cocktail party, asked Nick to let her leave the house without having to stand through a rose ceremony.

We caught up with Tenille to find out what really happened between her and Romy and why she decided to leave the mansion — twice.
POPSUGAR Australia: You chose to leave the house at the cocktail party and asked not to go through the rose ceremony. Why did you make that decision?
Tenille: I told myself and my family going into this experience that if it comes to the point where I feel somethings not right then I was just going to leave. There was no point in trying to find ways around it and hope for the best, I'm going to call a spade a spade and I think that's the point I got to. [Once] I had that conversation with Nick [at the cocktail party] I just knew in my gut where things were going after that chat and I just said to myself just call it what it is, and I needed to leave.
PS: Did you have feelings for Nick at that point?
Tenille: Absolutely. There is just so much pressure at the end to fall in love and we knew there just wasn't enough time for me to ever fall in love with Nick. I knew that I wasn't going to be there in the top two saying "I'm head over heels in love with you", I had a much more realistic approach and sure, I could be there at the end and say I really like you but let's see where things go. You know, you're competing with other girls that I'm sure will get to end and will be saying how much they're in love with Nick and I was just never going to get to that point.
PS: Did you regret your decision after leaving?
Tenille: When I left I made that decision and I stick by it — I'm happy I did make it. It wasn't anything Nick said that made me feel like I needed to leave, it was just a mutual feeling.
PS: Would you say you struggled throughout your time in the house?
Tenille: I wouldn't say I struggled a lot throughout the whole experience. You didn't really see me [at the beginning], but I was out having a ball. I loved the experience. It was when I went on my date and then at that cocktail party, that's when I started to struggle. Then, of course, we had the lie detector date where Steve almost points out flaws. I'm a very happy, loving person and all that drama going on. I just wanted to be happy and just focus on the happy moments and I was over not having lovely conversations with Nick.
PS: It appeared you were often targeted my Cat and Romy?
Tenille: What you saw was definitely true in terms of what they made me feel on screen but I'm not going to sit there and say off screen they were going out of their way to make me feel like that because they weren't. There were a couple of run-ins we did have off screen but [I wasn't] living every single day feeling tormented.
PS: There is some dispute around what happened between you and Romy at the cocktail party. What is your version of events?
Tenille: Look, I'll take ownership of the fact that after going on my single date I came home so excited and probably blurred the lines. They're not my girlfriends in the real world, you go on a date in the real world and you come home and tell them everything because you're so excited. That's kind of what I did, and I think I just sort of had a bit of a brain-fart moment and I didn't realise they were all dating the same guy. I absolutely take ownership of the fact that I did hurt people with what I said but it definitely was not with any malicious intent.
PS: What pushed you over the edge making you run away?
Tenille: I think what upset me was that the cocktail party was actually two days after the date so those two days leading up to the cocktail party I sort of got bad vibes from people, but no one actually said anything to me or addressed it. A few of them did directly ask me if I'd kissed Nick and asked about details of the date and I'm an open person, I just spill, spill, spill and I then sort of copped the brunt of them being upset with me, but no one approached me at all until the cameras were rolling. What really upset me too was that they were putting words in my mouth — I never said it was gross, I never called people tacky, I just never said those things, and that really gets to me when people perceive my character as something that it's not. I'm happy to apologise for what I did but I don't think it warrants being treated like that.
PS: Cat and Romy seem to think you weren't being true to yourself and that the cameras didn't show 'the real you'. What would make them think that?
Tenille: They've got this image they portray of themselves, so I just think it comes down to them trying to make that image look better by trying to put down other people. I'm actually confused by that statement, I really don't have any idea why they would think I'm being anything different from the real me and I think if you did ask the other girls who didn't have anything against me, I think they'd say that what they saw of me was what you got on screen.
PS: Is there anything you regret or wish you'd done differently?
Tenille: I definitely enjoyed it and I'd do it over again in a heartbeat. You have your roller-coaster moments but that's just to be expected, I think. Maybe I wish that when that altercation came up I was just able to laugh it off a little and not let it get under my skin so much. I was trying to diffuse [the situation] but I thought there was no way I was getting through, it was like talking to a brick wall. I don't know, maybe I wish that had been a bit different because that was quite hard on me and it did take its toll on me a few days afterwards.
PS: Are you still looking for love?
Tenille: I'm not actively looking but if the opportunity came up then I'd more than happy to put myself out there and go on a date. I think it would be wonderful and I really do want that partnership in my life but I'm desperate enough just to take anything.