Tension Between Delta Goodrem and Seal on The Voice 2013
Tension Between Delta Goodrem and Seal Apparent on The Voice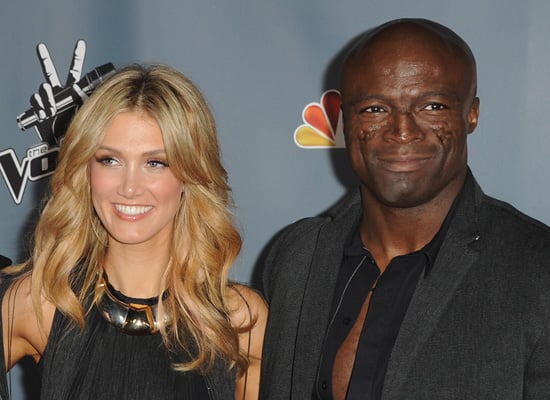 They've been the subject of hook-up rumours on this year's series of The Voice, but based on the past few episodes it seems like there's a different kind of tension between coaches Delta Goodrem and Seal. During the talent show's recent Showdown episodes, the two singers haven't seen eye-to-eye when giving feedback on the other's contestants — obviously all the coaches are fiercely protective of the talent on their teams, but Seal and Delta's disagreement over certain contestants, such as Seal's artist Jac Stone, led to some unkind comments that never made the TV edit.
According to the Daily Telegraph, after Jac's rendition of the song "Luka" on the episode that aired on Monday night, the coaches huddled together for their usual post-performance chatter and Delta said she thought Jac had gone a bit overboard with her expressions during the song, to which Seal apparently snapped, "You do that." The comment never made it to air as it's not in the positive spirit of the show.
More when you keep reading.
The tension was discussed on yesterday's edition of Today, when Karl Stefanovic put his support behind Delta by saying, "I think Delta was 100 percent right and I think Seal has got to get over himself a bit. He's changed this season and I don't like it."
Seal then took to his Twitter account, which he usually leaves in the hands of digital marketing team Sign-Up.to, to post a series of tweets in which he defended his artists, saying that while some of them may still be vulnerable to public attacks and criticism, he is not. Among the tweets, he wrote, "As most of you who follow me will know, I don't usually tweet but this is where twitter comes in handy. This is about to change . . . Am I surprised, not really because like my homeland that's what the media does in this country. Heck, they even attack theirOwn . . . Ausyralia, let's not forget what this show is about.. THE ARTISTS. So attack away. It'll take an army . . . 'EVERYTHING IS AN ILLUSION'." The tweets have since been deleted.
Delta, who copped flack for the way she critiqued contestants last year, has grown a lot this season and has been praised for the way she delivers feedback, which includes a bit more constructive criticism rather than just telling artists they're stars.
The coaches' comments are edited for the Showdown performance episodes as they're pre-recorded, but tonight's verdict is live, and moving forward the show is heading into its live shows phase, where there will definitely be a keen interest on Delta and Seal's relationship.