Thor The Dark World New Trailer
3 Fantastic Things to See in the New Thor: The Dark World Trailer
There's a new trailer for Thor: The Dark World, and it's Thor-ier than ever before! Between our visit to the England set and our interview with Loki, er, Tom Hiddleston, we're completely stoked for the sequel, and this trailer makes the movie look even better. The first trailer reunited our favourite characters, but this footage gives us a much more extended look at the plot of the movie, plus some juicy sights. Read on to find out what you'll see in the new look!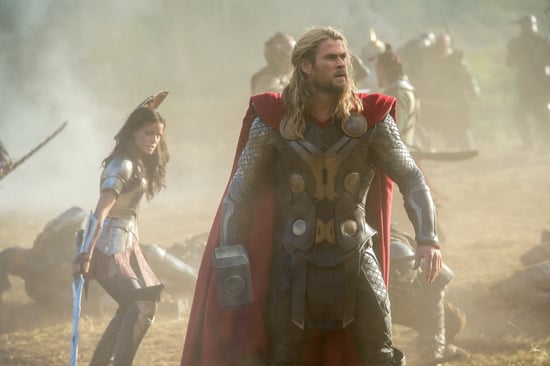 Jane Steps to Loki!
There's a lot more of Jane (Natalie Portman), and not just as a damsel in distress. Thor (Chris Hemsworth) has brought her up to Asgard to protect her from enemies from Svartalfheim (aka The Dark World). She hasn't forgotten the events of The Avengers, and she totally slaps Loki, saying, "That's for New York." You go, girl.
There's More Loki
Speaking of Loki, the last trailer really only had a glimpse of him as a prisoner at the end, but here he's out of his cell and actually helping Thor. He's even got the cape, and he's straight-up creepy.
A Hot Kiss!
It's easy to miss it between all the action, but there is a super hot kiss between Jane and Thor. The last movie solidified them as a romantic pair, but I'm glad their love affair is continuing. Might she become the next queen of Asgard?
The movie is out on Oct. 31, but until then, check out the trailer after the jump.