Tim Robards Interview on Anna and The Bachelor Grand Final
The Bachelor's Tim Robards on Going Public With Anna and Their "Beautiful Future"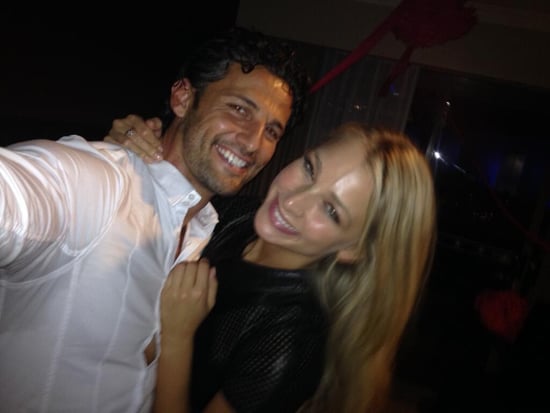 A huge weight has been lifted off Tim Robards' and Anna Heinrich's shoulders. After keeping the result of The Bachelor a secret for nine weeks, the lovebirds can finally go public with romance after the final decision aired on TV last night. Two romantic dates in Thailand helped Tim decide that it was criminal lawyer Anna who had won his heart over model Rochelle Emanuel-Smith, and now Tim and Anna can stop sneaking around to see each other and pick up their relationship in the real world. We caught up with Tim this morning to discuss when he knew Anna was The One, how they managed to see each other after filming the finale, how much input he had with those amazing dates, and his advice for next year's Bachelor.
POPSUGAR Australia: How did you watch the grand final last night? We saw a picture of you on Instagram surprising Anna.
Tim: [Laughs] We were in a hotel room, so we orchestrated it so Anna was in a room with all of her friends, and I was in a room with my friends, and at the end I took all my mates up and friends and family, knocked on the door, and gave them all a big surprise. It was great. So the families got to meet each other. It was just so happy.
PS: At least it wasn't one of those shows where they film alternate endings so the winner remains a secret, and you both knew the result. It would have been awkward with a show like this.
Tim: Yeah. We knew and our families knew, but that was it. So all our friends — there were about 30 of us in each room — didn't know, so it was a great surprise for them. It was great to have them there and finally be able to say, "I have this great girl and I'm in love."
More from Tim when you keep reading.
PS: At what point did you know Anna was The One?
Tim: I didn't know at one point, because I denied it to myself. If I'd made that clarification to myself in my mind, or if I'd acknowledged that, then it would've been unfair; I wouldn't have been able to do that and live a lie, if you know what I mean, like pretending. So I really had to convince myself to stay neutral, and stay open, right until the very last minute. At the end I could finally go, 'OK, now it's OK to acknowledge what I'm feeling,' and looking back, even from our very first date, I wouldn't say I'd fallen in love, but I was totally smitten, and had the biggest crush on Anna. From then it just grew stronger and stronger. I'd been waiting for that last day, when I could totally let go and just acknowledge what I had been feeling.
PS: From my observations during the finale, I thought you seemed more affectionate with Anna, and when she read those notes from you for the box, I thought, 'There's no way he can't pick Anna.'
Tim: That was unbelievable. That was such a beautiful moment. And Anna had always struggled to express . . . I wasn't there going, "I want to hear everyone tell me that they love me." I didn't need that. I didn't need it as an ego trip to list all the great things about me. I wanted to know whether the girls really knew who I was — the good things and the bad things. I wanted to hear them say, "You pick your toenails," or whatever [laughs]. I wanted to hear that stuff so I knew it was sustainable and could last, not just a bunch of compliments to give me a big head. I think you only heard about eight of them [Anna's cards], but there were about 40 in there, so to hear that really confirmed to me that she knew who I was, and she was in love with me.
PS: Off the back of that, I was wondering if you ever felt pressure to be so charming and like Mr. Perfect all the time? Rochelle said she wished that a few more of your flaws and faults were shown.
Tim: [Laughs] The whole time I just tried to be a gentleman — that's who I am and how I act in normal life. I'm not perfect by any means, but I think I was portrayed as I am. Earlier on in the piece, they do keep me fairly neutral — they don't show a lot of my response to the confrontational scenes. And there was a response! I just tried to be me, as genuine and as open as I could be.
PS: I heard you and Anna wore disguises to meet up in the nine weeks between filming and now. What was the sneakiest thing you did to see each other?
Tim: Ah-ha. Um, well . . . I can't give too much away. You've got to keep a few secrets for the next Bachelor. There were some wigs and whatnot, and we'd be in a hotel room, and whenever we ordered room service I'd have to hide under the blankets when the guy came in to deliver the food, and stuff like that. There was a bit of hiding in cupboards and blankets.
PS: That's so funny. You'd never think you'd have to go through all that for the months before it all comes out.
Tim: We've just been counting down the weeks and days. It's weird now — I've been so guarded, not to let anything slip, and now to even say her name, I'm so used to saying, "Number One." Even with my parents, I can't let it slip, so I refer to them all the time as, "Number One, Number Two, Number Three." It's so good to finally say Anna.
PS: You presented Anna with a ring on last night's episode — do you think marriage could be on the cards?
Tim: Yeah, it definitely could be on the cards. I really do see a strong future with Anna, so I hope so. If I ask her to marry me, it will be at the right time, when we've both gotten to really know each other. We know the fundamental values of each other, which is the biggest part of a relationship, but now it's just time to meet each other's friends and enjoy all the simple things, and keep building on that. So far we've got a solid foundation, and I think you can only get better from here. I'd love to be able to one day get down on a knee, say a few nice words again [laughs]. It felt like that on the finale, it felt like a wedding — you're standing there, like you're saying your vows. At the end of that little scene, when the fireworks went off, you forget the cameras are there, but when they call wrap everyone cheered and clapped. The producer and director, everyone was crying and in tears. And that's with no backing music — it was a beautiful moment.
PS: Anna even likened your final date to being on a honeymoon with you. How much input did you have with the dates, and how do you think you'll live up to those date expectations now?
Tim: I was flat-out, doing 18-hour days and didn't have a lot of time to organise things. We had a date team that organised a lot of that stuff. I would tell them what I was into, and they would go away and try and make it work. I love adrenaline, I love adventure, I love getting outside with water and sun and boats, so they would always try and find things that slotted alongside that. I would also pick the girl who I thought suited the date. They'd give me the brief and go, "Right, tomorrow we've organised a private jet and horse riding and whatnot — who do you want to take on that date?" I would then go, "I think this girl." That's why at first, it wasn't about who was my favourite, it was more like I'd go, 'Who is sporty and fun? Who loves the ocean? Who loves this?' That would help work out who I would take on those dates.
PS: So it's not like you had an order or schedule.
Tim: No, no. I heard there was a photo, some freaky photo, where we were lined up on the beach walking in Broome or something, and it happened to be almost the order in which the girls went. People were wondering if something was going on there! It was just pure coincidence.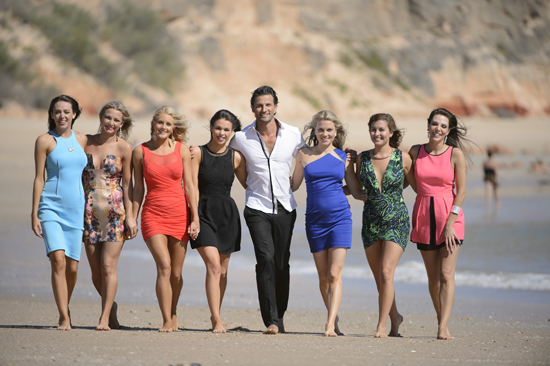 PS: Do you feel any pressure with being Anna's first serious boyfriend?
Tim: I don't feel pressure as such, but it's great that I'm able to; I feel honoured to be her first boyfriend. I think it's great — Anna's had a lot of experience, but the best thing is there's no baggage. My dad described her as, "A breath of fresh air," and it really is with Anna. She's very worldly and very intelligent, but there's no baggage there. So it is like starting fresh and on a clean slate. I think there's a beautiful future ahead.
PS: What is your advice for next year's Bachelor?
Tim: Um, find a good psychologist. [Laughs] Basically I would say, before you go into this, find out who you are, learn to love yourself wholly, and work out what your values are, because if you're more sure of what you have to offer, you'll also be sure of what you are looking for to complement your values. That'll help you find the person who is right for you.