Timomatic Interview on Judging Australia's Got Talent 2013
Timomatic Talks Australia's Got Talent and New Judge Geri Halliwell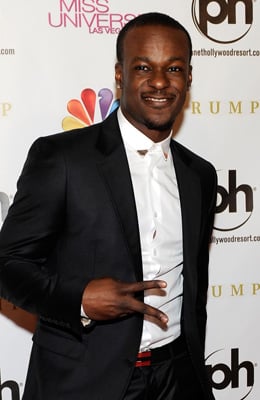 Timomatic rose to fame when he placed third in the 2011 series of Australia's Got Talent (before that you may have seen him on So You Think You Can Dance). This year he'll be on the other side of the judges' table as part of the all-star panel on Channel Nine's revamped version of the show, which was dropped from the Channel Seven line-up at the end of last year. He'll be sitting alongside former AGT judge Kyle Sandilands, UK comedy star Dawn French, and Geri Halliwell, who was last week confirmed as the fourth judge following court dramas that blocked Mel B from appearing on the show. I caught up with Timomatic to talk about his transition from contestant to judge and to find out who his favourite Spice Girl is.
So it's been confirmed that Geri Halliwell will replace Mel B. How do you feel about her joining the panel?
Very excited. She knows entertainment very well, probably the most out of the panel. It's cool — the panel is so fresh and new, and Kyle's the only one that has done the show before, so I'm excited for a whole new fresh show.
Who's your favourite Spice Girl?
My favourite Spice Girl? Ooh. Right now, it would probably be Mel B. But it could change!
How did you react when you got the call asking you to be a judge, coming from being a previous contestant?
[Laughs] It was very special. For me it was always something I always wanted to do, but I didn't know it would happen this quickly. I was shocked. I was like, "Really? They want me?" You gotta understand, I didn't win the show — I came third! It's very big for me, the pinnacle of my life, and I can't wait until it starts. It's later in the year and I can't wait to give people this opportunity that I'm kind of living right now.
More from Timomatic when you keep reading.
What do you think you'll be like as a judge?
I think I'll be honest but very encouraging. Those are the two things that have worked for me in my career.
Obviously Australia's Got Talent is the show where anything goes . . .
Most unpredictable show in the world!
From past experience, what have been your favourite wacky talents, or what are you hoping for?
Before I auditioned, I remember a guy who came on stage, and he grilled a sausage attached to his nipples — somehow. Probably not my favourite, but one of my most memorable. The palette is really big; I can't wait to see everything and anything, and that's what it's about — big or small, bring your talent.
You know Kyle, but have you met Dawn French?
No. I met Julia [Morris] though, the host, and she's very special. I can't wait. Kyle's the man. It's gonna be sweet.
Does it feel weird to be part of a different network? You were part of the Channel Seven family.
Oh, you know, it's all love! It feels fine. I'm client/management mates with Natalie [Bassingthwaighte], so we have the same manager, and we got like a rivalry going on now — what's gonna be the bigger show? Much love and respect to all the networks.
How will judging affect your own music and career?
Music is always first for me. Judging will definitely be an opportunity for me to promote my music as well, and for a wider audience to get to know Timomatic the person, as opposed to Timomatic the singer/dancer. I'm excited to broaden my fan base.