Timomatic Interview: Parachute and Australia's Got Talent
Timomatic on His Song "Parachute" and Going From AGT Contestant to Judge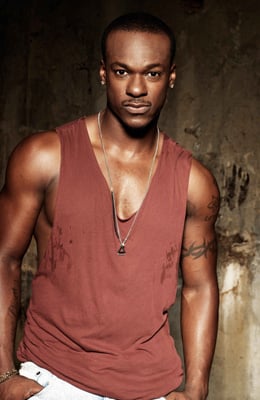 It's been a big couple of months for Timomatic. In June he launched his first single for 2013, "Parachute," on a huge scale when he performed as the opening act for game one of the State of Origin. Since then he's been juggling music with his TV commitments for the new-look Australia's Got Talent, which premieres on Channel Nine on Sunday night. While he wasn't able to reveal much about changes to AGT, which sees him on the judging panel with Kyle Sandilands, Dawn French and Geri Halliwell, he was more than happy to talk about how he prepares for his energetic performances.
How did it feel to perform at the State of Origin?
You know what? I live for these kinds of performances. I live for stadium-level performances — that's where I've always kind of seen myself. It was an amazing experience and I was very humbled that they'd ask a pop singer from Canberra to open the State of Origin.
It seems like the Channel Nine family have really embraced you and given you some great opportunities.
Yes, exactly. Channel Nine have really taken me under their wing and I'm very thankful for the new family. They've given to me, and I'm giving back, too, so we're forming a really great relationship.
You've always been known for your energetic performances — how do you prepare for performances that require you to do so much singing and dancing at the same time?
It's just a lot of rehearsal and dedication. I choreograph a lot of my numbers as well. It just takes time and focus. There's no easy secret or way to do it. You've just got to put in the time, know what you want and don't stop until you get it.
Keep reading for more from Timomatic.
Last time I read that Beyoncé's dad made the members of Destiny's Child sing while running on a treadmill — have you ever had to do exercises like that?
I feel it's weird because when you run on a treadmill, you're not really running to the beat of the music. I run on a treadmill a lot just in general to keep my fitness levels up. Anything fitness-wise helps.
What's it like performing with your girlfriend, Talia?
It's great. It's a lot of fun. She's obviously the inspiration for a lot of what I do. And she is my most honest critic as well; she'll tell me straight what's good and what isn't good. I love sharing moments with her. It's quite special.
What was your reaction to hearing "Parachute" for the first time? Or can you tell me about how you landed the song?
The way it happened was I recorded two songs with the guys Team Red in America — that was almost like a test to see my skills. And then they were like, "Actually, we've got these other two [songs]," and one of them was "Parachute." They played me it and I fell in love with it straight away. I was like, "Guys, I need to cut this song right now." I got shown the track while I was in the studio and I fell in love with it.
What's the concept of the music video?
The narrative is based off a scene done by Josh Hartnett and Kate Beckinsale in Pearl Harbor. He takes her up for a bit of a quick flight into the sunset and then they come back to the parachute hangar and get jiggy with it [laughs]. So we're taking inspiration from there, and also the clip has got crazy, next-level dancing performances from myself and my amazing dancers.
You have a lot going on in terms of your music and the show, so what do you do when you get a chance to unwind?
I watch a lot of TV shows — Mad Men at the moment. I think it's probably the best drama I've ever seen on TV. Game of Thrones is also awesome, but the slickness of Mad Men appeals to me more. With Game of Thrones I have less to relate to.
What has the mood been like on the AGT set, and what was it like to meet Dawn and Geri for the first time?
It was incredible to meet Dawn and Geri for the first time. I remember coming into the room and they both introduced themselves to me, which was crazy. They are sweet ladies, both of them, so humble and sweet, as big as they are in the industry. Kyle's like a big brother; he's given me some really good advice. It's all love. It's all really good.
What's the chemistry like between the four of you?
You know what? We are from so different ends of the spectrum, but the chemistry is great. We all feed off each other nicely, and I think it's because we all are accepting of what each of us have to bring. We're all evolving and learning together, knowing who likes what and who doesn't like something. It's cool to find out more about each other through that.
Did you guys have to go through any bonding type of activities or did you jump straight into work?
[Laughs] Like any trust activities — "Fall into my arms!" No, we really just had a meal. We had a lunch and a workshop we had to do to learn about the show. And we had a photo shoot, and that was it. We hit the ground running. Everyone's super professional so it's just getting the job done the best way we can.
How would you describe the other judges if you could only pick one word?
Kyle in one word: straight-forward. Geri: bubbly. Dawn: mature.
What have been some of the weirdest auditions you've seen?
I can't say specifics, but there's been some weird stuff going on with people and animals.
From your experience as a contestant, did you pay attention to what other people were doing or just focus on your act?
I kept to myself. It's easy to get lost in the hype of what's going on, and it can mess up your own show. The only thing you will be accountable for is your own show, so I kept to myself.
Are you able to reveal any changes to the format, or is it a 'wait and see' thing?
It is a 'wait and see' thing, but having four judges means you need three yeses to go through, basically. So there's no split. If it's split, it's a no, which is pretty hardcore.