Trailer for Sucker Punch starring Emily Browning, Abbie Cornish, Vanessa Hudgens and Jena Malone at Comic-Con
Pop Preview: Aussie Babes Kick Butt in Sucker Punch!
Sucker Punch made a splash at Comic-Con and we've got a sneak peek. The film stars Aussie Emily Browning as Baby Doll, a young girl who gets sent to a mental institution where she tries to escape with dream sequences. She reminds me of a young Uma Thurman in Kill Bill and it's a long way from her sweet role as Violet in Lemony Snickets.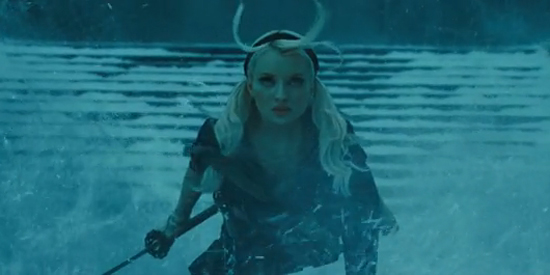 Her fellow patients also show up in her dreams and include Abbie Cornish, Vanessa Hudgens, Jena Malone and Jamie Chung. Entourage's Carla Gugino plays a Polish psychiatrist (that's her in the voiceover) and yummy Jon Hamm also stars (but doesn't appear in this footage). The film features everything from dragons to burlesque to samarais and will probably give you sensory overload. Check out the trailer and let me know what you think of Sucker Punch.