True Blood Season Three Premiere "Bad Blood" Recap
True Blood Bites: Season Premiere "Bad Blood" Recap
After much excitement (and a bajillion promos), True Blood is back with a bang! The show picked up where we left off last season with the death of Eggs and Bill's kidnapping, and the premiere continued to rage on with the suspense, sex scenes, and bloody moments that fans have come to expect. Plus, we finally got a peek at the werewolves (is it just me, or do True Blood's wolves almost look better than the wolves from New Moon?).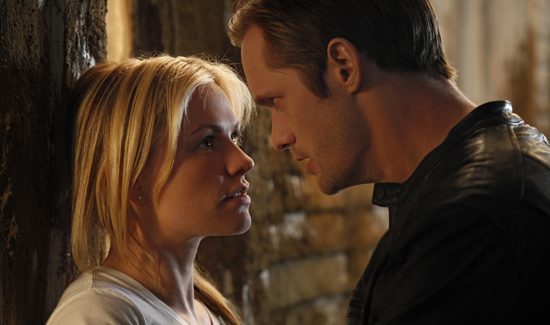 I don't want to give away too much about what happened, so let's break down the major highlights (warning: spoilers!) when you keep reading.
.
Grossest use of blood: Bill's torture scene. True Blood has never been afraid to get downright grotesque, but I nearly ralphed watching Bill's kidnappers take bites out of him and then feeding his oozy blood to each other via mouth. Note to self for future: never watch this show after just eating.
Best character entrance: Eric and his full-length butt shot. When Sookie goes to see Eric in order to find Bill, Pam takes her downstairs where Eric is, of course, boinking Fangtasia's new dancer. He tells Sookie that he's been down there for six hours. Her response: "Six hours?" Eric: "You seem surprised. Is Bill's stamina not up to snuff?" Love it. Runner up goes to the pack of werewolves who discover Bill in the woods. I can't wait to see more of them!
Biggest jaw-dropper: Sam and Bill's homoerotic shower chat. We had heard rumours of a love connection between the two men, but that didn't make the episode's tease any less shocking. After Sam flees to find his real family, Bill finds him, and next thing you know, Sam is removing his shirt (did anyone else laugh when Bill said "nice" about Sam's abs?!). Oh, but wait, it's just a dream, and Sam wakes up. Still, you know it's not the last we've seen of these two men getting close.
Favourite mantra: "Conscience off, d*ck on," courtesy of Andy. When adorable Jason Stackhouse is feeling guilt over Eggs death, Andy tells Jason that he has to pretend to be the old Jason. So, as a pep talk, Andy has him repeat after him: "Conscience off, d*ck on, and everything's gonna be all right." Jason has no problem carrying out the M.O., and he picks up two co-eds at the bar with Hoyt. But when he takes them back to his place (like we didn't see that threesome coming), Jason can't exactly, um, perform. Looks like his conscience is winning after all.
Most in need of a makeup touchup: Jessica and her giant blood tears. After she feeds on a guy, Jessica drags him to the house and tries to save him. He dies, so she hides him underground and tries to resuscitate him as a vampire. It fails, and the poor newbie vamp is freaking out.
Nastiest girl fight: Tara and Sookie. Tara nearly tries to kill Sookie after Sookie reveals that she helped Eggs remember what he did while possessed. It becomes an all-out brawl on the floor until Lafayette steps in to pry them apart.
Moment that made me say "Nooooo": Tara's OD attempt. She's totally devastated over Eggs, and to make matters worse, her mother arrives with her reverend. After a long religious chat, Tara tells her mom that she's going to take a shower, shuts the door, and proceeds to down a heap of meds. Thank goodness Lafayette shows up and bangs on the door—but will he be able to stop her?
Did the premiere live up to your expectations? Any moments you loved that I missed? (I'm kind of excited for Arlene's pregnancy, aren't you?) Share your thoughts in the comments!