The Ultimate Christmas Gift: LG's Roboking Vacuum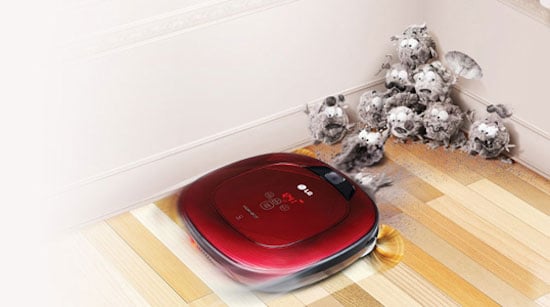 Still looking for the ultimate Christmas gift? Meet the Roboking automatic bagless vacuum: it senses its way around your house to do the cleaning for you. It's easy to use, looks great, and the new square design with longer side brushes does a better job in corners / along walls than round-shaped robotic vacuum cleaners. The Roboking also packs LG's latest tech to navigate furniture, pets and obstacles. Here's what you need to know…
This is a story about the last bit of dust. And just a word of warning for any dust watching, the story in the video below doesn't end well for you. Hunt down and exterminate dust with the LG Roboking Square Automatic Bagless Vacuum.
Dual Eye 2.0: With the addition of an upper camera, the Roboking Square uses LG's unique Dual Eye 2.0 system to navigate more efficiently, and more precisely map your room. The Roboking also features multiple smart sensors (both ultrasonic and infrared) to prevent it bumping into objects or falling down stairs.
Smart Turbo: The Roboking automatically senses when it moves from hard surfaces to carpeted floors. This is when Smart Turbo mode kicks in to increase suction power.
It's all possible with LG.
Find out more here, or ask questions at LG Australia's Facebook page.