The Vampire Diaries "Kill or Be Killed" Recap
The Vampire Diaries "Kill or Be Killed": The Good, the Bad and the Bloody
The Vampire Diaries is heating up its vampires vs. werewolves story arc, while Katherine still has her sharp, scheming claws in the fabric of Mystic Falls. Caroline and Mason both have the spotlight on them this week, too, and they each do a lot with their time.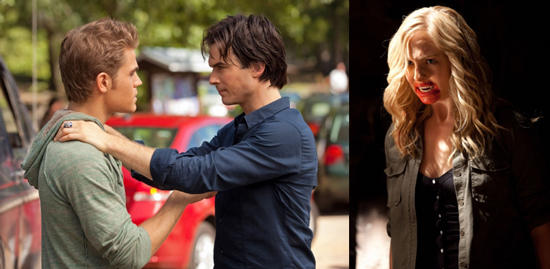 I don't want to give anything away, though, but I have lots to talk about it. Let's go over the good, the bad and the bloody from "Kill or Be Killed" when you read more.
Keep reading . . .
The Good

Uncle Werewolf

Mason reveals the cause of his curse to Tyler: He accidentally killed a friend a year before and triggered his werewolf transformation. He warns Tyler about any sort of death at his hands, and later, when a female classmate falls down the stairs I thought Tyler was done for, but luckily she's OK. I'm happy his curse is going to be drawn out a little bit longer; Tyler's characterisation is getting pleasingly complex, and I'd hate to see him villainised right away.
Caroline's mum pledges to spend the day with her daughter and sniffs out that something's wrong. It's not the only disturbing thing Liz hears that day: Mason breaks the news to Sheriff Forbes that Damon is a vampire, and when she's incredulous, he offers to prove it with an electric lemonade vervain test, which Damon promptly fails, exposing himself.
It's a hot man showdown! Stefan gets all tough-guy on Mason and threatens that he and Damon could take him down, but it's the Salvatore brothers who need to be on their guard. When they approach Mason in the woods after the vervain-ade setup, Stefan and Damon each take a few wooden bullets and injections of vervain, courtesy of Liz and her deputies. It's disconcerting to see the two men vulnerable and shot on the ground. Sad face.
Caroline: my new favourite character! I love that she shows Mason no mercy when he grabs Elena and then comes to the rescue of Damon and Stefan at the expense of her mother finding out she's a vampire. She really doesn't ease her mum into it either, showing off her speed and biting right into the neck of one of the deputies in front of her. I'm glad Caroline's having her story fully developed and wondering if her mother will ever accept her, or if Liz will need to stay compelled and in the dark.
Tyler invites Jeremy over for some mixed drinks and mixed company, but their bro-athon turns unfriendly when Tyler sees some of Jeremy's sketches of wolf-like creatures and takes it as a threat. Once Tyler calms down and removes his hand from Jeremy's throat, they talk it out, and Tyler reveals that he has the moonstone Mason is desperately trying to get his hands on. Bromance back on!
Stefan starts reconsidering his no-human blood policy, reasoning that he could build up a tolerance to it and be able to control himself. It's the only way he can protect Elena from Katherine, he explains, but she refuses to consider it—until Damon convinces her that it's the best thing. And in good old True Blood fashion, the leading lady offers her own blood to her leading man in the ultimate act of intimacy. I guess what doesn't gross them out makes them stronger.
Twist! This is the episode where Mason's true colours come out—he's a jerk—but it's actually worse than that: He's with Katherine, romantically and professionally. She'd been a part of his life before, we see, and it's implied that she set up the dominoes that made Mason kill his friend and begin his curse. Now he's her little puppy, and having gotten the moonstone from Tyler, he makes Ms. Katherine very happy. Next week can we please find out what the moonstone does?
The Bad
The threat of Katherine is keeping Stefan and Elena apart, and their faux drama, as Damon puts it, is grating on me. Sample cheesy dialogue: "If I say 'I can't do this anymore' it really means I love you."
Can we get some better special effects up in here? Watching Caroline running around in flashes defeats the creepy tone and makes things just look silly.
The Bloody
I'm squeamish and all, but the scene where Caroline has a messy, bloody mouth and says "Hi, mum"? Well played. Disturbing, but well played.
So were you surprised that Mason is in cahoots with Katherine? Are you as into Caroline as I am? Let's chat in the comments!